"Tall Tales"-Guide – "Das Schicksal der Morningstar" – "The Fate of the Morningstar"
Geschrieben von Nico Trendelkamp am 14.05.2019 um 13:19 Uhr.
Macht euch auf die Suche nach der legendären Morningstar und lüftet das mysteriöse Geheimnis um die Crew und ihr Schiff!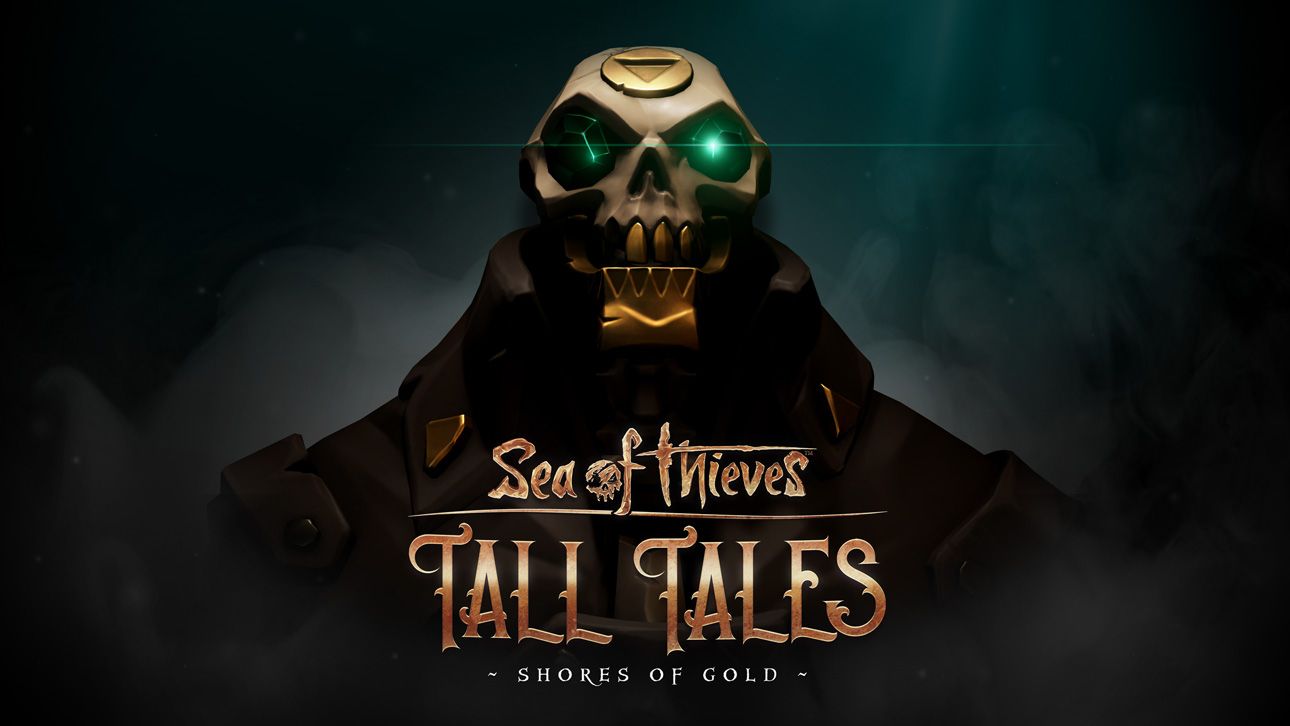 Rum, Reichtum und Rache erhaltet ihr, wenn ihr die ganze Geschichte "Tall Tales: The Shores" durchlauft, aber der Weg dahin ist steinig. Mit unserer Hilfe werdet ihr es dennoch schaffen:
Das Schicksal der Morningstar – The Fate of the Morningstar
Die siebte Geschichte der "Shores of Gold"-Kampagne beginnt ungewöhnlich. Ihr müsst erst einmal sterben, um zu erfahren, was mit der Morningstar passiert ist. Sucht euch also irgendeinen Tod aus und stattet dem Fährmann auf der Fähre der Verdammten einen Besuch ab. Habt ihr die Informationen aus dem Wälzer aufgesaugt, kann die Reise beginnen. Ihr müsst mittels einer Laterne verlorene Seelen befreien.
Entweder geht es nach Marauder's Arch oder Kraken's Fall. Dort sucht ihr nach dem höchsten Punkt der jeweiligen Insel und findet einen Sarg vor, in dem sich eine verwunschene Laterne befindet. Mit dieser müsst ihr nun versuchen, die Seelen von Dinger, Fontaine und Eli zu befreien. Dazu begebt ihr euch nach Old Faithful Isle. Mit der Laterne ist es nämlich möglich, Geister und deren Fußspuren sichtbar zu machen.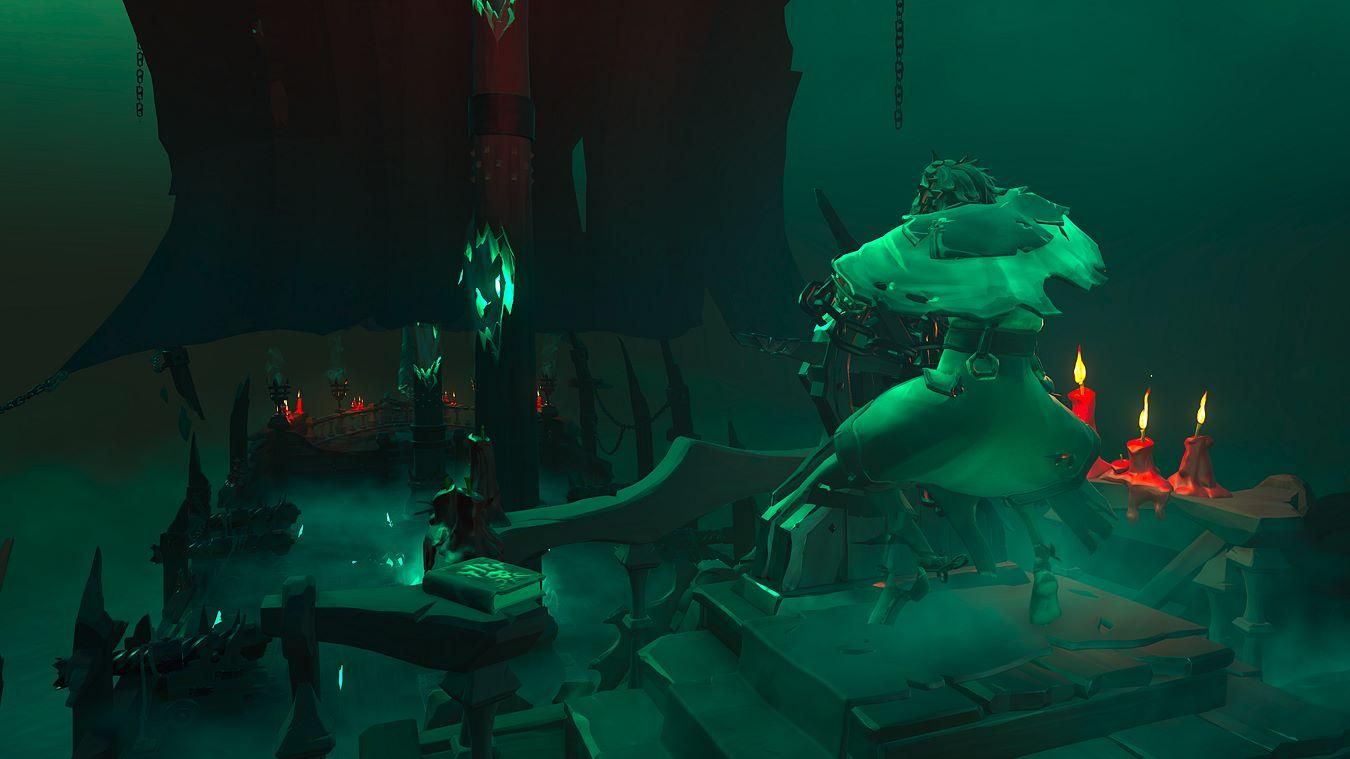 Hier liegt das Buch, um die Geschichte zu beginnen.
Euer Ziel ist es nun, die jeweiligen Todesorte der drei Seeräuber zu finden und damit ihre Seelen endlich zur Ruhe zu bringen. Parkt mit eurem Schiff an der Südseite der Insel und haltet die Laterne hoch. Euch wird sich direkt am Strand eine geisterhafte Szenerie offenbaren, der ihr mit eurer Laterne folgen müsst. Für jede Seele, die ihr befreien müsst, benötigt ihr eine Truhe und einen Schlüssel. Ihr müsst nur den richtigen Geisterpiraten folgen. Es sollte nicht allzu schwierig sein. Ein paar Tipps haben wir dennoch.
Um an den Schlüssel von Dingers Kiste zu gelangen, müsst ihr die Kanone auf der Insel genau so ausrichten wie die Geisterkanone und euch dann selbst abfeuern.

Der Schlüssel von Fontaines Kiste befindet sich in einem Käfig in der Nähe einer Feuerstelle. Betätigt den Hebel an der Felswand und ihr gelangt an den Schlüssel.

Elis Schlüssel liegt im Meer. Habt ihr ausreichend Energie, springt ihr dem Schlüssel wie in der Geisterszene einfach hinterher. Ein Blinken und Glitzern verrät euch den genauen Ort unter Wasser.

Solltet ihr einmal den Weg nicht finden, denkt immer daran, in die Richtung der letzten Fußspuren zu gehen. Manchmal sind die Abstände zwischen zwei Spuren überraschend groß.
Sind alle drei Seelen befreit, könnt ihr euch wieder auf den Weg zur Fähre der Verdammten machen. Ein Gespräch mit dem Fährmann schließt die Geschichte "Das Schicksal der Morningstar" ab.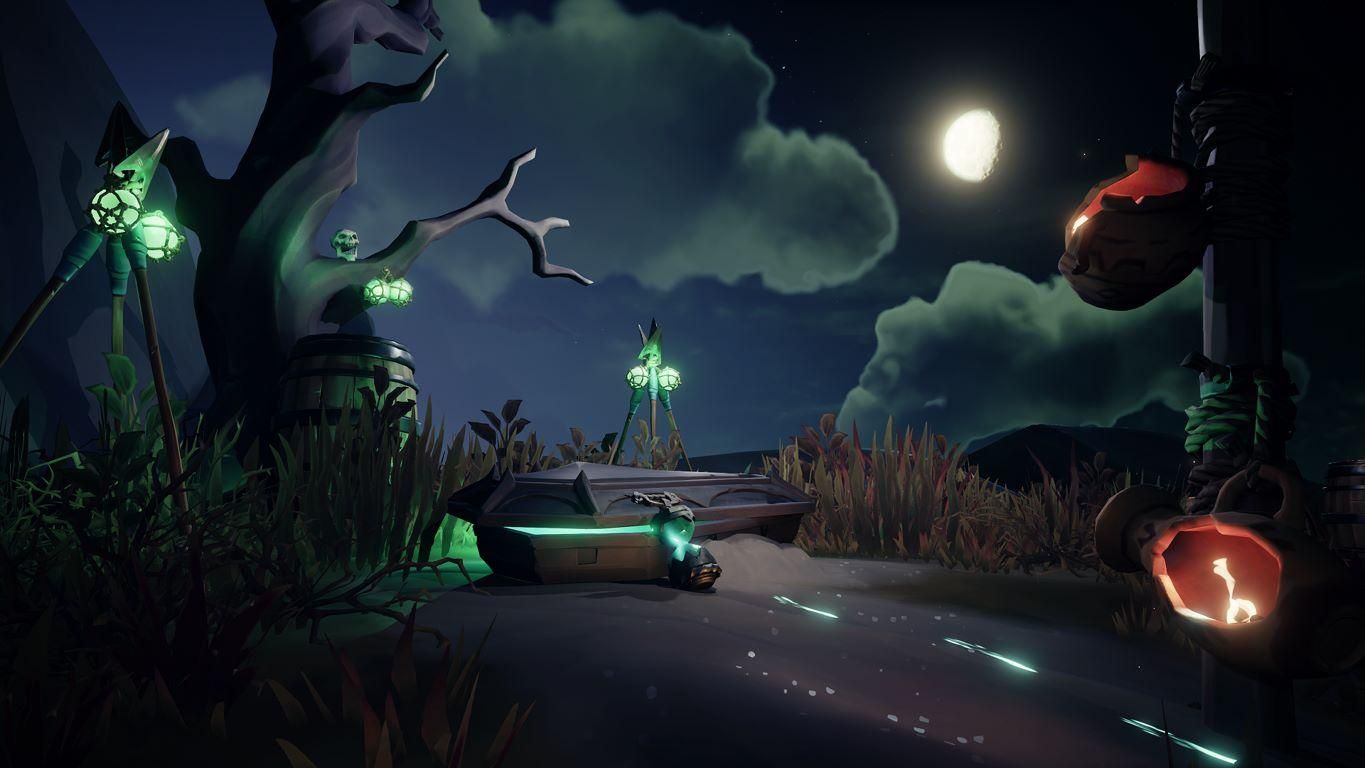 So sieht der Sarg aus, den ihr finden müsst.
Fünf gruselige Tagebuchseiten
Wenn ihr mehr über die Morningstar und ihre Crew wissen wollt, dürft ihr euch die fünf Buchseiten nicht entgehen lassen. Die Hintergründe zur Geschichte findet ihr allesamt auf Old Faithful Isle:
1. Buch (auf dem höchsten Punkt im Nordwesten neben einem Skelett)
2. Buch (in der Höhle im Südosten auf dem Tisch)
3. Buch (in der rechten Augenhöhle des Krakenskeletts im Südwesten)
4. Buch (im Westen beim Totenkopfstapel)
5. Buch (auf einer Brücke im Fort hoch oben auf der Insel)