Erste Details zum Anniversary Update
Geschrieben von Nico Trendelkamp am 21.03.2019 um 13:30 Uhr.
Der englische Entwickler Rare hat gestern, pünktlich zum ersten Jubiläum des Onlinespiels Sea of Thieves, Details zum kommenden Anniversary-Update veröffentlicht.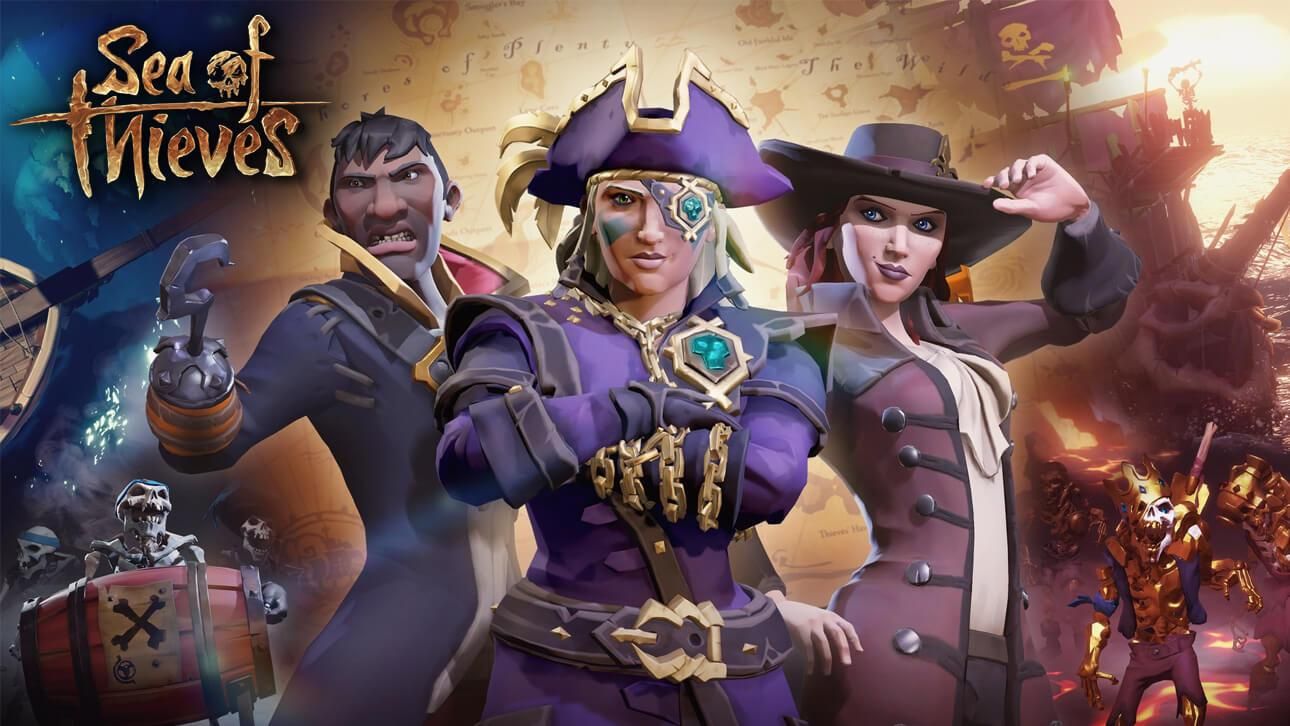 Das im Vorfeld mehrfach angedeutete Mega-Update wird am 30. April veröffentlicht und bietet zahlreiche neue Inhalte und Möglichkeiten, das Leben als Pirat noch abwechslungsreicher zu gestalten. Neben dem Spielmodus The Arena ist ein Story-Modus geplant. Darüber hinaus wird sich eine weitere Fraktion zu erkennen geben und euch erwartet vieles mehr. Passend dazu plant Rare mehrere Livestreams, um alle Aspekte im Vorfeld näher zu beleuchten.
The Arena – Kampf um Ru(h)m und Ehre
Ab Ende April wird es endlich möglich sein, sich sofort halsbrecherischen Gefechten zu stellen, denn der Spielmodus The Arena ist Teil des Anniversary Updates. In The Arena können sich Piraten miteinander messen, um Ranglistenplätze streiten und der neuen Handelskompanie zeigen, wer der gefürchtetste Pirat der sieben Meere ist. Außerdem bietet sich nach einem harten Kampf die Gelegenheit, mit anderen Freibeutern mit einem ordentlichen Humpen Rum in der Taverne zum Glorreichen Säbelrassler anzustoßen. Dort ist nämlich die federführende Handelskompanie dieses Modus' zu Hause. Weitere Informationen zu The Arena werden im Stream am Mittwoch, den 10. April um 17 Uhr veröffentlicht.
Sea of Thieves - Anniversary Update Trailer:
Der Ruf des Jägers – Hier gibt's frischen Fisch
Neben den Goldsammlern, dem Seelenorden und dem Handelsbund wird am 30. April "Der Ruf des Jägers" als neue Fraktion auf den Plan treten. Diese Gruppe von Auftraggebern unterscheidet sich radikal von den anderen, denn hier seid ihr erstmals in der Lage, zu kochen und zu angeln. Angeführt wird die Fraktion von einem alten Bekannten. Merrick, der ehemalige Megalodon-Jäger, steht an der Spitze und gibt euch für leckere Gerichte und andere Dinge, die ihr ihm liefert, Gold und kosmetische Items. Damit erhaltet ihr einen weiteren Weg, eine Piratenlegende zu werden. Ihr lernt unter anderem, von einem Schiff oder vom Strand aus zu angeln und andere Tiere zu erlegen. Aber Vorsicht, nicht alle Gerichte, die ihr zubereitet, sind bekömmlich und werten eure Fähigkeiten (zum Beispiel mehr Luft beim Tauchen) auf. Einige Speisen sind giftig. Weitere Details zur neuen Fraktion erfahren wir am Dienstag, den 16. April um 17 Uhr im Livestream.
Sea of Thieves - Developer Update - 20. März 2019:
Tall Tales – Shores of Gold
Auf dieses Features warten Spieler seit dem Start von Sea of Thieves. Ab dem 30. April gibt es endlich eine anständige Geschichte im Piratenabenteuerspiel. Rare verspricht, dass man diese storybasierten Missionen allein oder mit einer Crew erleben kann. Zudem werden Piraten in Tall Tales – Shores of Gold neue bislang unbekannte Gebiete bereisen. Nach Devil's Roar wäre es die zweite Kartenerweiterung in Sea of Thieves. Worum sich die Geschichte oder die Geschichten im Detail drehen, hat Entwickler Rare natürlich nicht verraten, aber wer sich ein wenig mit dem gesamten Universum beschäftigt, wird einige Charaktere wiedererkennen. Vielleicht wird dann auch das Geheimnis gelüftet, wie der Piratenlord zur ersten Legende wurde. Mehr Details gibt es im Livestream am Dienstag, den 23. April um 17 Uhr.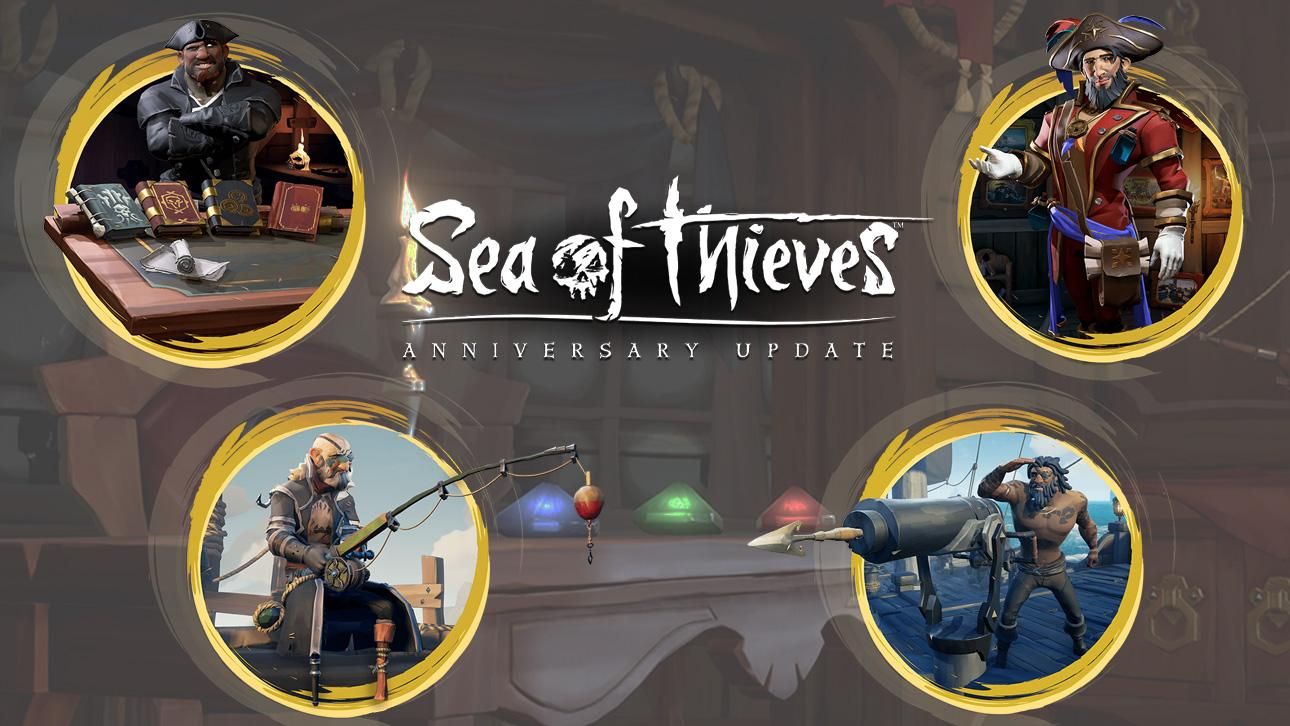 Ein paar Features des kommenden Updates
Weitere Features in Planung
Das ist aber längst nicht alles. Mit dem Anniversary Update wird es verschiedene andere Gameplay-Erweiterungen geben. Die Schiffe sind zukünftig viel zerstörbarer. Ein Mast kann brechen und sowohl das Steuerrad als auch das Spill lassen sich zerstören, was eine Flucht deutlich schwieriger machen wird. Flüchten ist nicht eure Natur? Dann macht Gebrauch von der Harpune, um Megalodons zu jagen, Schätze unbemerkt zu klauen oder riskante Manöver auszuführen. Vielleicht gelingt mit ein paar engen Kurven in ungemütlichen Gewässern doch die Flucht?
Denkt aber nicht, dass es an Land friedlicher zugeht. In Tall Tales – Shores of Gold werdet ihr auf neue Gegner und fiese Fallen treffen, die euch das Leben schwer machen. Dazu sind mit Sicherheit noch weitere Features geplant. Immerhin versprechen die Entwickler seit Monaten, dass Piraten bald auch Haustiere besitzen können, denn was ist schon ein waschechter Pirat ohne einen Papagei auf der Schulter?