WWE 2K Battlegrounds erscheint im September
Geschrieben von Nico Trendelkamp am 09.07.2020 um 13:37 Uhr.
Wrestling-Fans sollten sich den September rot im Kalender markieren, denn ab dem Frühherbst wird wieder in den Ring gestiegen.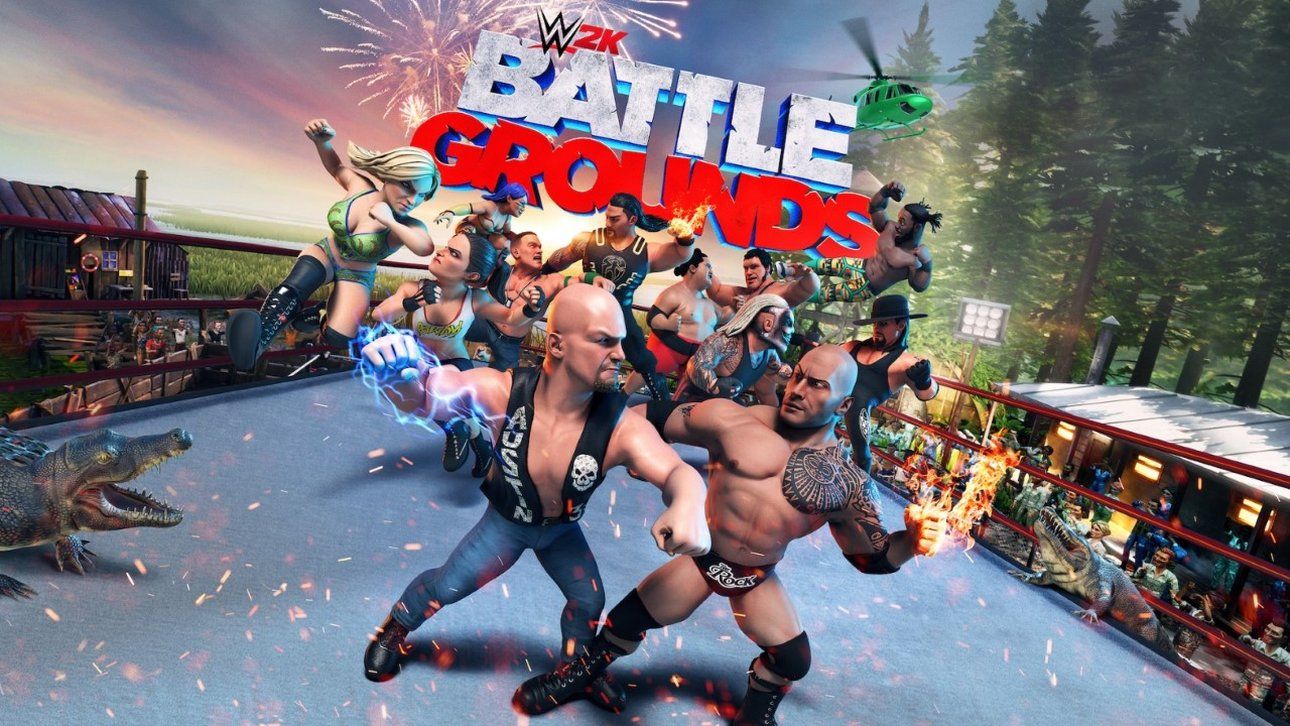 In diesem Jahr wird es erstmals seit Jahren keinen realistischen Genrevertreter im Wrestlingbereich von 2K Games geben, stattdessen erscheint am 18. September das Spiel WWE 2K Battlegrounds für die PlayStation 4, die Xbox One, den PC (Steam), die Nintendo Switch sowie Stadia.
WWE 2K Battlegrounds ist die arcade-lastige Variante der sonst von 2K Games kommenden Wrestling-Games. In diesem Spiel habt ihr vom Start weg die Möglichkeit, mit mehr als 70 ehemaligen und aktuellen WWE-Sportlern in den Ring zu steigen (weitere sind bereits geplant) und anderen Kontrahenten auf die Matte zu werden. Doch nicht nur dort geht es robust zur Sache. Insgesamt stehen acht verschiedene Umgebungen zu Verfügung, in denen ihr euch gegenseitig die Kauleisten zertrümmern dürft.
Zusätzlich sind die Kampfumgebungen mit allerlei weiteren Gemeinheiten und aufnehmbaren Waffen gespickt. Mal springt ihr aus einem Hubschrauber oder ihr kämpft in einer Werkstatt und nehmt die umherstehenden Autos als Baseballschlägerersatz. Aber Vorsicht, wenn ihr in einer Sumpflandschaft kämpft, müsst ihr auf die Alligatoren und Krokodile achten, denn ihr wollt schließlich mit zwei Armen und Beinen den Kampf beenden. Chaos scheint also vorprogrammiert.
All das könnt ihr in den Modi Exhibition, Kampagne, King of the Battleground und bei Onlineturnieren sowie Einzelkämpfen erleben. Für die richtige Atmosphäre sorgen in allen Fällen die beiden WWE-Kommentatoren Mauro Ranallo und Jerry "The King" Lawler. Außerdem dürft ihr die Arenen bis zu einem gewissen Grad anpassen und im Superstar-Editor eure Kämpfer nach euren Wünschen verändern und anpassen.
Für die Entwicklung ist übrigens Saber Interactive verantwortlich, die in der Vergangenheit The Witcher 3: Wild Hunt für die Switch umgesetzt haben und derzeit gemeinsam mit Crytek an Crysis Remastered arbeiten.
Quelle: Pressemitteilung