Guide zu "The Legend of Glitterbeard"
Geschrieben von Nico Trendelkamp am 24.03.2021 um 10:16 Uhr.
Hier findet ihr Hinweise und Tipps zu den Fundorten aller Bücher von Glitterbeard, die in Sea of Thieves versteckt sind.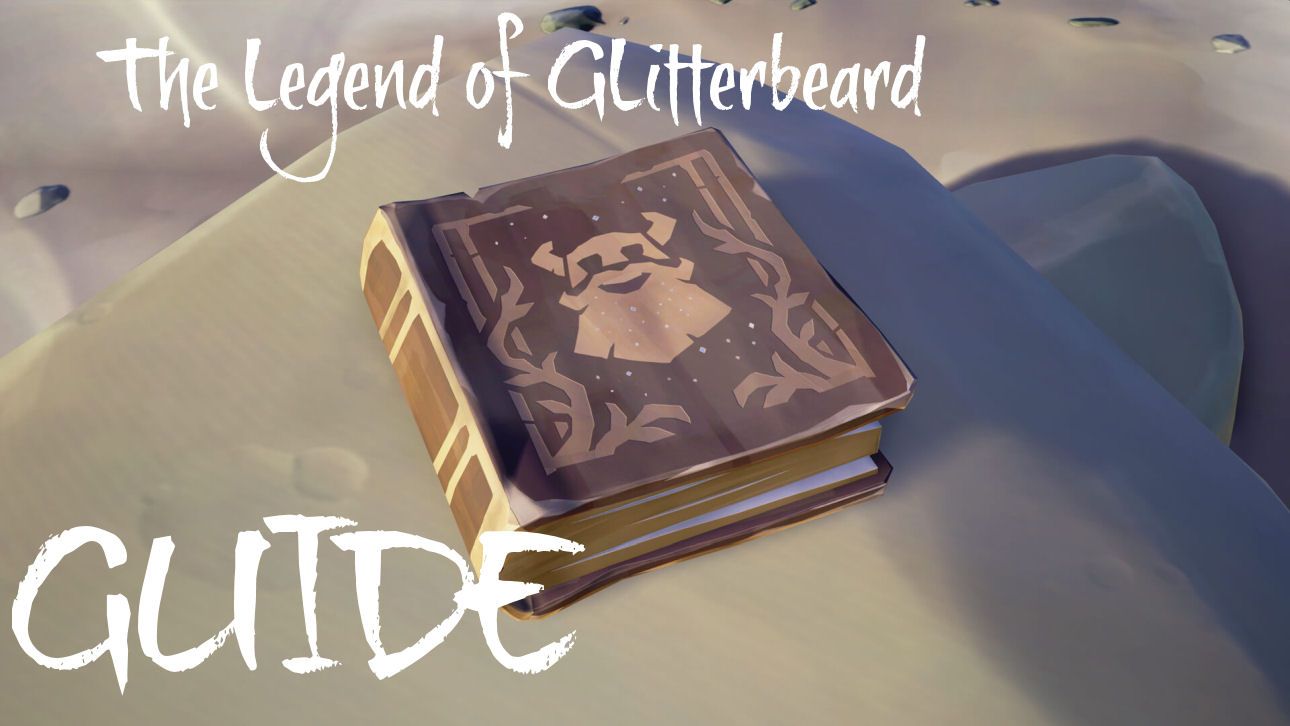 Mit dem Update im März 2021 hat Rare neben den üblichen Dingen wie einem neuen Event, frischen Inhalten im Piratenbasar sowie Fehlerbehebungen auch etwas ganz Besonderes in Sea of Thieves eingespielt. Wenn ihr euch den zahlreichen Schiffsrattenabenteuern widmet, werdet ihr feststellen, dass bei den "Legends of the Sea"-Inhalten eine ganze Menge neuer Aufgaben hinzugekommen sind.
Die neuen Hinweise und Aufgaben ehren dieses Mal jedoch nicht diverse Spieler, die sich im Verlauf von Sea of Thieves durch besondere Leistungen hervorgetan haben. Der Anlass ist leider deutlich trauriger. Im März 2020 verstarb plötzlich James White, Datenanalyst bei Rare, und um ihn zu ehren, haben die Entwickler eine ganze Reihe neuer Tagebücher ins Spiel eingebaut, die ein wenig von seinen Erfahrungen in Sea of Thieves erzählen. Um euch den Spaß nicht zu verderben, werde wir darauf verzichten, die Geschichten hier niederzuschreiben. Wir verraten euch lediglich die Fundorte der Bücher. Die emotionale Reise, die dahinter steckt, müsst ihr selbst erleben.
Das erste Buch ("Meine Jungfernfahrt"

) findet ihr in jeder Taverne. Es liegt direkt auf dem Tisch neben dem Eingang. Sobald ihr es gelesen habt, erhaltet ihr das Glitterbeard-Segel und könnt direkt damit lossegeln.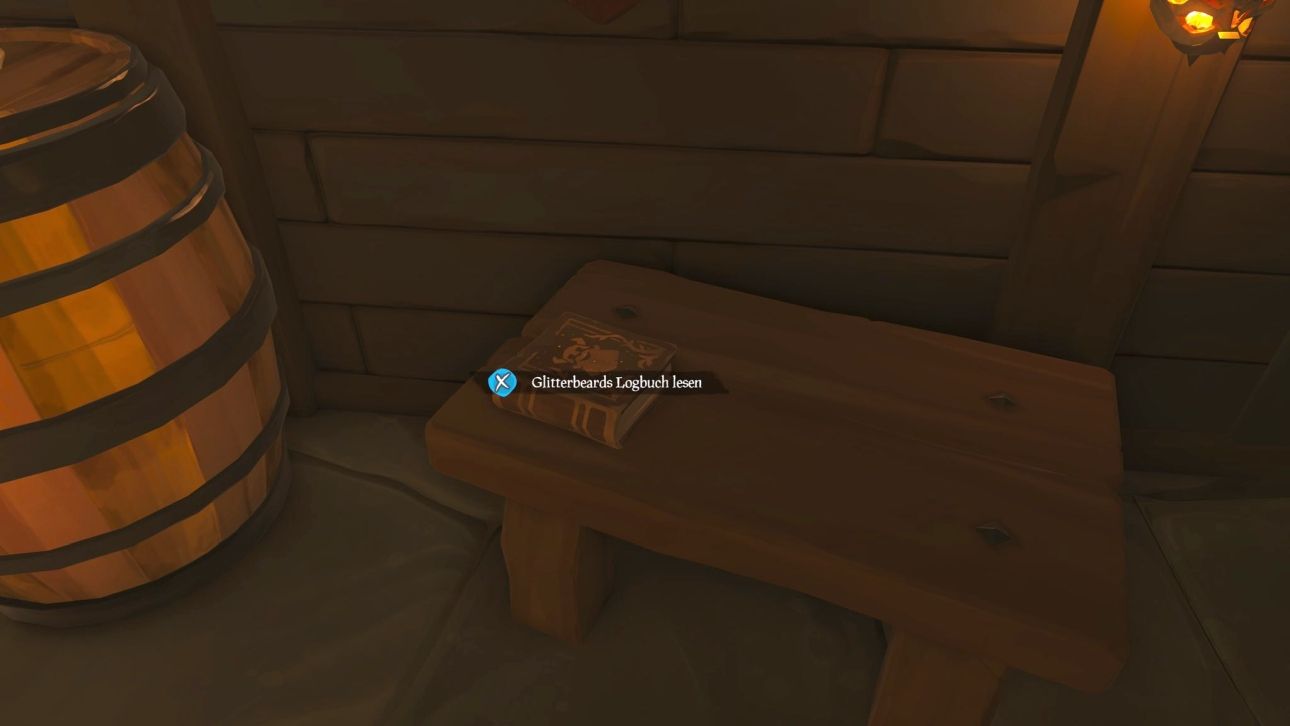 Das erste Buch von Glitterbeard findet sich direkt auf dem Tisch am Eingang jeder Taverne.
The Wilds
Eine neue Flagge ("Dagger Tooth"-Außenposten, beim Camp am Strand)
Verschollene Wracks (Old Faithful Isle, oben auf dem großen Felsen bei den Fässern)
Gefiederte Freunde ("Galleon's Grave"-Außenposten, auf dem Steg)
The Shores of Plenty
Taten und Worte (Smuggler's Bay, am Strand in der Mitte)
Kompagnon der Kompanie (Santuary-Außenposten, beim Ruderboot im Süden)
Verloren und Gefunden (Crescent Isle, in der Höhle auf einem Stein)
100 Tage Sonnenschein ("Golden Sands"-Außenposten, im Nordwesten)
Eine seltsame Seefahrt (Schnitterversteck, hinter der kleinen Brücke)
Ein unerwartetes Ende (Schnitterversteck, auf dem Steg)
The Ancient Isles
Mein erstes Gold (Booty Isle, bei den Fässern)
Seelensuche (Plunder-Außenposten, beim Ruderboot und Lagerfeuer)
Musik machen (Shark Bait Cove, beim Gemälde von Merrick und Derrick)
Kopf in den Wolken (Discovery Ridge, beim Camp am Schiffswrack)
Unser neues Heim (Plunder Valley, beim Wasserfall)
Flaggen der Freundschaft (Castaway Isle, bei der zerstörten Rumkiste im Norden)
Eine Taverne voller Legenden (Paradise Spring, in der Mitte beim See)
Wiedersehen (Stephen's Spoils, auf dem Steg)
Flotten der Flamme (Crook's Hollow, am höchsten Punkt auf den Fässern)
Einkaufen und Vorräte (Cutlass Cay, bei den Fässern)
Wie gewonnen, so zerronnen (Thieves' Haven, beim Schiffswrack)
Die Legende von Glitterbeard
Um das Event abzuschließen, werden insgesamt acht Spieler benötigt (ganz ähnlich wie damals bei "The Hungering Deep"). Habt ihr acht Piraten zusammen, segelt ihr nach Plunder Valley und sucht den Baum mit den Flaschen im Nordwesten. Nun müssen sich die Spieler um den Baum verteilen und das Shanty "Becalmed" zum Besten geben. Wer welches Instrument spielt, ist zweitrangig, Hauptsache ihr steht mit dem Instrument an der richtigen Stelle. Im Westen und Osten muss das Banjo gespielt werden. Die Spieler im Norden und Süden spielen die Drehleier. Im Nordwesten und Südosten sollte das Akkordeon erklingen und im Nordosten sowie Südwesten die Trommel.
Das Musizieren muss zudem zwischen 22 und 23 Uhr (In-Game-Zeit) stattfinden und solange andauern, bis die Flaschen am Baum beginnen zu leuchten. Alles Weitere verraten wir nicht ...