Xbox Game Pass: Yakuza-Remasters, The Medium und mehr
Geschrieben am 20.01.2021 um 14:46 Uhr.
Der restliche Januar hält für Xbox-Game-Pass-Nutzer Gangsterdramen aus Japan, Westerntaktik und Survival-Horror bereit.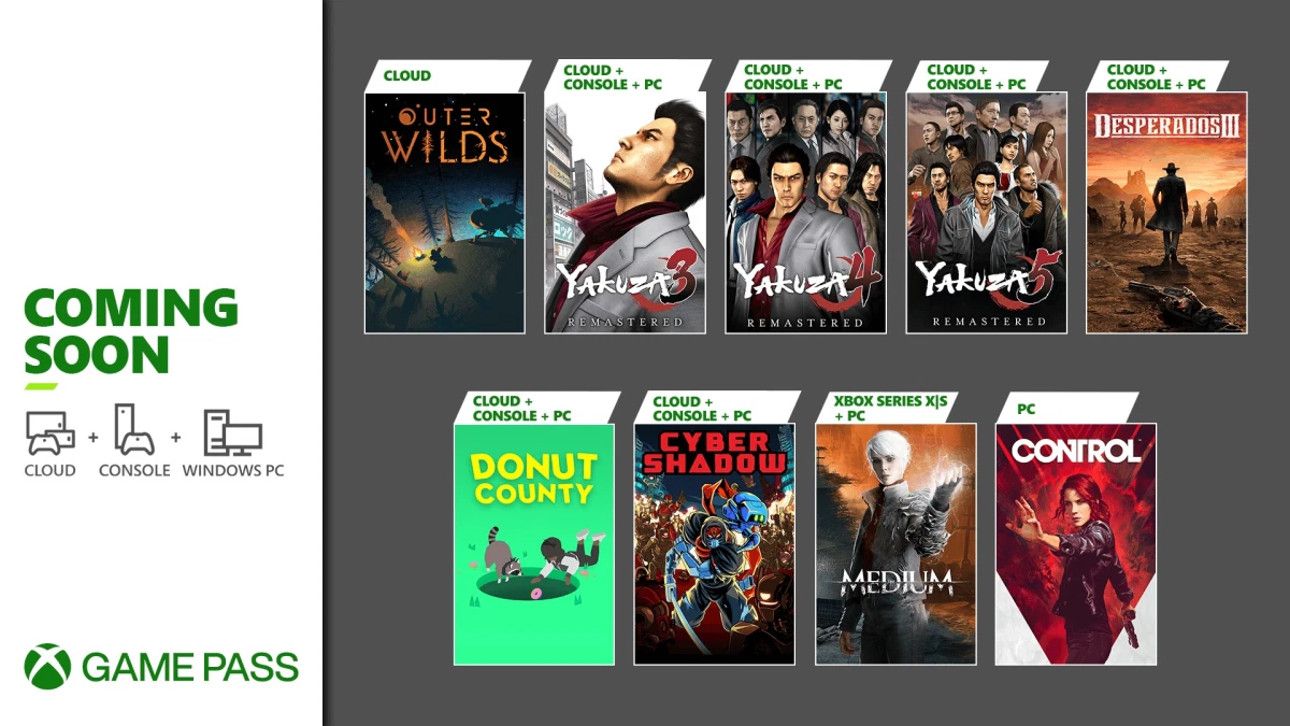 In den normalen Nachrichtensendungen gibt es jeden Tag die Wetteraussicht, in der Gaming-Welt mindestens einmal im Monat die Aussicht für die kommenden Neuzugänge im Xbox Game Pass. Heute ist es mal wieder soweit, dass wir euch berichten können, welche Spiele in naher Zukunft ihren Weg in den Abo-Service von Microsoft finden werden. Und da sind einige namhafte Kandidaten dabei.
Den nächsten Schwung Spiele gibt es bereits morgen. Zum einen erhalten endlich auch PC-Spieler Zugriff auf Control, das jüngste Actionspiel aus dem Hause Remedy Entertainment, das nicht nur ein spaßiges Gameplay, sondern auch eine interessante Welt (ihr bewegt euch in einem mysteriösen Bürogebäude, das seine Form verändern kann) und schicke Raytracing-Effekte bietet. Kein Titel zuvor hat die im Videospielkosmos noch recht junge Technik so gut genutzt wie dieses moderne Metroidvania. Mittlerweile gibt es zwar mit Cyberpunk 2077 ein Spiel, das in Sachen Raytracing nochmal eine ordentliche Schippe drauflegt, die Echtzeitspiegelungen in Control machen aber immer noch viel her.
Zeitgleich gibt es mit Desperados 3 ein Spiel für diejenigen, die es weniger actionreich, dafür aber taktisch anspruchsvoll mögen. Der jüngste Teil der Reihe, die in diesem Jahr bereits ihr 20. Jubiläum feiert, stammt vom Münchener Entwickler Mimimi Productions (Shadow Tactics: Blades of the Shogun) und hat durch die Bank weg hohe Wertungen erhalten. Lasst euch jedoch nicht von der Zahl 3 im Titel täuschen! Die Geschichte spielt vor den Ereignissen des ersten Teils und erzählt, wie sich die Charaktere John Cooper, Doc McCoy und Kate O'Hara kennengelernt haben. Mit dem Trapper Hector Mendoza und der Voodoo-erfahrenen Isabelle Moreau sind aber auch zwei neue Figuren spielbar.
Desperados 3 gibt es sowohl für PC- als auch Konsolenspieler sowie Android-Nutzer (in letzterem Fall dank Streaming). Gleiches gilt auch für das Puzzlespiel Donut County. Zudem ist ab morgen das gefeierte Adventure Outer Wilds auf Android-Geräten über die Cloud spielbar. Weiter geht es am 26. Januar mit dem Arcade-Actionspiel Cyber Shadow auf allen Plattformen. 
Zwei Tage später erscheint das Survival-Horror-Adventure The Medium für PC sowie Xbox Series X/S und ist vom Start an im Xbox Game Pass enthalten. Darin erkundet ihr zwei Welten parallel: Ähnlich wie in Silent Hill gibt es eine normale Version der Erde und eine finstere Paralleldimension und beide werden dank Splitscreen zeitgleich auf dem Bildschirm dargestellt, was vor allem beim Lösen der Rätsel eine entscheidende Rolle spielt. Apropos Silent Hill: Der Soundtrack von The Medium stammt aus der Feder von Akira Yamaoka.
Am 28. Januar landen desweiteren die Teile 3 bis 4 der Yakuza-Reihe im Xbox Game Pass (auf allen Plattformen). Die sind als Remastered Collection schon vor einiger Zeit für die PlayStation 4 erschienen und Ende des Monats finden sie endlich den Weg auf den PC und die Xbox-Konsolen. Da Yakuza 0 sowie Kiwami 1 und 2 (die Remakes der ersten beiden Serienteile) bereits im Game Pass enthalten sind, könnt ihr bald fast die gesamte Reihe nachholen, sofern ihr Abonnent seid. Nur der sechste und siebte Teil fehlen. Ersterer erscheint aber am 25. März für PC sowie Xbox One und landet dann in der Game-Pass-Bibliothek, letzterer ist erst Ende 2020 für PC, PS4, Xbox Series X/S und Xbox One auf den Markt gekommen. Ob auch er irgendwann per Abo spielbar sein wird, ist nicht bekannt.
Zu guter Letzt müssen wir uns von ein paar Spielen verabschieden, die am 29. Januar den Xbox Game Pass verlassen:
Death Squared (Konsole)
Death's Gambit (PC)
Final Fantasy 15 (Konsole und PC)
Fishing Sim World. Pro Tour (Konsole und PC)
Gris (PC)
Indivisible (Konsole und PC)
Reigns: Game of Thrones (PC)
Sea Salt (Konsole und PC)
Quelle: Microsoft