Diablo 4: Über 100 Städte und Dörfer in der Spieltwelt
Geschrieben am 07.11.2019 um 12:42 Uhr.
Blizzard betont, dass das einfache Volk in Diablo 4 eine große Rolle spielen soll. Und dafür brauche man viele Dörfer.
Diablo 4 wird nach allem, was wir bislang über das Hack and Slay von Blizzard Entertainment wissen, ein sehr großes Spiel. Als erster Teil der Serie verfügt es über eine zusammenhängende, offene Spielwelt. Die Zeiten der linearen Oberweltareale sind vorbei. Blizzard will aber nicht einfach nur eine riesige Karte basteln, die dann vollkommen leer ist, sondern Sanktuario mit richtig viel Leben füllen – und damit sind nicht nur Monster gemeint.
Auf der BlizzCon am vergangenen Wochenende, auf der Diablo 4 offiziell angekündigt wurde, fand ein Panel zu dem Action-Rollenspiel mit dem Titel "Welt und Lore" statt. Das konnten nur diejenigen sehen, die entweder vor Ort waren oder sich ein virtuelles Ticket gekauft haben, um Zugriff auf den entsprechenden Livestream zu erhalten. Wccftech war aber so freundlich, eine interessante Info aus diesem Panel per News-Artikel zu verbreiten: In Diablo 4 werde es laut Creative Director Sebastian Stępień, der vor seiner Zeit bei Blizzard an The Witcher 3: Wild Hunt und Cyberpunk 2077 gearbeitet hat, über 100 Städte und Dörfer geben.
In den Siedlungen soll es jede Menge NPCs geben, mit denen ihr interagieren könnt. Blizzard, so Stępień, wolle in Diablo 4 eine bodenständigere Geschichte als noch in Teil 3 erzählen. "Und wir denken, der beste Weg, diese Handlung zu erzählen, ist es, euch die Möglichkeit zu geben, die Geschichten der einfachen Leute zu entdecken", sagte Stępień auf dem Panel, während im Hintergrund ein Video lief, das ein Dorf zeigte. "Stellt euch diese Art Dorf vor, das ist nur ein Beispiel. Es [Anm. d. Red.: das gezeigte Video] dreht sich nicht um dieses spezifische Dorf, wir haben über 100 Siedlungen oder ähnliche Orte."​​​​​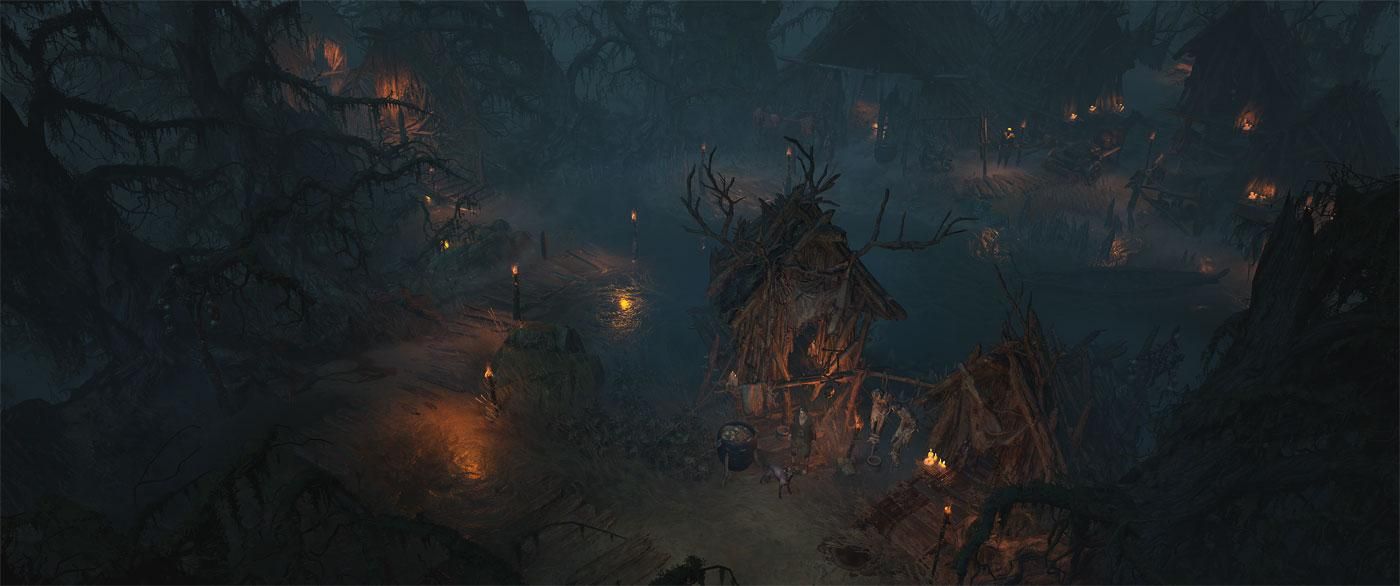 Wenn die Bevölkerung von Sanktuario so wichtig sein soll, wie Stępień sagt, dann müssen es die Siedlungen folglich auch sein.
Das Entwicklerteam wolle sich auf die Geschichten der Bevölkerung konzentrieren, die aber eben auch in Verbindung mit dem ewigen Konflikt zwischen Himmel und Hölle stünden. "Es geht nicht um große Helden, nicht um Politik, Könige oder irgendein anderes High-Fantasy-Thema. Es geht um diese Leute", so Stępień. Als Referenz nannte er den Wirt aus Diablo 1 und Marius aus Teil 2.
Quelle: Blizzard Entertainment (via Wccftech)