"Houses of Morrowind" liefert Hunderte neue Karten
Geschrieben am 19.03.2018 um 13:24 Uhr.
The Elder Scrolls Legends erhält in Kürze mit "Houses of Morrowind" eine neue Erweiterung mit 149 frischen Karten.
The Elder Scrolls Legends
The Elder Scrolls Legends bekommt noch in diesem Monat neue Inhalte spendiert. Der Publisher Bethesda Softworks hat die neue Erweiterung "Houses of Morrowind" für den 29. März angekündigt. Fans des kostenlosen Sammelkartenspiels dürfen sich auf satte 149 neue Karten freuen, die thematisch an die namensgebende Heimat der Dunkelelfen angelehnt sind. Damit hält Bethesda schon zum zweiten Mal innerhalb eines Jahres die Nostalgiefahne bezüglich The Elder Scrolls 3: Morrowind hoch, nachdem im Sommer vergangenen Jahres eine Erweiterung für das MMORPG The Elder Scrolls Online erschienen ist, in der es euch auf die Insel Vvardenfell verschlägt. 

In The Elder Scrolls Legends erkundet ihr bekanntlich keine offene Fantasy-Welt, sondern stellt Kartendecks zusammen und duelliert euch damit mit anderen Spielern. Ab nächster Woche könnt ihr euch Karten mit Charakteren und Monstern aus Morrowind erspielen beziehungsweise kaufen. Im Mittelpunkt stehen dabei die großen Häuser des Landes, wie der Titel "Houses of Morrowind" es deutlich macht. Aber sicherlich werden auch Kreaturen wie die Klippenläufer vertreten sein.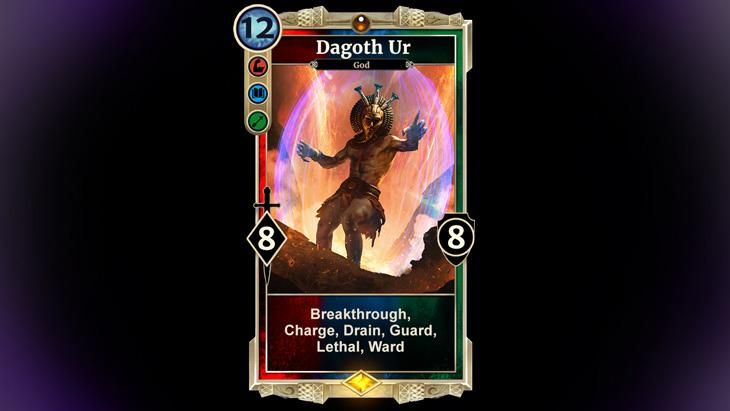 Oberschurke Dagoth Ur ist eine der neuen Karten in "Houses of Morrowind".
Die neuen Karten in dem Online-Spiel sorgen aber nicht nur für mehr Vielfalt, sondern auch frische taktische Optionen. So werden mit der Erweiterung Karten eingeführt, die es euch erlauben, euer Deck mit Blättern aus drei statt nur zwei Attributkategorien zusammenzustellen. Außerdem erhöht Bethesda die maximale Deckgröße in The Elder Scrolls Legends von 70 auf 100 Karten. "Houses of Morrowind" dürfte somit für viel frischen Wind auf den virtuellen Spielfeldern sorgen – und eben auch die Erinnerungen an den Rollenspielklassiker von 2002 wecken. Nach "Heroes of Skyrim" ist es übrigens schon die zweite Erweiterung für das Strategiespiel.
Quelle: Bethesda Softworks