"Heroes of Skyrim"-Erweiterung erschienen
Geschrieben am 30.06.2017 um 11:29 Uhr.
"Heroes of Skyrim" liefert den Spielern von The Elder Scrolls Legends über 150 neue Karten und frische Mechaniken.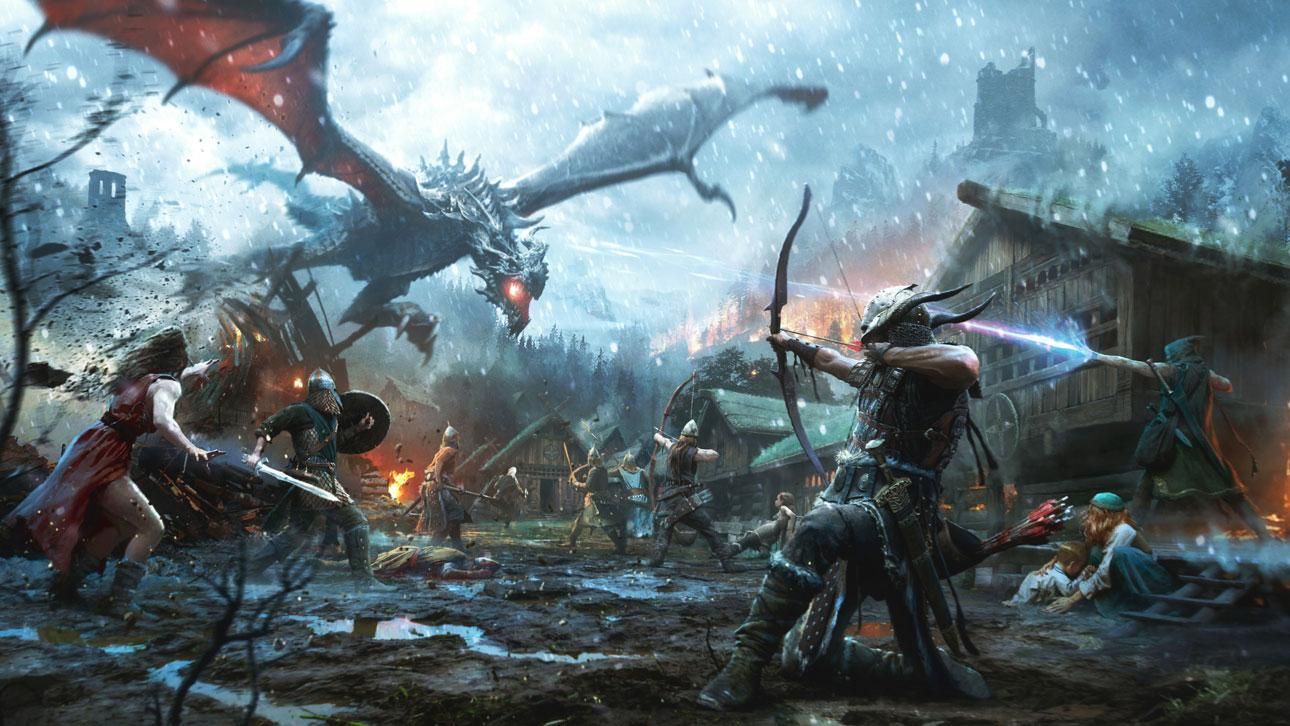 The Elder Scrolls Legends: Heroes of Skyrim
Bethesda hat die erste große Erweiterung für das kostenlose Sammelkartenspiel The Elder Scrolls Legends veröffentlicht. Mit "Heroes of Skyrim" erwarten euch mehr als 150 neue Karten mit frischen Mechaniken, alles natürlich an das Rollenspiel The Elder Srolls 5: Skyrim beziehungsweise dessen Schauplatz Himmelsrand angelehnt. 

So halten mit dem Add-on nicht nur bekannte Charaktere und mehrere Drachen Einzug auf den Spielfeldern von The Elder Scrolls Legends, es gibt beispielsweise auch die Drachenschreie. In Skyrim sind das mächtige Spezialfähigkeiten, die das Drachenblut (Dovahkiin, also euer Charakter in dem RPG) erlernt, indem es die Inschriften der Wortmauern in Drachenhorten liest. Die Schreikarten von "Heroes of Skyrim" können genauso in drei Stufen aufsteigen wie die Schreie im fünften "The Elder Scrolls"-Teil. Während ihr in Skyrim aber Worte der Macht lernt, um die Fähigkeiten zu verbessern, werden die Schreie in The Elder Scrolls Legends mächtiger, indem ihr sie einsetzt. 
Eine weitere Neuerung des Add-ons ist die Bestiengestalt für Begleiter. Dank dieser Mechanik können sie sich in Werwölfe verwandeln, wenn ihr in einem Duell eine Rune eures Gegenspielers zerstört. "Heroes of Skyrim" erweitert The Elder Scrolls Legends also um wesentlich mehr Dinge als nur ein paar neue Monster, Charaktere und Zauber in Kartenform. 

Darüber hinaus ist es generell ein guter Schachzug vom Bethesda, den Free-to-Play-Titel um Inhalte zu erweitern, die an den mit Abstand erfolgreichsten Teil der "The Elder Scrolls"-Reihe angelehnt sind. Denn das könnte vielleicht den einen oder anderen Skyrim-Fan dazu motivieren, sich auch mal The Elder Scrolls Legends anzuschauen. Allerdings gibt es das Kartenspiel bislang nur für den PC und die mobilen Geräte. Für die PlayStation 4 und die Xbox One ist der Titel noch nicht offiziell angekündigt.
Quelle: Bethesda Softworks