UPDATE: Episode 1 erschienen
Geschrieben am 24.07.2019 um 12:46 Uhr.
Für Besitzer des Year-1-Passes von The Division 2 ist "Episode 1 - Washingtons Vorstädte" mittlerweile spielbar.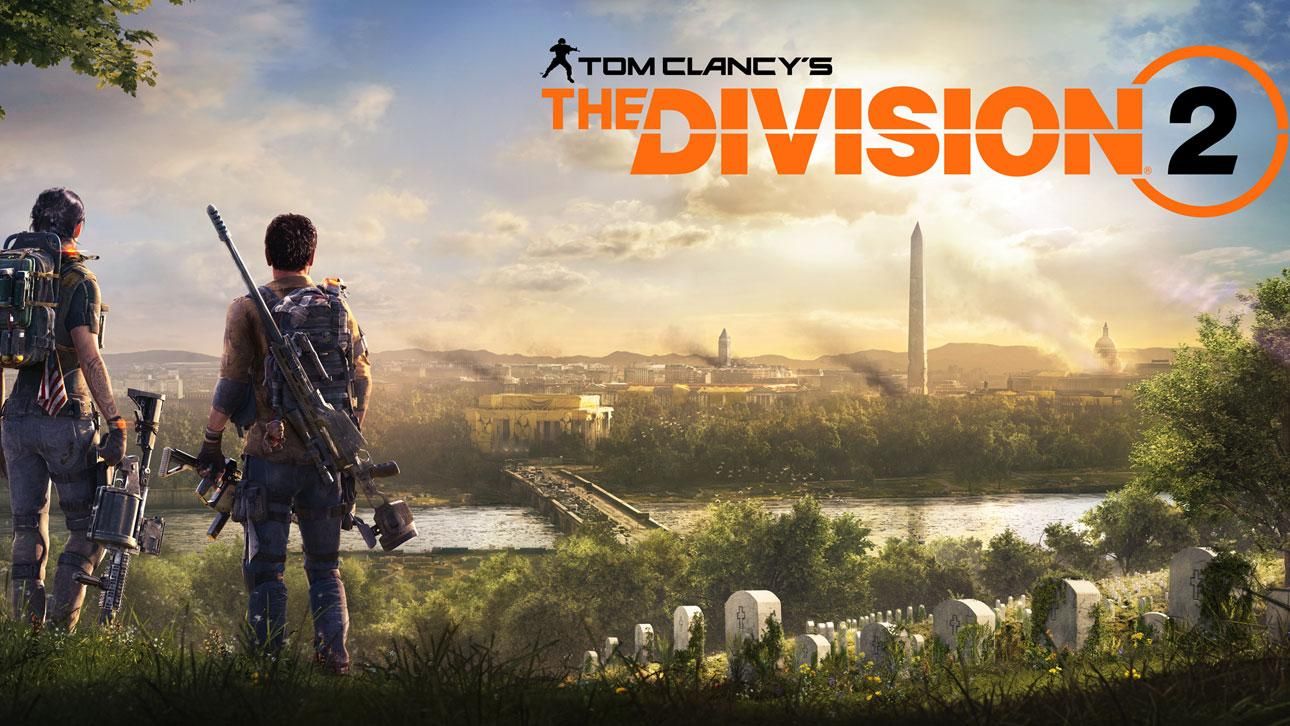 Update vom 24.07.2019: Habt ihr den Year-1-Pass für The Division 2 gekauft, erwarten euch ab sofort diverse neue Inhalte in dem Actionspiel von Ubisoft. "Episode 1 - Washingtons Vorstädte" ist gestern erschienen. Ihr könnt also die zwei neuen Hauptmissionen, ebenso viele Geheimeinsätze sowie die erste Expedition spielen. Wer den Season Pass nicht besitzt, darf erst ab nächsten Dienstag ran. Aber auch diejenigen, die nur das Hauptspiel gekauft haben, profitieren vom gestrigen Update. Immerhin dürft ihr ab sofort den Raid "Operation Dunkle Stunde" auf dem einfacheren Schwierigkeitsgrad "Entdeckung" spielen. Dazu gesellen sich noch zahlreiche Verbesserungen an den Skills und zahlreiche andere Kleinigkeiten. 
Darüber hinaus hat mit der Veröffentlichung des neuen Updates und der DLC-Inhalte das dritte Bekleidungsereignis namens "Hitzewelle" in The Division 2 begonnen (passend zum aktuellen Sommerwetter). Es gibt 40 neue kosmetische Items zum Sammeln. Im Spiel verdient ihr euch die Schlüssel, die ihr zum Öffnen der Event-Lootboxen benötigt, beispielsweise über wöchentliche Projekte. Alternativ kauft ihr sie euch für echtes Geld. Einen Gratisschlüssel gibt es für euch, wenn ihr euch während des Events im Spiel anmeldet. Das Bekleidungsereignis endet am 15. August, eure Schlüssel könnt ihr aber bis zum 22. August verwenden, um Kisten zu öffnen. Die neuen Items landen anschließend im Pool für die normalen Bekleidungsbehälter sowie im Bekleidungsgeschäft.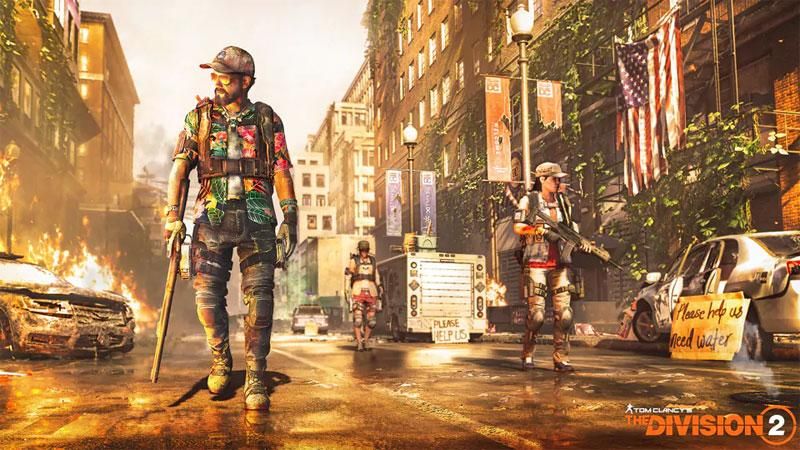 Im virtuellen Washington, D.C. wird es richtig heiß.
Originalmeldung vom 11.07.2019: Fans von The Division 2 warten derzeit sehnsüchtig auf "Episode 1 – Washingtons Vorstädte", den ersten großen DLC für den Third-Person-Shooter von Ubisoft. Nun steht der Release-Termin fest: Am 23. Juli dürfen alle Käufer des Year-1-Passes die neuen Inhalte spielen, alle anderen kommen ab dem 30. Juli kostenlos in den Genuss, in die Vorstadtgegend der US-amerikanischen Hauptstadt aufzubrechen.
Die erste DLC-Episode setzt die Geschichte von The Division 2 mit zwei neuen Hauptmissionen fort. "Camp White Oak" dreht sich darum, dass ihr einen Angriff ausführt, um den verräterischen Präsidenten Andrew Ellis zu schnappen. Die zweite Mission führt euch in den Manning National Zoo. Dorthin ist Emeline Shaw, die Anführerin der Ausgestoßenen, geflohen. Euer Ziel ist es, sie zu eliminieren.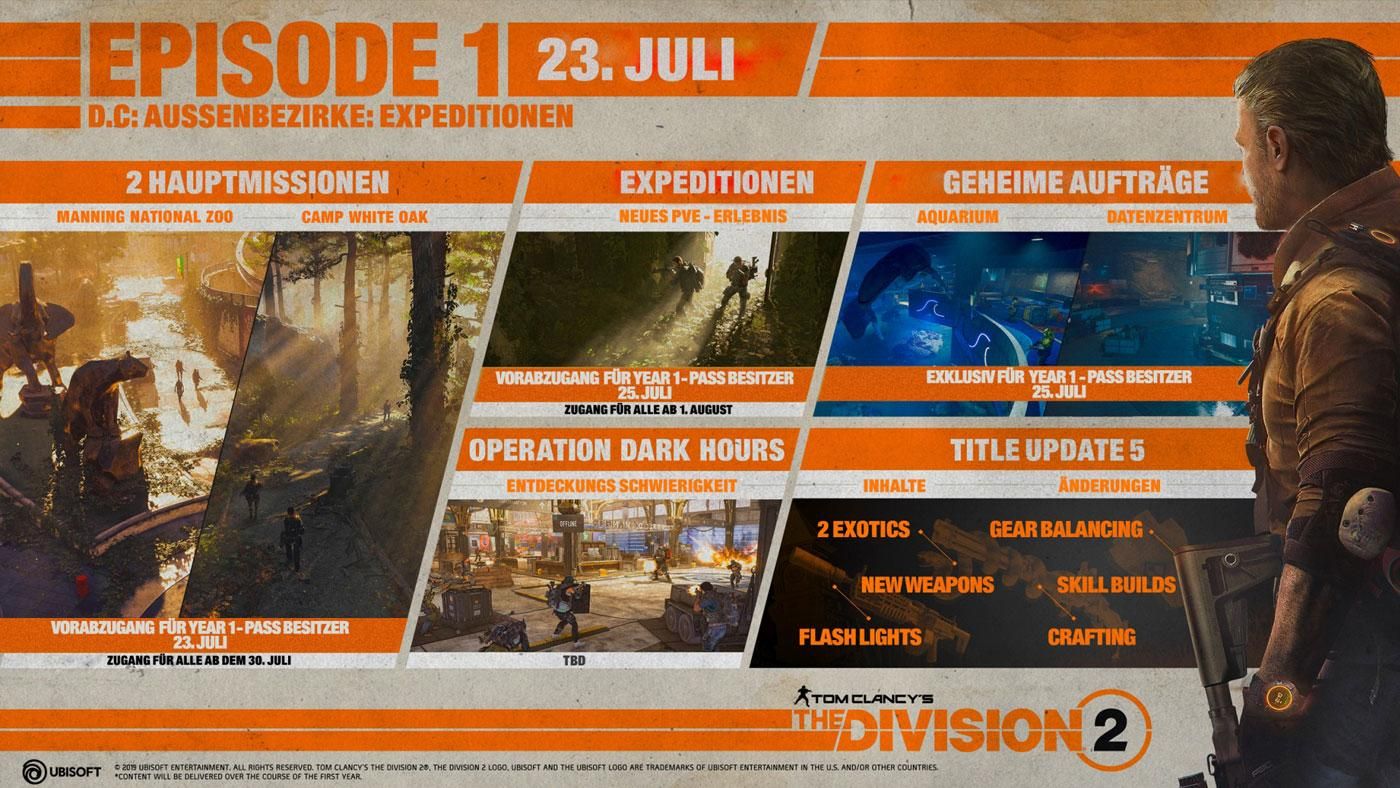 Episode 1 ist das bislang größte Update für The Division 2.
Ebenfalls neu sind die sogenannten Expeditionen. Dabei handelt es sich um einen PvE-Modus, in dem ihr das Verschwinden eines Militärkonvois aufklärt. Das Ganze ist in drei Einheiten unterteilt, die wöchentlich erscheinen. Wenn ihr sie alle absolviert, erhaltet ihr Zugang zu einer exklusiven Schatzkammer voller Belohnungen. Apropos Belohnungen: Mit dem Update, das die Inhalte von Episode 1 in The Division 2 implementiert, halten auch neue Waffen und Ausrüstungsgegenstände Einzug. So gibt es etwa das exotische Diamantklapperschlangengewehr, das Stoner LMG und die Carbine 7.

Weitere neue Inhalte sind zwei Geheimaufträge für alle Besitzer des Year-1-Passes von The Division 2, der Schwierigkeitsgrad "Entdeckung" für den Raid "Operation Dunkle Stunde" mit Matchmaking-Option, der leichter ist, euch dafür aber keine exotischen Gegenstände liefert, und Verbesserungen für das Crafting-System. Die maximale Ausrüstungspunktzahl liegt künftig bei 500 und ihr könnt Blaupausen zwischen euren Charakteren tauschen. Zudem wird es möglich sein, handgefertigte Waffen zu rekalibrieren.
Quelle: Ubisoft