Große Veränderungen geplant, keine Arena mehr
Geschrieben von Nico Trendelkamp am 28.01.2022 um 15:27 Uhr.
Rare hat Großes vor mit Sea of Thieves. Neue Abenteuer, Mysterien und Aktivitäten erwarten euch demnächst.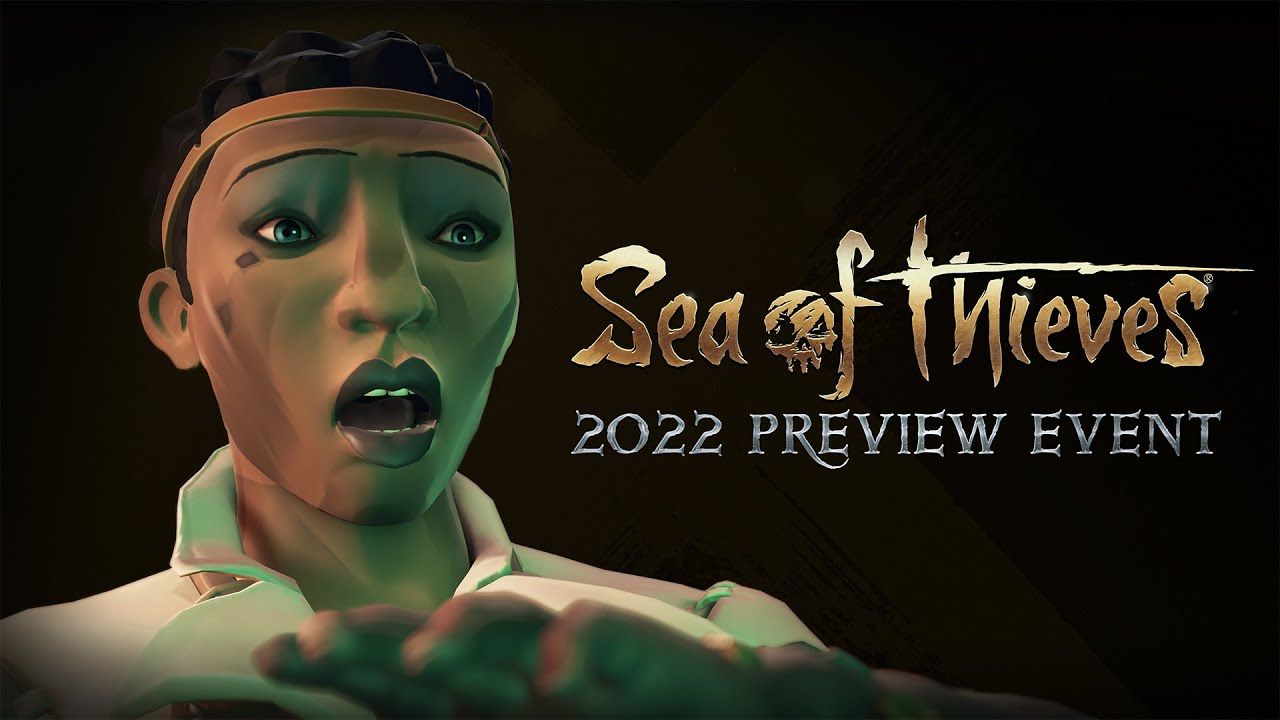 Gestern Abend fand das "Sea of Thieves"-Preview-Event 2022 statt. Rare hatte im Vorfeld nicht zu viel versprochen, als man vom bisher größten Jahr für das Piratenspiel sprach. Das englische Studio wird nämlich die Entwicklung etwas umstellen und will neben den saisonalen Updates auch mit anderen Inhalten die Spielwelt immer lebendiger gestalten.
Abenteuer
Dafür wird es zwei neue Dinge in Sea of Thieves geben: Abenteuer und Mysterien. Bei Abenteuern handelt es sich um Live-Events mit einer Geschichte und Zwischensequenzen. Allerdings bleiben sie nicht ewig im Spiel. Rare plant, ein Abenteuer pro Monat zu veröffentlichen und jedes circa zwei Wochen nach dem Erscheinen wieder zu entfernen. Dabei bilden die einzelnen Geschichten eine übergreifende Handlung. Captain Flameheart steht kurz davor, zurückzukehren und die Welt zu unterjochen. Das darf natürlich nicht passieren. Das Besondere ist dabei, dass die Geschichte basierend auf den Entscheidungen der Spieler von Rare weitererzählt wird und sich dementsprechend auch die Spielwelt verändern wird. "Shrouded Islands", das erste Abenteuer, startet bereits am 17. Februar.
Mysterien
Die zweite große Neuerung sind Mysterien. Die sind ebenfalls Teil der großen Geschichte, bleiben aber deutlich länger im Spiel. Hier geht es hauptsächlich darum, Geheimnisse zu lösen. Das gelingt aber nur, wenn die Community zusammenarbeitet, sowohl im Spiel als auch darüber hinaus. Je nachdem, wie schnell ihr dabei seid, gibt es von den Entwicklern entsprechende Hinweise. Es ist sogar schon bekannt, worum sich das erste Mysterium drehen wird: Es geht um den Mord an einem sehr bekannten Charakter aus Sea of Thieves.
Saisoninhalte und Legenden
Selbstverständlich gibt es auch wieder neue Saisoninhalte. Mit der sechsten Spielzeit werden Seefestungen eingeführt. Dabei handelt es sich Mini-Raids, von denen es insgesamt sechs Stück geben wird. Aufgetaucht aus den Tiefen der "Sea of the Damned", beschützen Phantome und Kapitäne diese kleinen Festungen. Je mehr Gegner ihr dabei umlegt, umso mehr Schlüssel bekommt ihr, um Türen zu Schatzkammern zu öffnen oder noch mächtigere Gegner zu befreien. Die Forts sollen eine kleinere und persönlichere Erfahrung liefern als die bislang bekannten Festungen, bei denen meist mehrere Crews zusammenarbeiten. Zudem sind sie Teil der übergreifenden Geschichte.
Wer von euch Sea of Thieves schon länger spielt, ist vielleicht schon eine Piratenlegende. Für solche wird es ab der zweiten Hälfte der sechsten Saison eine neue Art von Seefahrt geben. Die sollen sich bei jedem Mal anders anfühlen. Zudem gibt es Herausforderungen, um den Wiederspielwert zu erhöhen. Neue Kartentypen, bei denen ihr auf der Suche nach Schätzen auch schon mal einen Unterwasserschiffsfriedhof oder verfluchte Inseln besucht, sind ebenfalls Teil der Legenden-Seefahrten. Und, ihr könnt es euch schon denken, auch diese Seefahrten sind Teil der Gesamtgeschichte.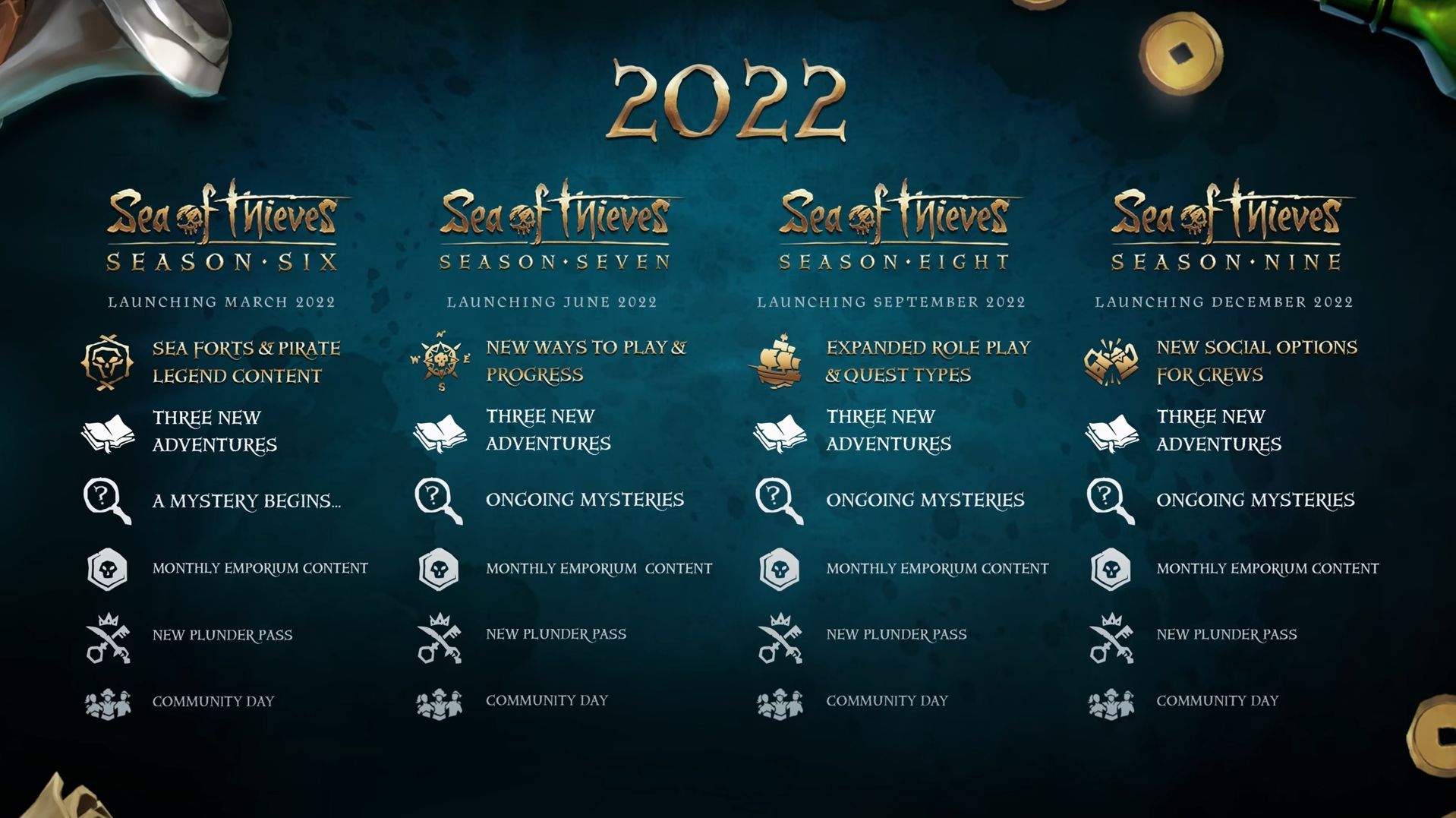 Arena und Podcast
Passend dazu hat Rare eine Roadmap vorgestellt, auf ihr sehen könnt, wann welche Inhalte ins Spiel kommen werden. Außerdem wird es ab Februar einen Podcast geben, in dem die Entwickler unter anderem die derzeit wichtigsten Dinge besprechen und auf Feedback eingehen werden.
Für eine Spielergruppe gibt es aber schlechte Nachrichten: Der Arena-Modus wird abgeschaltet. Es hat sich gezeigt, dass lediglich zwei Prozent der Spieler von Sea of Thieves regelmäßig die Arena unsicher machen. Daher wird der Modus zum Start der sechsten Saison am 10. März entfernt. Es wird jedoch Belohnungen für Spieler geben, die darin besonders aktiv gewesen sind.