Besonderes Geschenk für Halo-Fans
Geschrieben von Nico Trendelkamp am 11.06.2019 um 17:00 Uhr.
Der englische Entwickler Rare ist weiterhin voll und ganz Sea of Thieves verschrieben. Weitere Pläne sind Mangelware.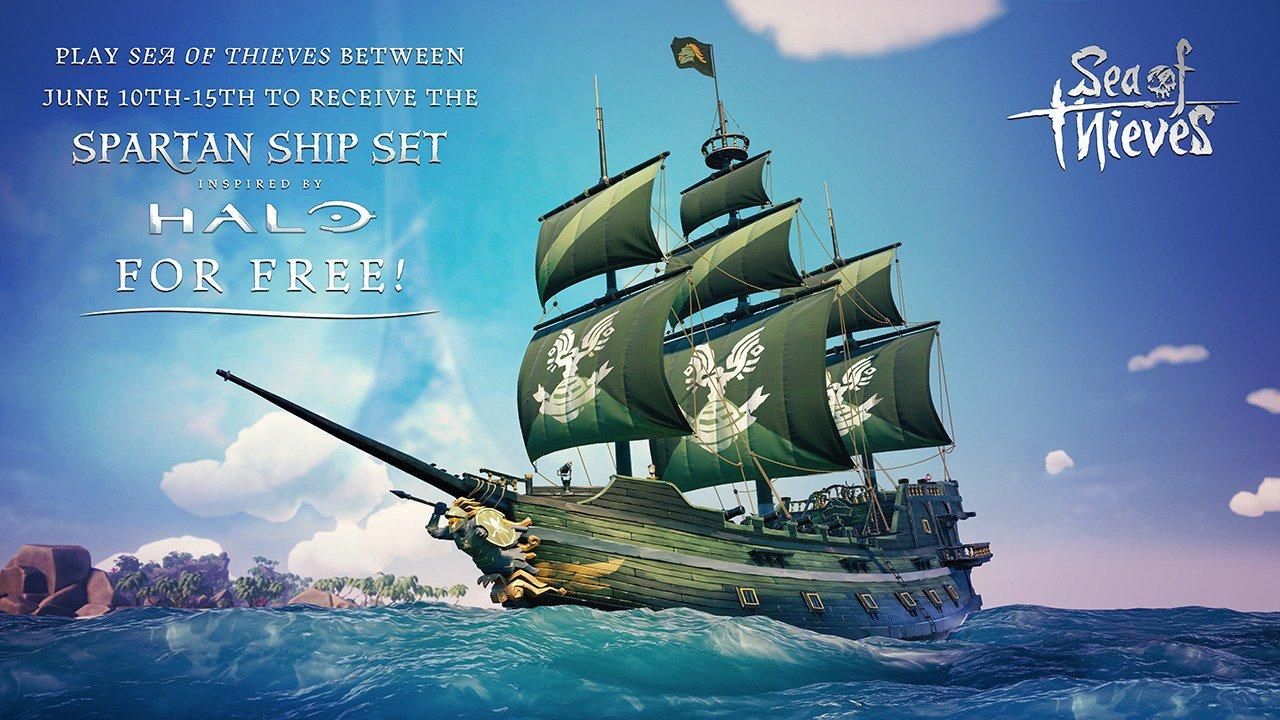 Dementsprechend haben die Macher schon im Vorfeld der E3 die Erwartungen gedämpft. Das Anniversary Update ist gerade erschienen und großartige Neuigkeiten waren nicht geplant. Einen kleinen Einblick, was Piraten dieses Jahr auf hoher See erwartet, wollte Produzent Joe Neate dennoch gewähren. Doch als der Engländer vergangene Nacht als Gast in der Inside Xbox Show auftrat, verriet er nichts. Stattdessen gab es ein paar Zahlen zum Spiel selbst.
Mittlerweile haben mehr als acht Millionen Spieler die Augenklappe aufgesetzt und das Holzbein angeschraubt. Allein zwei Millionen Piraten sind seit dem Anniversary Update hinzugekommen. Mehr Details konnte ihm Larry Hryb aka Major Nelson vom Xbox Live Team nicht entlocken. Eine kleine Überraschung, die besonders Halo-Fans erfreuen dürfte, gab es trotzdem.
We're proud to unveil the @Halo-inspired Spartan Ship Set, made in partnership with our friends at 343 Industries. Earn it by battling in The Arena on the E3 show floor OR by playing #SeaOfThieves at any time between now and 23:59 BST on Saturday! pic.twitter.com/GOrjvzmBzc

— Sea of Thieves (@SeaOfThieves) 10. Juni 2019
Wer Sea of Thieves zwischen dem 10. Juni und 15. Juni spielt, erhält kostenlos ein komplettes Schiffdesign im Halo-Look. Dazu gehören der Schiffsrumpf, ein Segel, eine Fahne, die Kanonen, die Winde und eine Spartan-Galeonsfigur. Es spielt keine Rolle, ob ihr in dieser Zeit "The Arena" oder den "Abenteuer-Modus" spielt. Spätestens 72 Stunden, nachdem in Sea of Thieves unterwegs wart, sollten die kosmetischen Gegenstände im Inventar bei der Schiffsbauerin auftauchen.
Quelle: Rare