Path of Titans: In diesem MMO werdet ihr zu einem Dinosaurier
Geschrieben am 25.07.2022 um 15:37 Uhr.
Schon kommende Woche könnt ihr Path of Titans das erste Mal selbst ausprobieren. Dann startet die Betatestphase des neuen Dino-MMOs.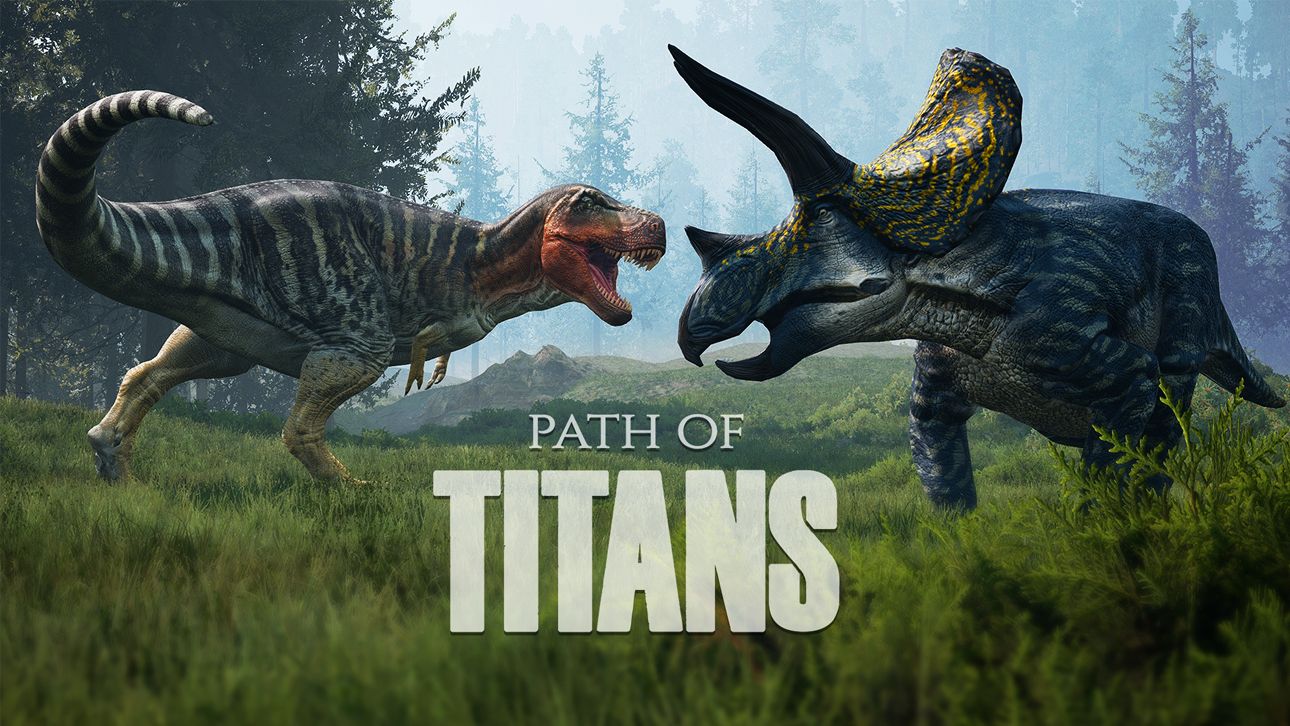 Dinosaurier zu züchten, zu zähmen oder in einem riesigen Zoo herumlaufen zu lassen, dürfte euch vermutlich nicht mehr vom Hocker hauen. Das haben wir zur Genüge in Ark oder Jurassic World gesehen. Das Studio Alderon Games hat die Dino-Idee in eine andere Richtung weitergedacht: Wie wäre es denn, wenn ihr selbst die Rolle eines Urzeitreptils übernehmen würdet? Das Ergebnis dieser Idee ist Path of Titans.
Als Dinosaurier müsst ihr hier in der Wildnis überleben und euch zum Beispiel um Nahrung kümmern und euch gegen eure Konkurrenz durchsetzen. Ihr seid in der Welt von Path of Titans keineswegs alleine unterwegs. Mit euch können sich noch bis zu 200 weitere Spieler auf dem Server tummeln. Mit denen könnt ihr euch in klassischer Survival-Manier entweder zusammenschließen oder bis zum letzten Dino bekämpfen. 
Viel Wert auf Realismus
Laut ihren Angaben haben die Entwickler vor, dass Leben eines Dinosauriers so realistisch wie möglich abzubilden. Dementsprechend erwarten euch in Path of Titans Pflanzen- und Fleischfresser inklusive ihrer spezifischen Eigenschaften. Ein besonderer Fokus liegt außerdem auf der Nahrungssuche. Auf der offiziellen Webseite sprechen die Entwickler zudem über Quests und Fähigkeiten. Ob sich das alles dann auch so spannend spielt, wie es zunächst aussieht, müssen wir natürlich noch abwarten. Es besteht die Möglichkeit, dass hier einfach das nächste 0815-Survival-Game in eine Beta startet, lediglich mit einem cooleren Setting als die Konkurrenz.
Die Beta von Path of Titans startet schon übermorgen, am 27. Juli 2022 auf aktuellen PlayStation- und Xbox-Konsolen, PC und auf mobilen Endgeräten. Allerdings müsst ihr das Spiel für 30 US-Dollar im offiziellen Shop kaufen, um auch an der Beta teilnehmen zu können. 
Unsere Einschätzung 
Path of Titans könnte eine spannende und willkommene Abwechslung zu den üblichen Survival-MMOs bieten. Besonders, dass wir dieses Mal in die Rolle eines Dinosauriers schlüpfen und der Alltag dieser gigantischen Tiere realistisch dargestellt werden soll, liest sich zumindest auf dem Papier spannend. Allerdings wirken die Mechaniken auf den ersten Blick wie das vertraute Survival-Einerlei: Weltereignisse hier, feindliche oder freundliche Mitspieler da, Charaktererschaffung dort, die Dinos werden müde und kriegen Hunger. Das kommt uns doch stark bekannt vor. Wir hoffen, dass wir durch die Beta einen besseren Eindruck von Path of Titans gewinnen können.