Nintendo Switch: Neue Fitnessperipherie angekündigt
Geschrieben am 06.09.2019 um 11:54 Uhr.
Die Nintendo Switch bekommt wie ihre Vorgängerinnen Fitnessperipherie. Im ersten Video sieht das Ganze sehr seltsam aus.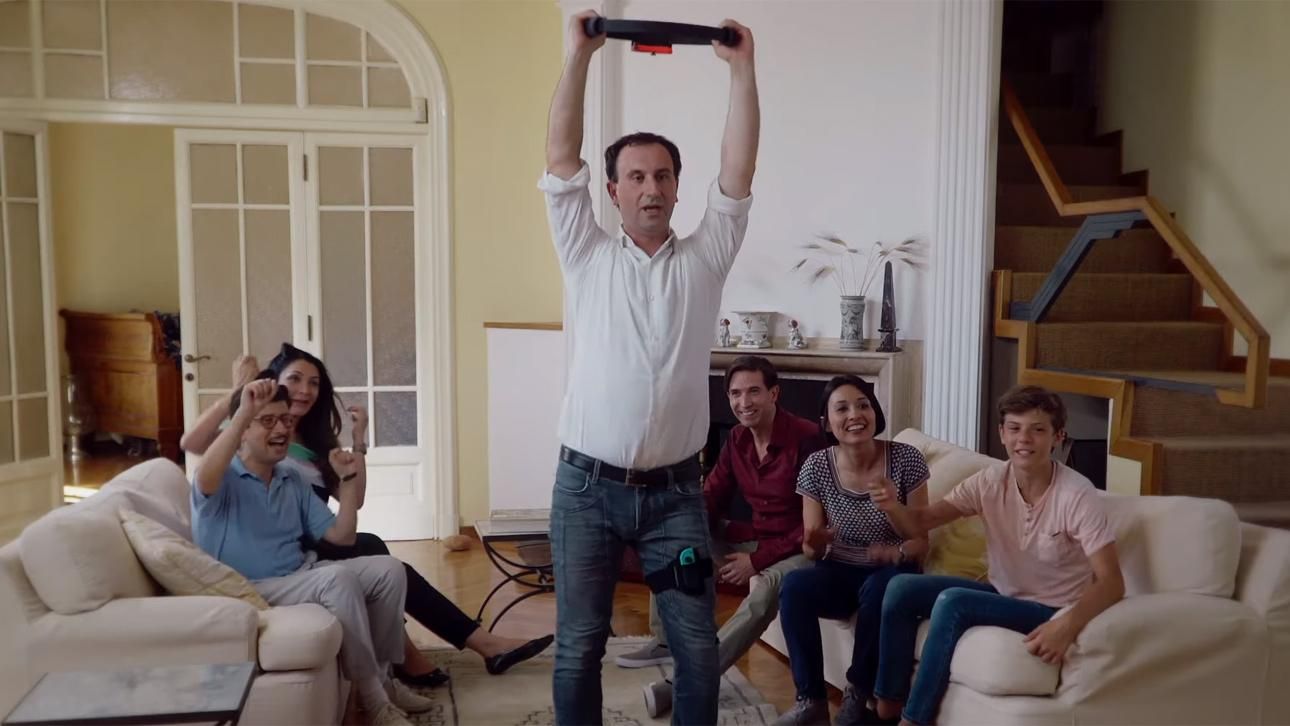 Mann, was war das für eine Nacht für Nintendo-Fans vom 4. auf den 5. September! Der japanische Publisher und Konsolenhersteller strahlte eine neue Ausgabe von Nintendo Direct aus und packte in knapp 40 Minuten so enorm viele Ankündigungen und sonstige Infos, dass wir dem einen ziemlich umfangreichen Artikel statt bloß einer kleinen News gewidmet haben. Doch der Konzern beließ es nicht dabei: In der vergangenen Nacht veröffentlichte er einen Trailer für…ein neues Fitnessgerät. Ja, ihr habt richtig gelesen: ein Fitnessgerät.
Erinnern wir uns kurz zurück: Zu Zeiten der Wii entdeckte Nintendo die Zielgruppe der Casual Gamer für sich, die kein Interesse an The Legend of Zelda oder Super Mario hatten, sondern vor allem von der Bewegungssteuerung und Wii Sports dazu angeregt wurden, die Konsole zu kaufen. Zocken und sich gleichzeitig bewegen, das war für viele Menschen der Kaufgrund für die Wii. Nintendo erkannte das und brachte mit Wii Fit ein Fitnessspiel samt passender Peripherie, dem Balance Board, auf den Markt. Damit gelang dem Unternehmen ein großer Erfolg. Für die Wii U erschien sogar mit Wii Fit U ein Nachfolger. Und nun soll es also etwas ähnliches für die Switch geben.
In dem Video seht ihr kein Gameplay und auch der Name des Produkts ist nicht bekannt. Der Clip zeigt lediglich Menschen aus aller Welt, die die neue Peripherie nutzen und in typischer Nintendo-Werbemanier demonstrieren sollen, wie viel Spaß das macht. Konkret handelt es sich um einen dehnbaren Ring, in den ihr einen Joy-Con steckt, und ein Klettband mit einer Tasche für den zweiten Controller, das ihr an eurem Oberschenkel befestigt. Ja, und dann führt ihr eben unterschiedliche Bewegungen aus. Und das sieht in dem Trailer sehr merkwürdig aus, weil aber eben auch nicht das Geschehen auf dem Bildschirm zu sehen ist. Nun gut, warten wir mal mehr Infos ab – wie es heißt, was es genau kann und wann es erscheint. Die sollen am 12. September folgen, pünktlich zum Start der Tokyo Game Show.
Quelle: Nintendo