Darksiders: Warmastered Edition erscheint für die Switch
Geschrieben am 01.02.2019 um 09:48 Uhr.
Die Darksiders: Warmastered Edition kommt bald für die Switch, nachdem sie 2017 noch für Wii U erschienen ist.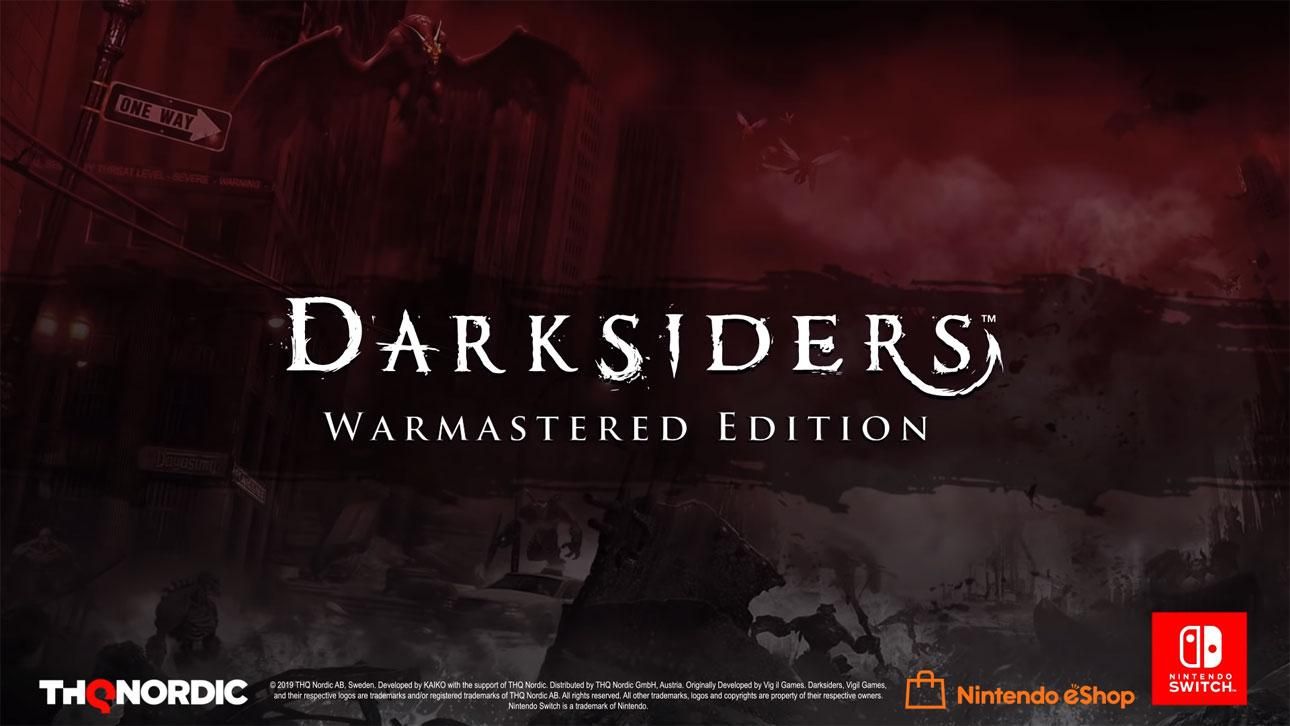 Mittlerweile ist es unter Publishern richtig beliebt geworden, Hits der vergangenen Jahre nochmal für die Nintendo Switch zu veröffentlichen – gerade dann, wenn sie vielleicht ursprünglich für die vorherige Konsolengeneration erschienen sind (PS3, Xbox 360). Vor nicht allzu langer Zeit hat Capcom eine Portierung des Rollenspiels Dragon's Dogma: Dark Arisen angekündigt und nun gab THQ Nordic bekannt, Darksiders in der Warmastered Edition auf die Hybridkonsole aus Japan zu bringen. Der Release-Termin ist der 2. April 2019.

Jene Version ist die Remastered-Fassung des Action-Adventures von 2010. In dem ursprünglich für PlayStation 3 und Xbox 360 entwickelten Spiel schlüpft ihr in die Haut von Krieg, einem der vier Reiter der Apokalypse. Letztere ist zu Beginn von Darksiders in vollem Gange. Krieg landet auf der Erde, auf der die Menschen abgeschlachtet werden und sowohl die Mächte des Himmels als auch die der Hölle wüten.
Doch dann stellt sich heraus, dass er der einzige der Reiter ist, der im Diesseits unterwegs ist. Das "Siebte Siegel", das die Apokalyptischen Reiter eigentlich heraufbeschwören soll, wurde gar nicht gebrochen. In dem Moment wird Krieg klar: Hier ist eine Verschwörung am Werk. Unser Hauptcharakter wird daraufhin beschuldigt, sich auf die Seite der Unterwelt geschlagen und die Apokalypse vorzeitig ausgelöst zu haben. Er muss nun herausfinden, wer ihm die Schuld in die Schuhe geschoben hat und was der Grund für all das ist.

Darksiders wird gerne als Zelda für Erwachsene beschrieben. Und genau das ist es auch: Ihr erkundet eine zusammenhängende, wenn auch nicht wirklich offene Welt, kämpft euch durch Dungeons, erlangt nach und nach neue Fähigkeiten und Items und die eröffnen euch wiederum neue Pfade. Es gibt viele Geschicklichkeitspassagen und Rätsel, außerdem wird reichlich geschnetzelt. Das wiederum geschieht in klassischer "God of War"-Manier. Darksiders wurde vor neun Jahren als toller Mix aus eben den Kämpfen jener Sony-exklusiven Reihe und der Struktur von The Legend of Zelda gelobt und hat sich zumindest so gut verkauft, dass Entwickler Vigil Games einen Nachfolger produzieren durfte (und mittlerweile gibt es sogar einen dritten Teil). 

Ob Darksiders: Warmastered Edition auf der Nintendo Switch irgendwelche besonderen Features haben wird, ist nicht bekannt. Wir gehen aber mal davon aus, dass es sich um eine simple Portierung handelt. Die Remastered-Version erschien 2016 für PS4, Xbox One und PC und 2017 sogar noch für die Wii U. Da war die Switch bereits veröffentlicht.
Quelle: THQ Nordic