Call of Duty – Modern Warfare: Die Zombies kommen!
Geschrieben am 20.10.2020 um 15:34 Uhr.
In Call of Duty: Modern Warfare sowie Warzone startet heute das Halloween-Event namens "Der Spuk von Verdansk".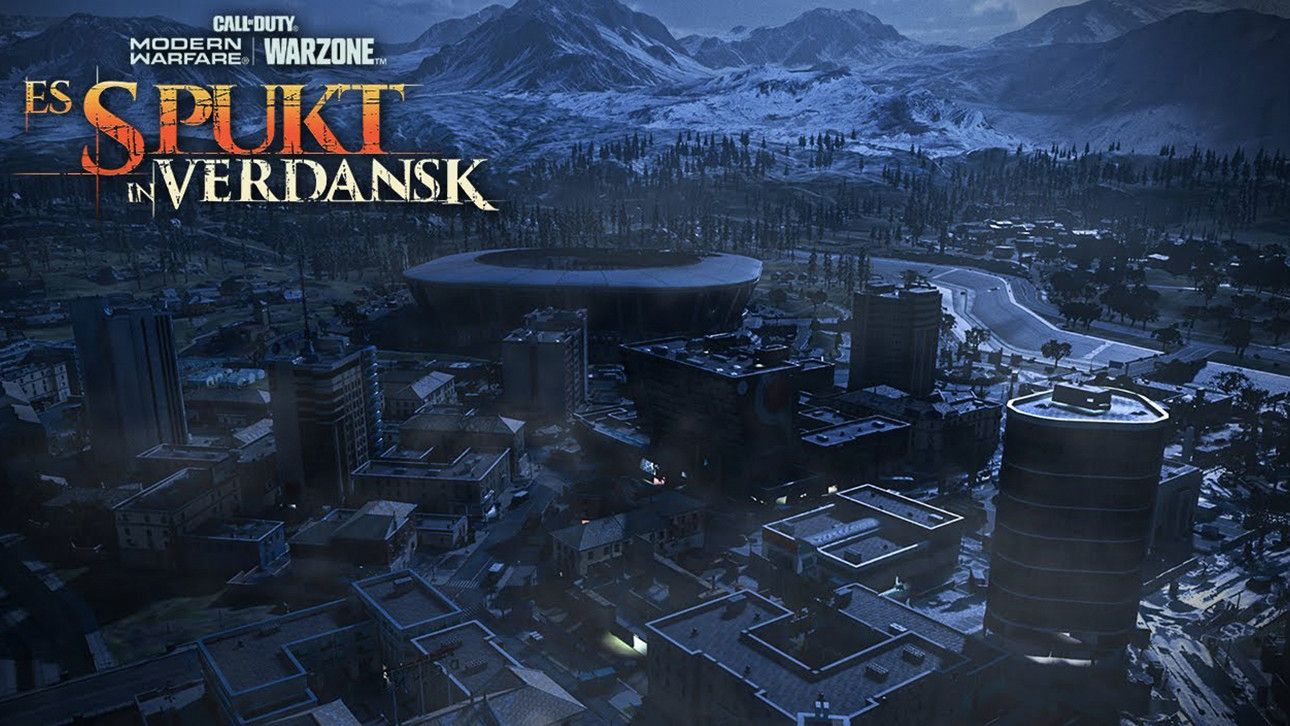 Wie jedes Jahr dürfen sich Spieler über zahlreiche Events rundum die Zeit von Halloween freuen, so auch in Call of Duty: Modern Warfare und dem Battle-Royale-Modus Warzone. Ein umfangreiches Event kommt im Zuge des "Season 6 Reload"-Updates. Das enthält ein Crossover mit Filmen wie "SAW" und "Texas Chainsaw Massacre", einen neuen Modus für Warzone sowie zwei für Modern Warfare, einen kürbisreichen Killstreak und vieles mehr.
Ein Operator-Einsatzkommando unternimmt eine Mission nach Verdansk, da dort ungewöhnliche Vorkommnisse verzeichnet wurden. Ein Serienmörder treibt sein Unwesen und zudem wurden einige merkwürdige Geräusche vernommen, unter anderem das schallende Lachen einer auf einem Dreirad sitzenden Puppe. Der Trailer "Der Spuk von Verdansk" lässt Schauderhaftes vermuten:
Im Store könnt ihr euch mit der passenden Kosmetik für euren Operator ausrüsten:
Das "SAW"-Bundle mit dem "Billy The Puppet"-Skin
"Texas Chainsaw Massacre"-Bundle mit dem Leatherface-Skin
"Dr. Karlov"-Bundle mit dem durchgedrehten Wissenschaftler mit der Metallmaske
"Ghost: Grim Reaper"-Bundle mit dem Sensenmann-Skin
Dank des Events muss nicht länger auf Cold War gewartet werden, denn in Warzone rennen euch bald Zombiehorden entgegen. In dem Modus "Zombie Royale" dürft ihr nicht nur endlich mal im Dunkeln tappen, sondern auch den Kampf gegen Untote wagen. In jener Battle-Royale-Variante existiert kein Gulag, da gefallene Soldaten als Zombies erwachen – und zwar mit übernatürlichen Fähigkeiten. Als Untoter seid ihr nicht mit einem Schießeisen ausgestattet, könnt dafür aber schneller rennen, höher springen, bei Nacht sehen und fügt extrem hohen Schaden im Nahkampf zu. Um die eigenen Lebensgeister wieder zu erwecken, solltet ihr bei erlegten Spielern nach Spritzen suchen. Zwei davon injiziert und schon holt ihr euch wieder zu den Lebenden zurück.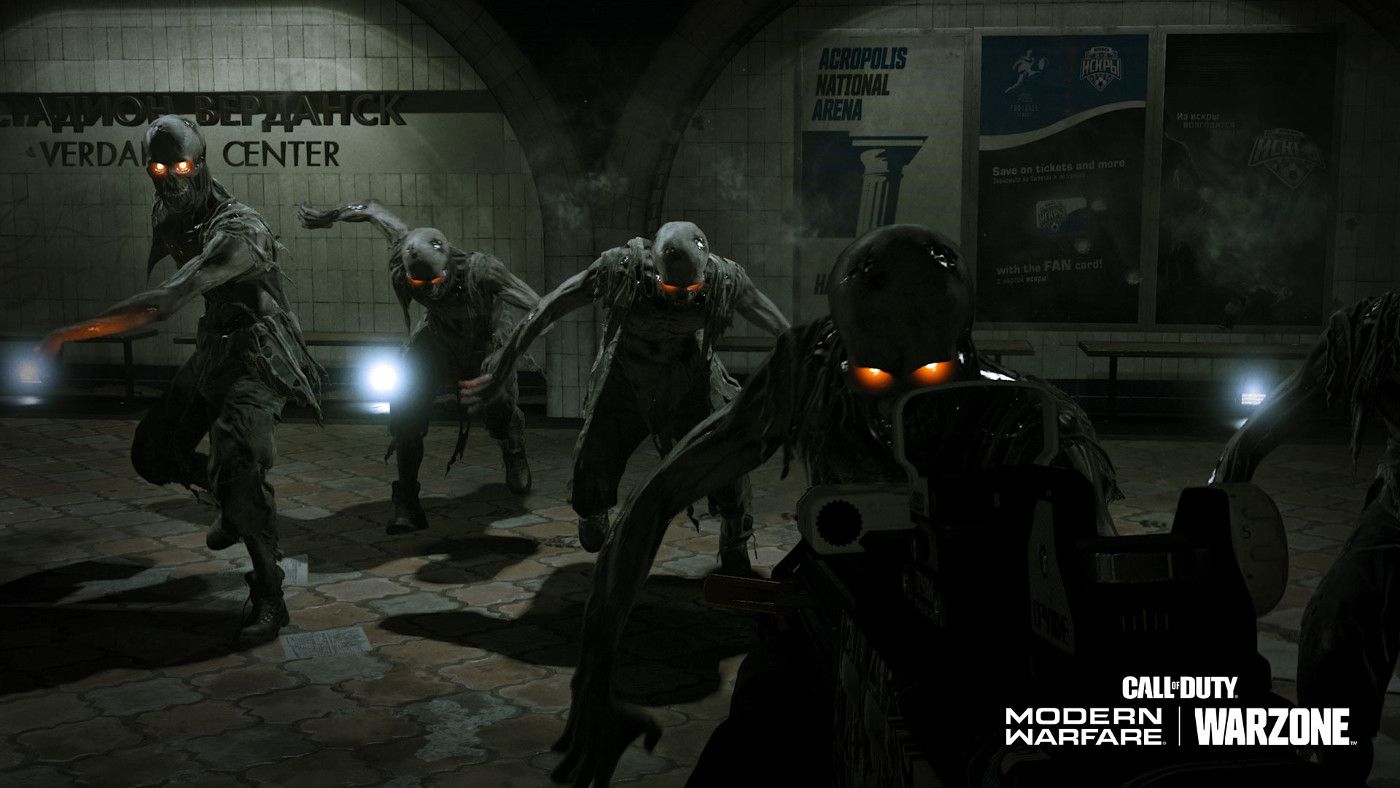 Im echten Leben wäre der Besuch im Gulag sicherlich besser als das Dasein als Untoter.
Zudem wurde ein neues "Trick or Treat"-Belohnungssystem eingefügt. Auf der Map verteilt findet ihr Versorgungskisten mit Waffenbauplänen, Sprays, Emblemen, Stickern und vielem mehr. Sammelt ihr 16 dieser Belohnungen ein, erhaltet ihr den Waffenbauplan für das Sturmgewehr "Pumpkin Punisher". Doch Vorsicht, denn manche der Kisten dienen nur dazu, euch einen Schrecken einzujagen!
Im normalen Multiplayewr von Call of Duty: Modern Warfare kommt ebenso einiges an Gruselaktionen, zum Beispiel der neue Killstreak. Bei mehr als drei Treffern verwandelt sich die Rübe eures In-Game-Charakters in einen Kürbis. Nach zehn Treffern beginnt er schauderhaft zu glühen. Macht so ein glühend-orangefarbenes, rundes Etwas es aber nicht eigentlich einfacher, getroffen zu werden?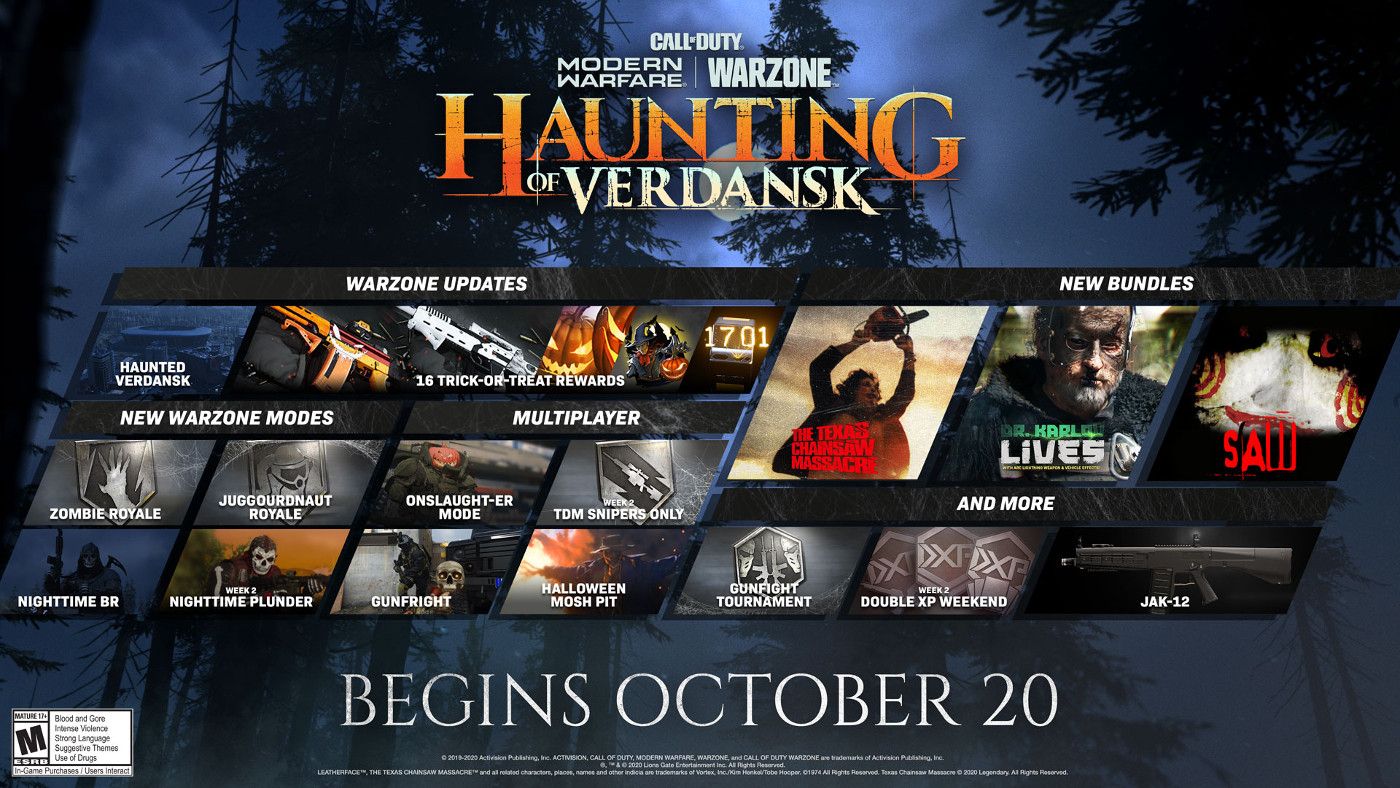 Hier seht ihr in der Übersicht, was euch alles ab heute in Call of Duty: Modern Warfare erwartet.
In dem neuen Modus "Onslaughter" erkämpft ihr euch eine zufällig spawnende Juggernaut-Ausrüstung, welche anschließend an einen bestimmten Ort gebracht werden muss. Außerdem sind die Köpfe der Juggernauts ebenso mit einem brennenden Kürbis vertauscht worden. In "Snipers Only" habt ihr, wie es der Name schon verrät, nur die Wahl zwischen Scharfschützengewehren. Hier gewinnt das Team mit den meisten Treffern.
Das Halloween-Event "Der Spuk von Verdansk" beginnt heute am 20. Oktober und läuft voraussichtlich bis zum 3. November. Zwar wurde noch keine genaue Uhrzeit veröffentlicht, jedoch wird vermutet, dass es gegen 19 Uhr starten wird.
Quelle: Infinity Ward