Xbox Game Pass: It Takes Two, GTA: San Andreas und mehr kommen
Geschrieben von Nico Trendelkamp am 02.11.2021 um 15:10 Uhr.
Der November bietet allerlei Spiele. Abonnenten des Xbox Game Pass können sich auf GTA, Forza Horizon 5 und mehr freuen.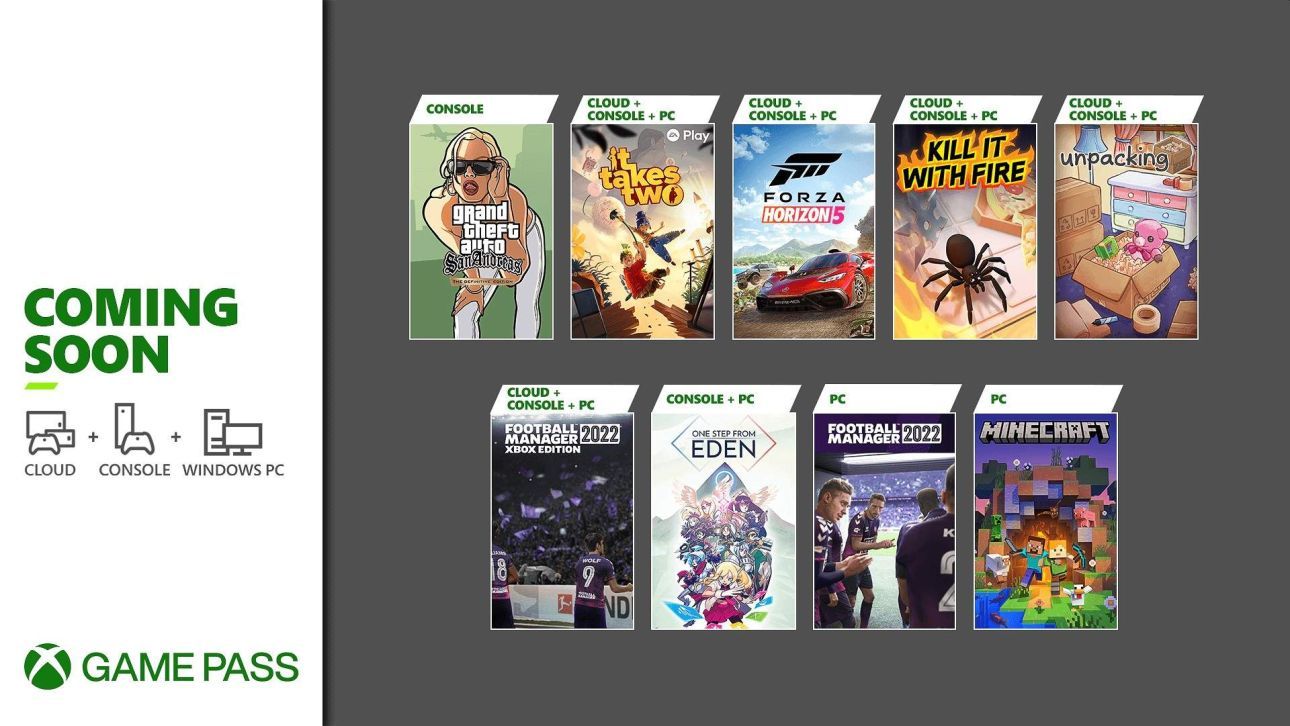 So langsam geht das Jahr 2021 zu Ende und das Weihnachtsgeschäft beginnt. Traditionell erscheinen zu dieser Zeit einige der größten Spiele des Jahres. Wenn ihr dazu auch noch Abonnent des Xbox Game Pass seid, gibt es einen Teil dieser Titel ohne weitere Zusatzkosten und der November hat einige hochkarätige Releases zu bieten. Außerdem gibt es seit heute ein dreimonatiges Probe-Abo für den Xbox Game Pass auf dem PC für nur einen Euro.
Kommen wir zu den Spielen. Ab heute könnt ihr zum Beispiel die Java- und Bedrock-Edition von Minecraft (PC) und das Indie-Spiel Unpacking (Cloud, Konsole und PC) ausprobieren und entweder eigene Welten erschaffen oder bei einem witzigen Umzug helfen. Seid ihr zudem auf dem PC unterwegs oder Abonnent des Xbox Game Pass Ultimate, ist ab Donnerstag der Koop-Hit It Takes Two (auch per Cloud spielbar) für euch verfügbar. Solltet ihr den Multiplayer-Genre-Mix noch nicht ausprobiert haben, könnt ihr das diese Woche nachholen. Der Titel ist eines der besten Spiele des Jahres. Ebenfalls am Donnerstag erscheint Kill it with Fire (Cloud, Konsole und PC). Darin müsst euch mit allen erdenklichen Mitteln, am besten jedoch mit Feuer, gegen fiese Spinnen zur Wehr setzen.
Nächste Woche, am 9. November, geht es dann weiter mit dem Football Manager 22 für den PC und die Xbox (auch per Cloud) sowie Forza Horizon 5 weiter, um auch sportbegeisterte Herzen zu erfreuen. Nur zwei Tage später erscheinen dann der Klassiker Grand Theft Auto: San Andreas in der Definitive Edition (Konsole) und One Step from Eden (Konsole und PC).
Natürlich verlassen auch wieder einige Spiele den Xbox Game Pass. Ab dem 15. November sind Final Fantasy VIII HD (Konsole und PC), Planet Coaster (Cloud und Konsole), Star Renegades (Cloud, Konsole und PC), Streets of Rogue (Cloud, Konsole und PC), The Gardens Between (Cloud, Konsole und PC) und River City Girls (Cloud, Konsole und PC) nicht mehr Teil des Angebots.