Steam Deck: Unlimitierte FPS zehren stark am Akku
Geschrieben am 08.02.2022 um 12:26 Uhr.
Wenn ihr euch ein Steam Deck holt und darauf grafisch aufwendige Spiele zockt, solltet ihr die Bildrate begrenzen.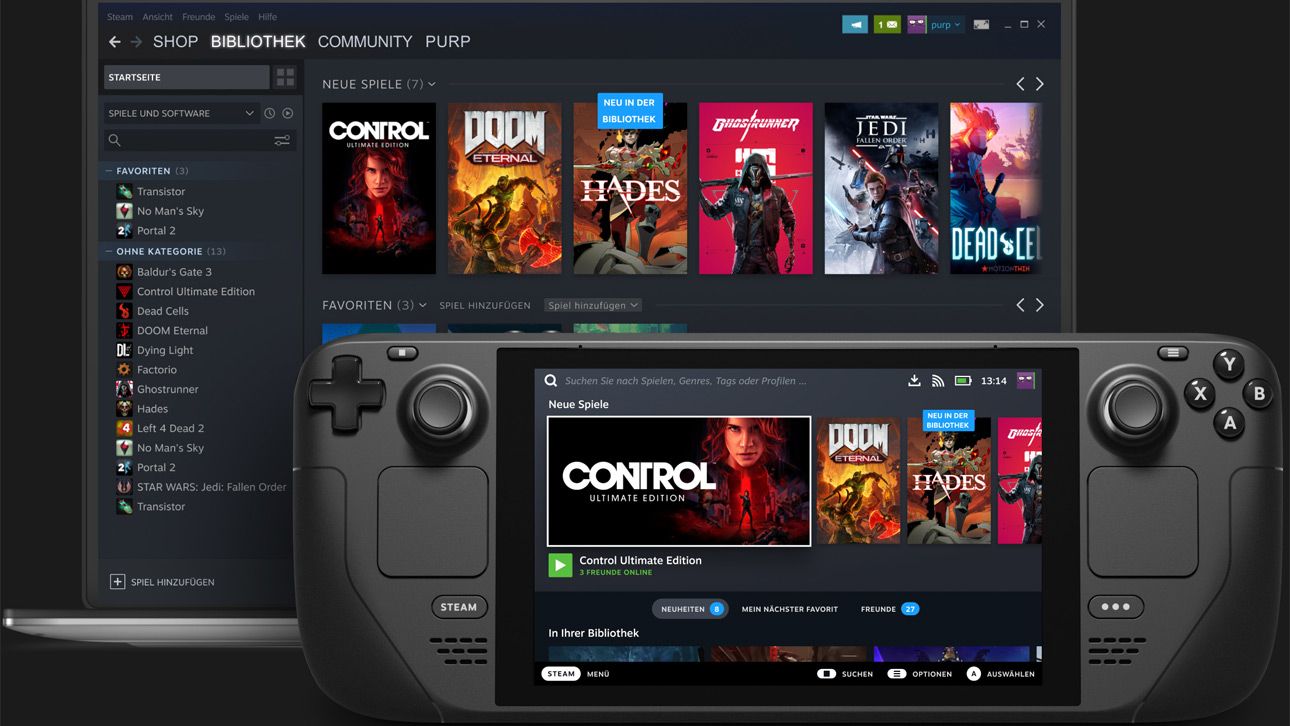 Noch ist das Steam Deck nicht erschienen. Die Markteinführung erfolgt bekanntlich am 25. Februar, nachdem Valve seinen Handheld ja eigentlich schon Ende letzten Jahres veröffentlichen wollte. Diverse Medienschaffende, unter anderem die Betreiber von Hardware-Kanälen auf YouTube, haben bereits Testgeräte erhalten und dürfen nun ihre ersten Impressionen mit der Öffentlichkeit teilen. Im Zuge dessen sind interessante Infos zur Akkuleistung ans Tageslicht gekommen.
Valve selbst gibt an, dass ihr mit dem Steam Deck je nach Spiel zwei bis acht Stunden spielen könnt, bis die Batterie wieder aufgeladen werden muss. Nun hat sich jedoch herausgestellt, dass es kein großes Problem ist, den Minimalwert von zwei Stunden zu unterbieten. GamersNexus hat mehrere Tests durchgeführt, unter anderem mit dem Actionspiel Devil May Cry 5. Mit einer unlimitierten Bildrate und deaktiviertem Vsync hat das Steam Deck gerade mal 87 Minuten durchgehalten. Die Helligkeit des Geräts war dabei auf 50 Prozent eingestellt. Um auf eine Laufzeit von zwei Stunden zu kommen, mussten Vsync aktiviert, die Grafikdetails etwas heruntergeschraubt und die Bildrate auf 60 FPS begrenzt werden.
The Phawx kommt zu ähnlichen Ergebnissen. Im Fall von Control, dem jüngsten Spiel aus dem Hause Remedy Entertainment, hielt der Akku bei 90 FPS und deaktiviertem Vsync 85 bis 90 Minuten durch – und das trotz niedriger Grafikeinstellungen. Der YouTuber weist aber auch darauf hin, dass es keinen Grund gibt, die Bildrate nicht auf 60 FPS zu begrenzen, da das Steam Deck ja lediglich einen 60-Hertz-Bildschirm hat.
Ein weiteres Spiel, das Valve für die Previews freigegeben hat, ist der Indie-Hit Dead Cells: ein Titel mit deutlich simplerer Grafik als ein Control oder Devil May C ry 5. Wenig überraschend: In diesem Fall hält der Akku des Steam Decks deutlich länger durch. GamersNexus und The Phawx berichten beide von einer Laufzeit von sechs Stunden bei aktiviertem Vsync. Auf die acht Stunden, die Valve als Maximum angibt, sei The Phawx aber nie gekommen. Er hat außerdem Forza Horizon 5 ausprobiert und anhand des Rennspiels gezeigt, welche großen Auswirkungen die Einstellungen auf die Akkuleistung haben. Mit einer Bildrate von 30 FPS und ein paar weiteren Anpassungen in Sachen Grafikdetails hat der YouTuber es geschafft, rund vier Stunden am Stück zu spielen.