PlayStation Plus im Februar mit der Control: Ultimate Edition
Geschrieben am 28.01.2021 um 14:13 Uhr.
Nutzer von PlayStation Plus kriegen neben dem neuen Destruction AllStars auch das Control-Komplettpaket "geschenkt".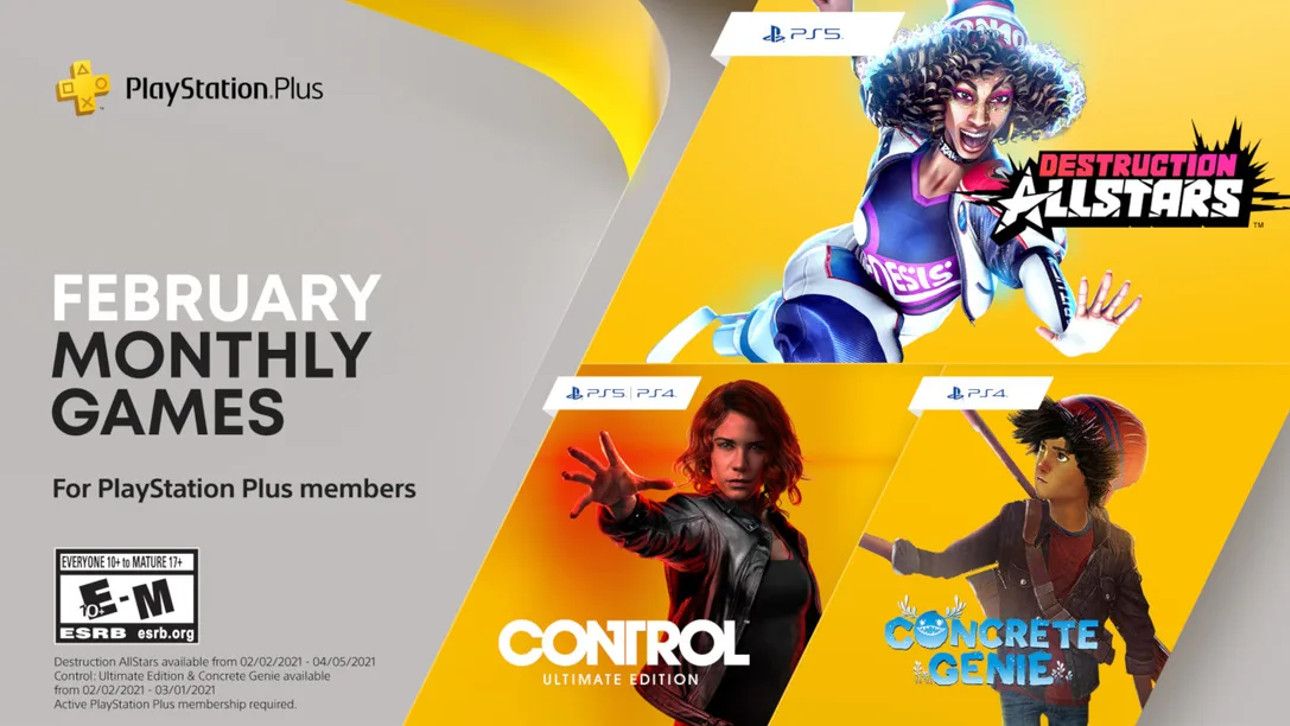 Der Januar ist fast vorbei und somit ist es an der Zeit für Sony zu verraten, auf welche "Gratisspiele" sich Abonnenten von PlayStation Plus im Februar freuen dürfen. Und holla die Waldfee! Das Angebot im kommenden Monat hat es echt in sich! Zum einen ist wie schon im November, Dezember und Januar ein reines PS5-Spiel mit von der Partie. Dabei handelt es sich – der eine oder andere wird es sich schon gedacht haben – um Destruction AllStars. Das Multiplayer-Spiel, in dem ihr euch Destruction Derbys mit anderen Spielern liefert, hätte eigentlich schon zum Launch der Konsole erscheinen sollen, wurde dann aber verschoben. Kurz darauf gab Sony schon bekannt, dass es im Februar auf den Markt kommt und direkt für PS-Plus-Nutzer zum "kostenlosen" Download bereitstehen wird.
Viel überraschender ist da, dass Control in der Ultimate Edition zu den monatlichen "Gratisspielen" gehört. Vergangenes Jahr hat Publisher 505 Games für einen Aufreger gesorgt, als man bekannt gab, dass nur Käufer jener Komplettedition das kostenlose Upgrade auf die PS5- beziehungsweise Xbox-One-X/S-Version erhalten werden. Unsere Redakteure Nico und Jens haben in einem Streitgespräch darüber diskutiert, ob das eine "Dreistigkeit Deluxe" oder eigentlich doch ganz ok ist. Nun gibt es jedenfalls sowohl die PS4- als auch die am 2. Februar erscheinende PS5-Fassung des Actionspiels für PS-Plus-Abonnenten ohne Aufpreis. Sie enthält das Hauptspiel mitsamt den beiden DLCs und auf der jüngsten Sony-Konsole profitiert ihr von schicken Raytracing-Effekten – es sei denn, ihr spielt im Performance-Modus. Der bietet dafür 60 FPS.
Das dritte Spiel im Bunde ist ein kleiner Geheimtipp: Concrete Genie ist ein Action-Adventure, das 2019 für die PS4 erschienen ist. Darin spielt ihr den jungen Ash (nein, nicht Ash Ketchum), dessen Heimat von einer mysteriösen Dunkelheit befallen ist. Noch dazu wird er von einer Gruppe Jugendlicher schikaniert, findet dann aber einen magischen Pinsel. Alles, was er damit malt, wird lebendig. So versucht er, wieder die Farben in den Ort zurückzubringen und erschafft sich zugleich selbst Freunde. Wer ein PS-VR-Headset hat, kann übrigens zwei VR-exklusive Modi spielen und dann mithilfe der Move-Controller völlig frei eigene Kunstwerke erschaffen.
Die neuen PS-Plus-Spiele sind ab dem 2. Februar verfügbar. Control und Concrete Genie könnt ihr bis zum 1. März eurer Bibliothek hinzufügen, Destruction AllStars wiederum ist zwei Monate lang "gratis" zu haben (bis zum 5. April). Solltet ihr euch noch nicht die PS-Plus-Titel von Januar gesichert haben (PS5-Version von Maneater sowie Shadow of the Tomb Raider und Greedfall für die PS4), habt ihr nun noch fünf Tage Zeit, das nachzuholen.
Quelle: Sony Interactive Entertainment