Infos zu den Anpassungsmöglichkeiten für eure Helden
Geschrieben am 01.07.2021 um 16:05 Uhr.
In Diablo 4 werdet ihr eure Charaktere viel detaillierter eurem Geschmack anpassen können als in den Vorgängern.
Blizzard hat ein neues Quartals-Update zu Diablo 4 veröffentlicht. Die vorherigen Artikel dieser Art haben stets eine Vielzahl an spannenden Details zu dem sehnlichst erwarteten Hack and Slay geliefert. Diesmal hält sich der Informationsgehalt, wenn es rein um Features des Spiels gilt, etwas in Grenzen. Das jüngste Update hat viel mehr einen Making-of-Charakter, denn die Entwickler erzählen darin, wie sie die Charaktere und Monster erstellen und dafür sorgen, dass die Figuren, aber auch deren Ausrüstungsteile gut aussehen.
Ein paar Details, die auch für die Leute interessant sind, denen solcher "Behind the Scenes"-Kram egal ist, gibt es aber doch. Zum Beispiel spricht Art Director John Mueller eine neue Kommodenmechanik an. Die gibt euch in Diablo 4 die Möglichkeit, das Outfit eures Charakters anzupassen, indem ihr aus "hunderten Rüstungskomponenten" auswählen könnt, so Mueller. Sicherlich handelt es sich hierbei um rein kosmetische Optionen. Des Weiteren werdet ihr in Diablo 4 das Farbschema von Rüstungen anpassen können.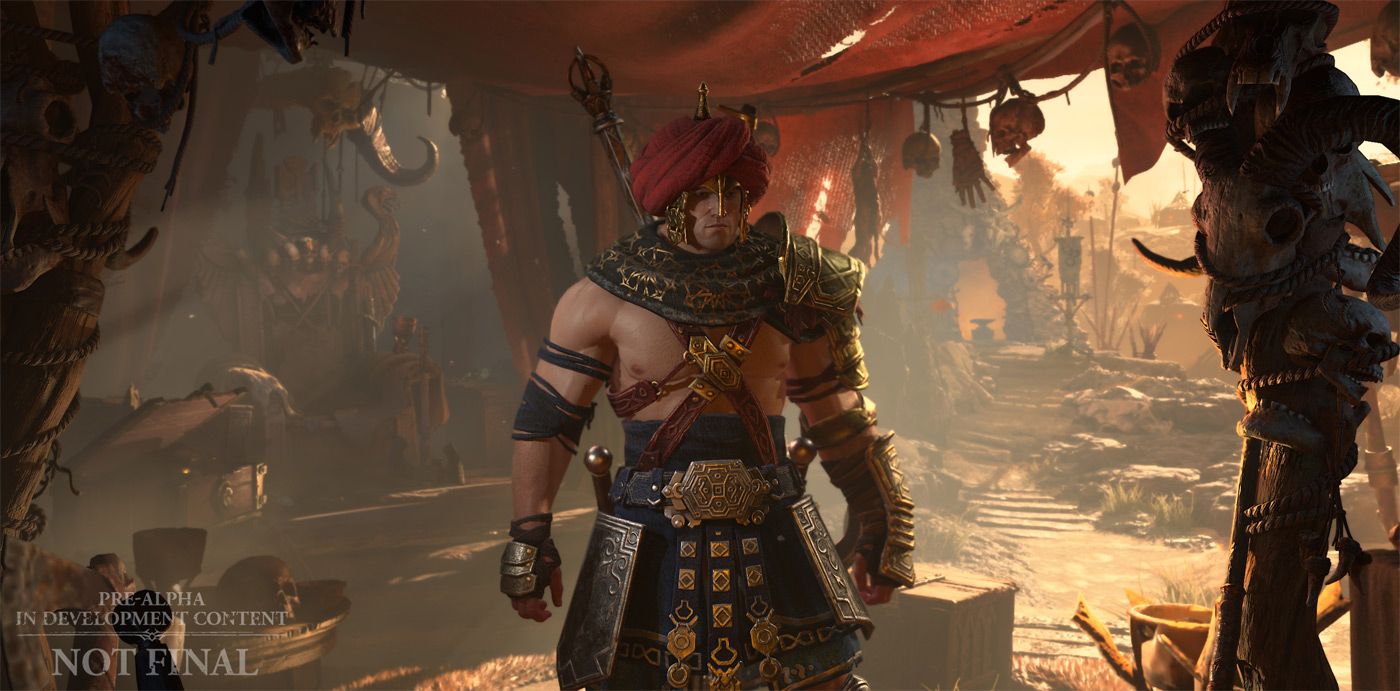 Auf eure "Kommode" (es wird sicherlich nicht wirklich eine Kommode im wörtlichen Sinne sein) werdet ihr in Lagern Zugriff haben.
Ihr werdet aber nicht nur eure Klamotten anpassen können. Auch am Körper des eigenen Helden oder der eigenen Heldin werden sich viele Dinge verändern lassen: die Frisur und Gesichtsbehaarung, Schmuck wie Nasenpiercings und Ohrringe, Make-up, Tattoos, Körperbemalung, der Hautton sowie die Augen. Teilweise gibt es von Klasse zu Klasse Unterschiede, was ihr anpassen könnt beziehungsweise welche Arten von Tattoos oder Schmuckstücken euch zur Verfügung stehen.

Blizzard zeigt außerdem ein paar der Monster, denen ihr in Diablo 4 entgegentreten werdet. Eine besonders widerliche Kreatur (und das meinen wir positiv) ist diese Spinne, die sich eine aufgedunsene Leiche gleichzeitig als Futter und Brutplatz ausgesucht hat.
Auch der Blutbischof sieht nicht wie jemand aus, mit dem wir gerne was trinken gehen würden.
Gleiches gilt für den Skelettfürsten. Ganz besonders bei ihm fallen die vielen kleinen Details auf, mit denen Blizzard die Modelle in Diablo 4 versieht.
Game Director Luis Barriga hat übrigens schon verraten, worum es im nächsten Quartals-Update gehen wird. Dann erfahren wir nicht nur mehr zum Sounddesign, sondern auch – und das ist vermutlich für die meisten von euch interessanter – zu den Langzeitinhalten von Diablo 4, also den Features, die euch über das Ende der Kampagne hinaus an das Spiel fesseln sollen.