Call of Duty – Warzone: Massen-"Team Deathmatch" kehrt zurück
Geschrieben am 03.09.2021 um 16:52 Uhr.
Kommende Woche gibt es frisches Futter für "Call of Duty; Warzone"-Spieler in Form von zwei neuen Spielmodi.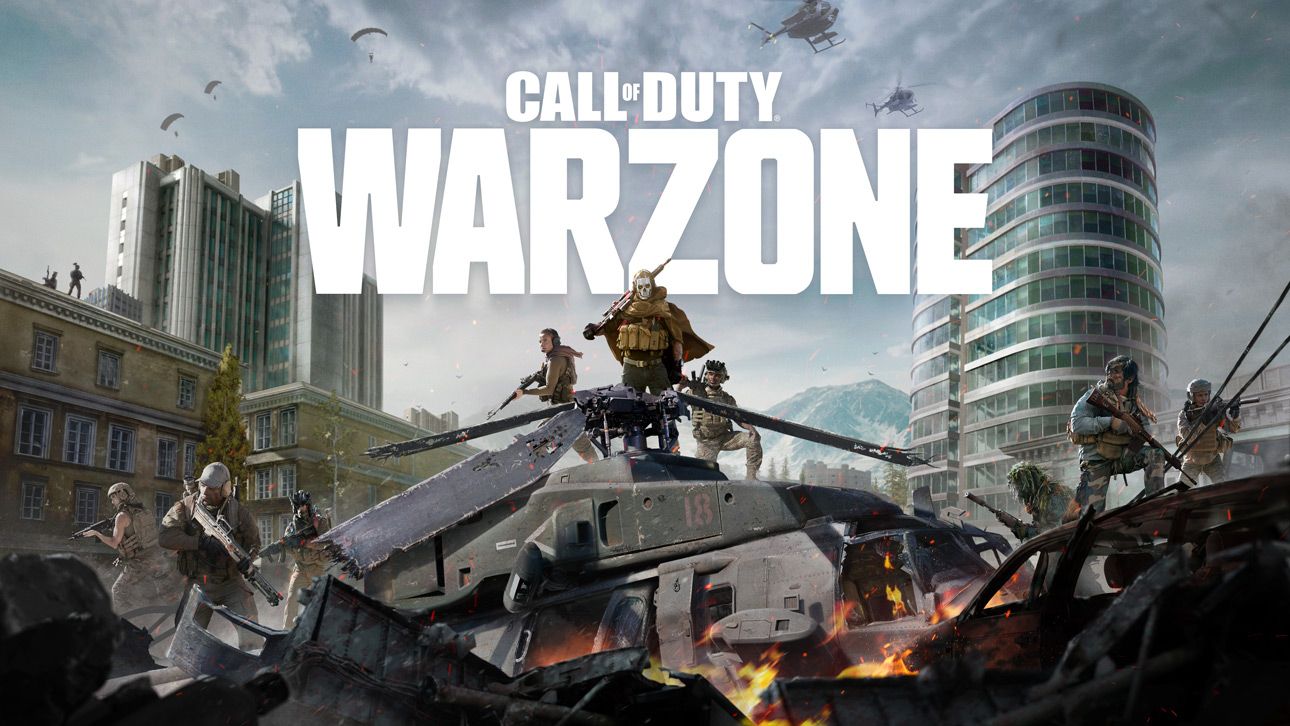 Am 9. September startet die Season 5 Reloaded in Call of Duty: Warzone und das bedeutet, ihr dürft euch auf lauter neue Inhalte freuen. Das Highlight stellt der Modus "Clash" dar. Hierbei handelt es sich um ein "Team Deathmatch", in dem zwei Teams à 50 Spieler in einzelnen Bereichen der Karte "Verdansk" gegeneinander antreten. Respawns sind aktiviert und wer zuerst 500 Punkte erzielt, trägt den Sieg davon. Punkte gibt es dabei nicht nur für Kills, sondern auch für abgeschlossene Aufträge. Zu den Schauplätzen zählen zum Beispiel die Innenstadt und die Fabrik.
Ein zweiter neuer Modus in dem kostenlosen Battle-Royale-Spiel ist "Iron Trials '84". Die Entwickler bezeichnen ihn als die härteste Battle-Royale-Variante, die es jemals in Call of Duty: Warzone gegeben hat. Die Besonderheiten: Ihr habt mehr Lebensenergie, es gibt keine kostenlosen Loadouts aus Versorgungskisten und euch erwarten einige Veränderungen an der Umgebung. Hierzu liegen uns aber noch keine Details vor. Darüber hinaus ist stark eingeschränkt, mit welchen Waffen im Gulag gespielt wird. Ihr werdet dort weder mit halb- noch vollautomatischen Schrotflinten und auch nicht mit Waffenpaaren oder Taktikausrüstung ausgestattet, sodass es einzig und allein auf eure Zielfertigkeit ankommt.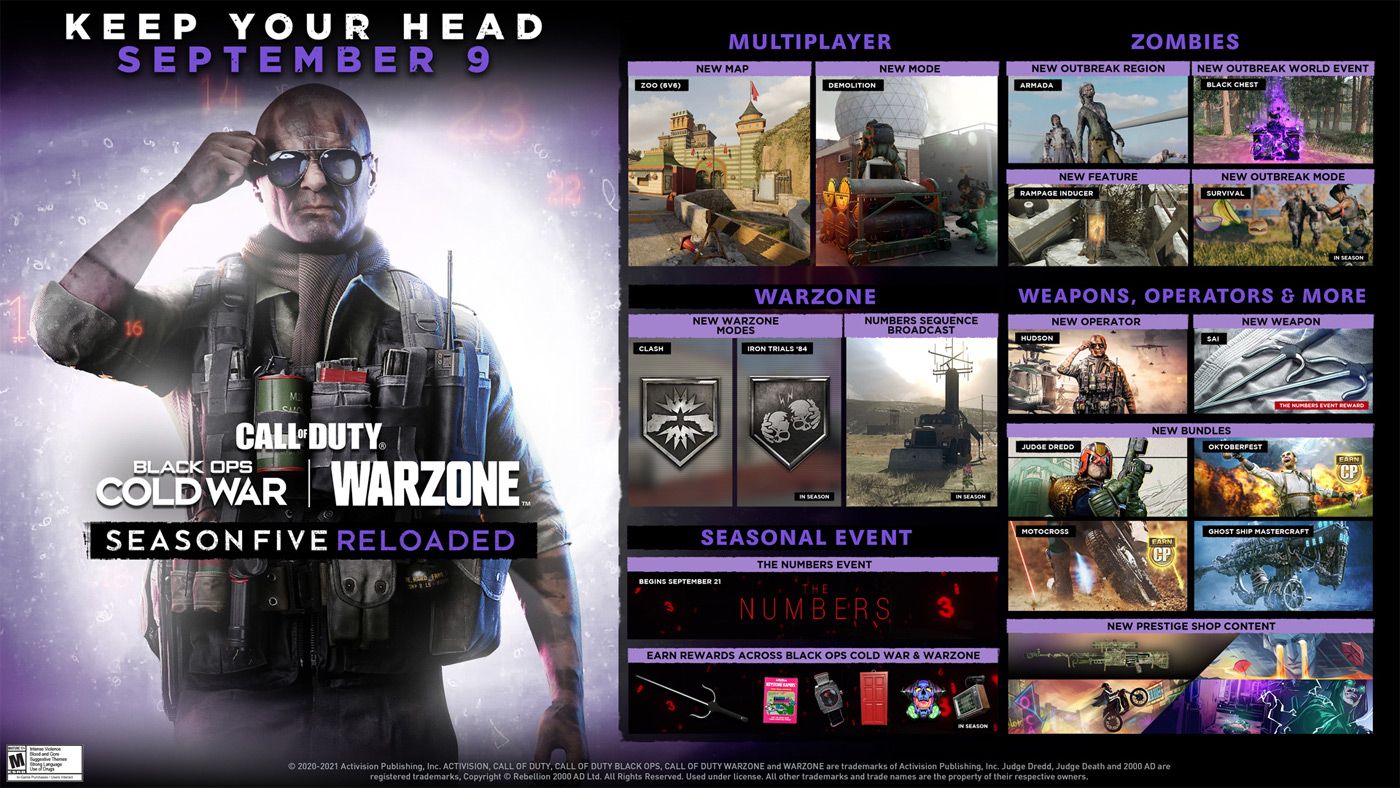 Auch im weiteren Verlauf der fünften Saison gibt es weder in Warzone noch Black Ops – Cod War einen Mangel an neuen Inhalten.
Neben den beiden Modi, die direkt ab kommender Woche spielbar sein werden, wird es im Verlauf der Season 5 Reloaded ein Event geben, das auch in Call of Duty: Black Ops – Cold War stattfindet: "The Numbers" startet am 21. September und dreht sich um mysteriöse Trucks von Perseus, die seltsame Geräusche von sich geben. Es gibt gute Gründe, mit ihnen zu interagieren: Zum einen erhaltet ihr dann sofort 2000 Dollar für das aktuelle Match. Zum anderen bekommt ihr für jede der in den Trucks verbauten Sendestationen, die ihr aktiviert, eine exklusive Belohnung, etwa einen Sticker oder Talisman, sowie einige Erfahrungspunkte. Das "The Numbers"-Event bringt auch jeweils neun Herausforderungen in Call of Duty: Warzone und Black Ops – Cold War mit sich. Erfüllt ihr in einem der beiden Spiele alle, schaltet ihr eine neue Nahkampfwaffe frei: das Sai, eine japanische Klinge.

Neue Operator-Skins dürfen in Season 5 Reloaded nicht fehlen. Zum einen wird als Teil eines Bundles im In-Game-Shop eine spezielle NATO-Version von Hudson erhältlich sein. Zum anderen hält kein Geringerer als Judge Dredd in Call of Duty: Warzone und Black Ops – Cold War Einzug, ebenfalls als Bestandteil eines Bundles. Und wo wir eh schon mehrfach den jüngsten Hauptteil der "Call of Duty"-Reihe erwähnt haben: Natürlich wird auch Black Ops – Cod War um diverse neue Inhalte abseits des "The Numbers"-Events und der neuen Skins erweitert. Es kommen unter anderem zwei neue Multiplayer-Maps sowie eine weitere Region und ein Welt-Event für den "Outbreak"-Modus.