Exklusiver Hoodie inklusive Bonuscode zu gewinnen!
Geschrieben von Nico Trendelkamp am 24.09.2019 um 16:23 Uhr.
"World of Tanks"-Fans aufgepasst! Wir verlosen einen Hoodie im schicken Wargaming-Design, den es sonst nirgends gibt.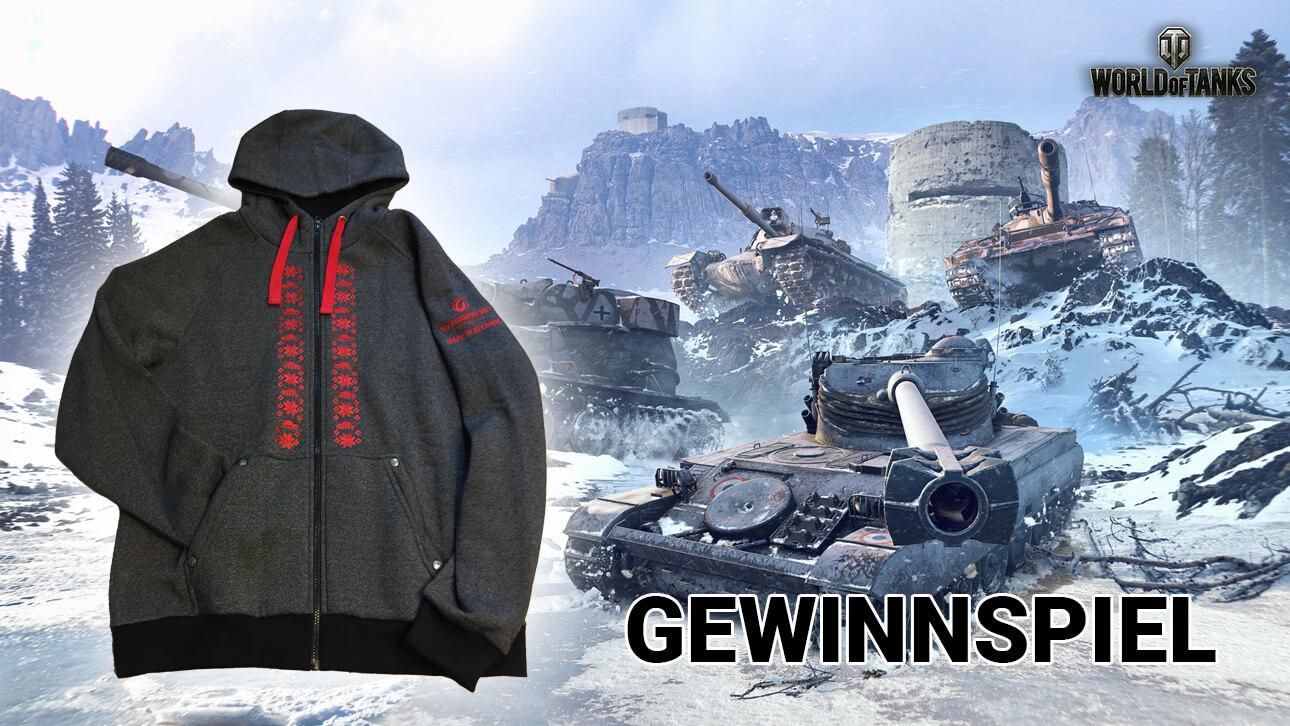 Langsam, aber sicher verabschiedet sich der Sommer und die kalte Jahreszeit hält Einzug. Folglich müssen nun wieder wärmere Kleidungsstücke aus der Mottenkiste geholt werden. Das gilt für Privatpersonen genauso wie für Menschen, die den Dienst an der Waffe leisten. Schließlich sollen Panzerfahrern und Co nicht die Ohren abfrieren, wenn sie durch schneebedeckte Wiesen brettern.
Wem es doch zu kalt draußen ist, um in einem monströsen Blechungetüm herumzufahren, der wählt die virtuelle Alternative von Wargaming: World of Tanks. Das taktische Actionspiel begeistert seit Jahren Millionen von Spielern aus aller Welt und wird von dem weißrussischen Hersteller regelmäßig um neue Inhalte erweitert. Bald steht zum Beispiel das Update 1.6.1 an, das neue Panzer beinhaltet, verschiedene Komfortoptionen und einige weitere Dinge. Doch auch abseits der virtuellen Schlachtfelder lässt Wargaming keine Gelegenheit aus, Spieler und Fans zu begeistern. So gab es auf der gamescom 2019 ein Konzert der Metalband Sabaton direkt am Messestand und erst vor wenigen Tagen fand das WG Fest in Minsk statt.
Zusammen mit Wargaming verlosen wir jetzt etwas für echte Fans von World of Tanks und Wargaming. Wer bei unserem Gewinnspiel mitmacht, hat die Chance, einen schicken Hoodie (Größe XL) im Wargaming-Design zu gewinnen, den es nirgends zu kaufen gibt. Obendrauf packen wir für Neulinge einen Code, der euch den Panzer PZ.KPFW. S35 739 (F) sowie einen zusätzlichen Stellplatz in der Garage und sieben Tage Premiummitgliedschaft beschert.
Um den Hoodie inklusive Code abzugreifen, müsst ihr uns lediglich eine Mail mit dem Betreff "World of Tanks Hoodie" bis zum 04. Oktober 2019 um 23:59 Uhr an gewinnspiel@prosiebengames.de schicken. Mit ein wenig Glück zieht euch unsere Glücksfee als Gewinner. Der Rechtsweg ist natürlich ausgeschlossen.