UPDATE: Neue Details zu Pokémon Schwert und Pokémon Schild enthüllt
Geschrieben von Nico Trendelkamp am 19.08.2019 um 14:38 Uhr.
Es gibt Infos zum PvP und den Spezialattacken der Dynamaz-Pokémon in Pokémon Schwert und Schild.
Update vom 19.08.2019: Es gibt eine weitere Infolawine zu Pokémon Schwert und Schild. So hat The Pokémon Company neue Details zu den PvP-Kämpfen verraten. Es dürfte niemanden überraschen, dass ihr in den Rollenspielen die Option habt, per Internet gegen andere Leute anzutreten. Die Zeiten des Link-Kabels sind eben nicht erst seit gestern vorbei. In Pokémon Schwert und Schild tragt ihr entweder Duelle oder Teamkämpfe mit jeweils zwei Monstertrainern auf beiden Seiten aus. Beides findet im Kampfstadion statt. Jeder Sieg liefert euch Punkte, mit denen ihr im Rang aufsteigt.
Euren Rang könnt ihr sowohl in der Arena in einem der beiden Switch-Spiele einsehen als auch in der Mobile-App Pokémon Home. Und falls ihr euch nicht direkt an die gewerteten Kämpfe herantraut, braucht ihr euch keine Sorgen machen: Es gibt auch die Option, ungewertete Duelle auszutragen. In denen dürft ihr auch manche legendären und mysteriösen Pokémon einsetzen, die in den Ranglistenkämpfen nicht erlaubt sind.
Große Wettkämpfe wird es in Pokémon Schwert und Schild ebenfalls geben – sowohl offizielle als auch von Spielern erstellte Turniere. Darüber hinaus könnt ihr Pokémon-Teams anderer Leute ausleihen und mit denen in den gewerteten Kämpfen antreten. Natürlich dürft auch selbst Teams erstellen und sie zur Leihe anbieten.
Neben dem Thema PvP ist The Pokémon Company noch auf ein paar andere Dinge eingegangen. So ist nun bekannt, dass die Dynamax-Pokémon über spezielle Attacken verfügen, die nicht nur stärker als normale Angriffe sind, sondern auch noch Zusatzeffekte haben. Die Dynamax-Attacke des Typs Wasser zum Beispiel, die Dyna-Flut, löst einen Regen aus. Feuer-Pokémon dürfte das nicht sonderlich gut gefallen. Und wo wir schon beim Thema Fähigkeiten sind: In Pokémon Schwert und Schild gibt es viele neue, unter anderem das Reaktionsgas. Galar-Smogmog hebt damit die anhaltenden Effekte von Fähigkeiten bei anderen Monstern auf und verhindert, dass andere Fähigkeiten überhaupt ausgelöst werden können. Pokémon, die ihr in Dyna-Raids fangt, können über versteckte Fähigkeiten verfügen. Habt ihr ganz viel Glück, sind sie zugleich auch noch in der Lage, sich zu gigadynamaximieren. Doch Exemplare, die sowohl das können als auch eine versteckte Fähigkeit haben, sind sehr selten.
Zu guter Letzt hat The Pokémon Company neue Items angekündigt. Bizarroservice zum Beispiel senkt die Initiative eines Pokémons, wenn die Attacke Bizarroraum zum Einsatz kommt. Stattet ihr ein Monster mit der Fluchttasche aus, wird es automatisch ausgewechselt, wenn einer seiner Statuswerte sinkt.
Originalmeldung vom 08.08.2019: Es gibt neue Infos zu Pokémon Schwert und Schild, die beide am 15. November für die Nintendo Switch erscheinen. Gestern wurde eine neue Direct-Ausgabe ausgestrahlt, die sich rein um die beiden Rollenspiele drehte. Dabei ging es unter anderem um neue Varianten bekannter Pokémon. Für die Reihe ist es nicht unüblich, dass mit einer neuen Region abgewandelte Formen mancher Monster eingeführt werden. Die verfügen nicht nur über ein anderes Aussehen, sondern unterscheiden sich auch in ihrem Verhalten von ihren Artgenossen. In der Region Galar heißen diese Taschenmonster, welch' Überraschung, Galar-Formen. Unter anderem werdet ihr dort Galar-Smogmog, Galar-Zigzachs und Galar-Geradaks begegnen.
Zudem gibt es Pokémon, die ihr vielleicht bereits kennt, sich aber in der Galar-Region zu gänzlich neuen Arten entwickeln. So wird zum Beispiel aus Geradaks Barrikadax. Darüber hinaus existieren Pokémon, die nicht nur ihr Aussehen, sondern zusätzlich ihren Attacken-Typus oder ihre Fähigkeit verändern. Meist wird das durch den Einsatz bestimmter Items ausgelöst. Morpeko ist beispielsweise ein solches Pokémon.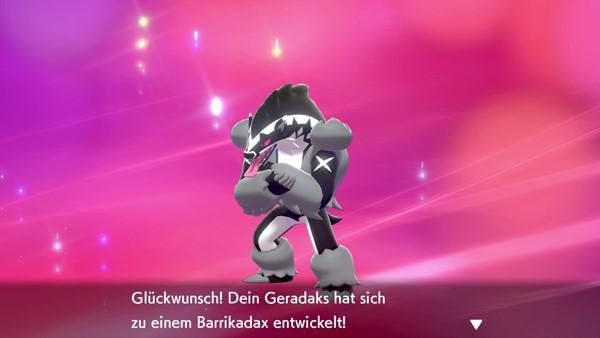 Selbstverständlich wird es in Pokémon Schwert und Schild auch wieder Trainer-Rivalen geben. Dieses Mal geben unter anderem Mary und Betys ihr Stelldichein, denn sie haben wie ihr das Ziel, der größte Champion aller Zeiten zu werden. Zusätzlich sorgt Team Yell für jede Menge Ärger, denn diese Gruppe von Fieslingen wird immer und überall versuchen, euch zu behindern. Außerdem sind sie leidenschaftliche Unterstützer von Mary.
Abseits der klassischen Rollenspielmechanik könnt ihr euren Pokémon in Pokémon Schwert und Schild sogenannte PokéJobs geben, die von Unternehmen und Universitäten der Galar-Region vergeben werden. Als Gegenleistung erhalten eure Pokémon Erfahrung und von Zeit zu Zeit auch seltene Items. Doch nicht jedes Monster ist für jeden Job geeignet.
Quelle: Nintendo / The Pokémon Company