Monster Hunter – World: "Iceborn"-Add-on und Crossover mit The Witcher angekündigt
Geschrieben am 11.12.2018 um 09:09 Uhr.
Monster Hunter: World bekommt 2019 eine große Erweiterung und vorher ein Gratis-Update mit "The Witcher"-Inhalten.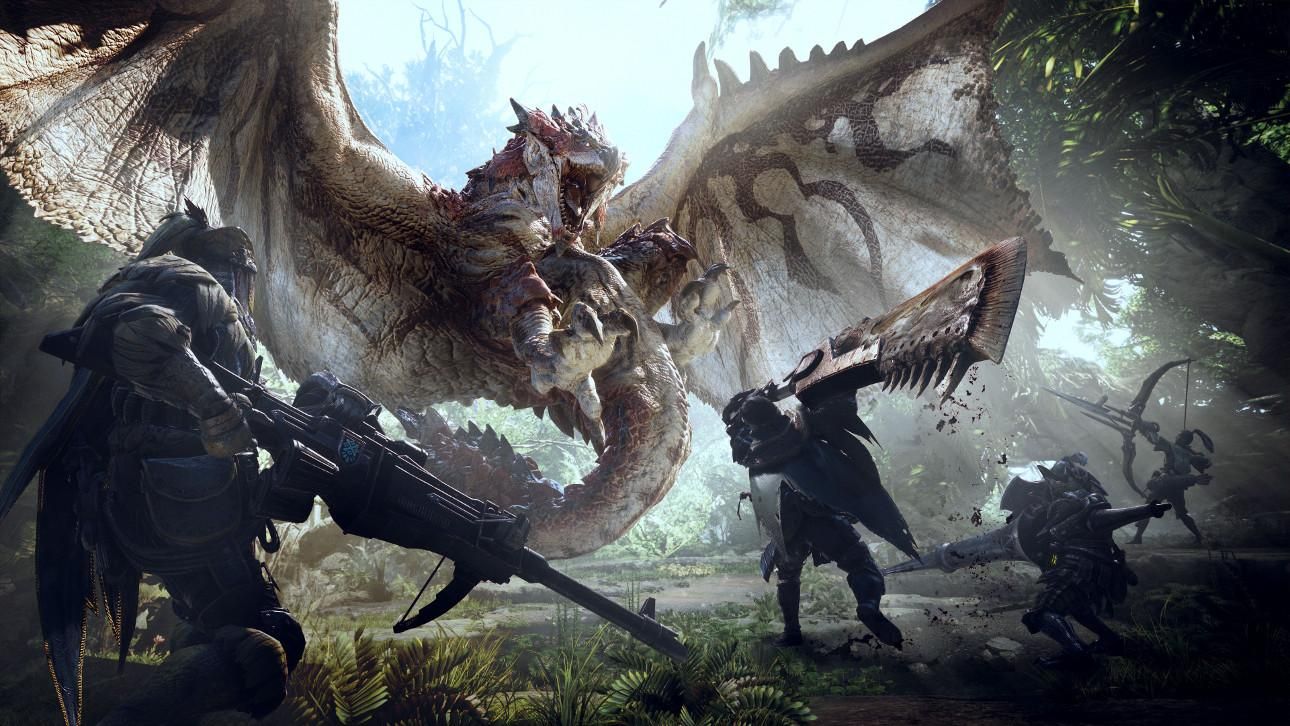 Für Capcom ist 2018 ein richtig erfolgreiches Jahr, Monster Hunter: World sei Dank. Das Rollenspiel ist nicht nur bei den Game Awards als bestes RPG ausgezeichnet worden und hat viel Kritikerlob erhalten, sondern sich auch blendend verkauft. Nächstes Jahr soll die Erfolgsgeschichte weitergehen. Für Herbst 2019 hat der japanische Publisher eine kostenpflichtige Erweiterung für Monster Hunter: World angekündigt. "Iceborne" liefert neue Questränge, Orte, Monster, Attacken, und Items sowie eine Geschichte, die an das Ende des Hauptspiels anknüpft. Wann das Add-on für die PC-Fassung erscheinen soll, bleibt vorerst ungewiss.
Nähere Details zu "Iceborne" wolle Capcom im kommenden Frühjahr bekannt geben. Dann sollen zudem neue Gratisinhalte für Monster Hunter: World erscheinen. Capcom kooperiert mit CD Projekt RED und bringt "The Witcher"-Hauptcharakter Geralt von Riva in die Welt von Rathalos, Diablos und Co. Es wird neue Quests geben, die gut zum Hexer passen und frische Gameplay-Mechaniken in Monster Hunter: World implementieren sollen. Was genau das heißt, wissen wir noch nicht. Fest steht aber, dass Geralt sehr gut zu Monster Hunter passt, schließlich verdient er sich sein täglich Brot genauso mit der Jagd auf gefährliche Bestien wie die Jäger im Capcom-Spiel.
Fest steht auch, dass der Held der "The Witcher"-Trilogie mit seinen Originalstimmen in Monster Hunter: World vertreten sein wird. In der englischen Version wird er also erneut von Doug Cockle gesprochen, in der deutschen, französischen, italienischen, spanischen und japanischen vom jeweiligen Synchronsprecher, der den Job schon bei The Witcher 3: Wild Hunt übernommen hat.
Es gibt noch mehr gute Nachrichten für Hobby-Monsterjäger: Anlässlich des ersten Geburtstags von Monster Hunter: World findet im Januar das "The Appreciation"-Fest statt, das Spezialausrüstung, neue Quests sowie eine festlich geschmückte Versammlungshalle mit sich bringt. Und solltet ihr zu denjenigen gehören, die Monster Hunter: World noch nicht ausprobiert haben, könnt ihr das ab dem 12. Dezember kostenlos nachholen. Bis zum 17. Dezember steht auf der PS4 und Xbox One eine Probeversion zum Download bereit, mit der ihr bis zum 3-Sterne-Level Quests meistern und bis Jägerrang 4 aufsteigen könnt. Euer Fortschritt ist in die Vollversion übertragbar.
Quelle: Capcom / CD Projekt RED