Steam Awards: Die Gewinner der etwas anderen Preisverleihung
Geschrieben am 08.01.2018 um 10:49 Uhr.
Die Steam Awards sind verliehen worden und unter den Gewinnern befinden sich nicht nur Spiele aus dem Jahr 2017.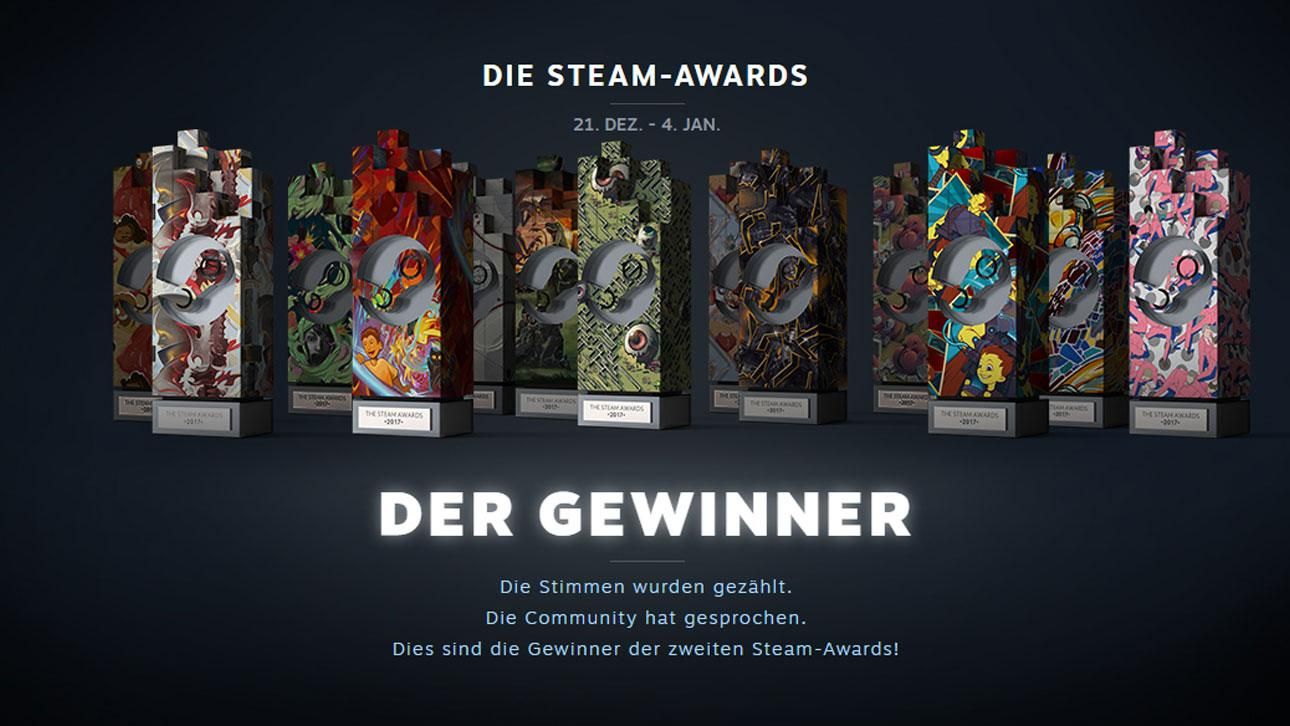 Wir kennen die Game Awards, den Deutschen Entwickler- und Computerspielpreis oder die Preisverleihungen diverser größerer Webseiten. Bei all denen geht es jährlich darum, die besten Spiele des jeweiligen Jahres auszuzeichnen. Auf die Steam Awards trifft das nur bedingt zu. Hier werden auch ältere Spiele nominiert, für die die Community abstimmen kann. Vom 21. Dezember 2017 bis 4. Januar dieses Jahres durfte zum zweiten Mal fleißig gevotet werden. Dabei kämpften in 13 Kategorien jeweils fünf Titel um die Gunst der Steam-Nutzer. Valve suchte aber nicht das beste Spiel oder das Werk mit der besten Grafik. Die Kategorien bei den Steam Awards sind eher von der ausgefalleneren Sorte.

Als Beispiel sei die Kategorie "Die Auswahl ist wichtig" genannt: Hier waren Spiele nominiert, in denen ihr gewisse Entscheidungsfreiheiten genießt und dadurch Einfluss auf die Geschichte nehmt. So hatten die Nutzer die Wahl zwischen Divinity: Original Sin 2, Life is Strange: Before the Storm, Dishonored 2, The Walking Dead: A New Frontier und The Witcher 3: Wild Hunt. Nur die beiden erstgenannten Titel sind 2017 erschienen (die dritte "The Walking Dead"-Staffel von Telltale Games startete gerade noch so im Jahr 2016). Gewonnen hat aber CD Projekts Rollenspiel-Hit The Witcher 3 von 2015.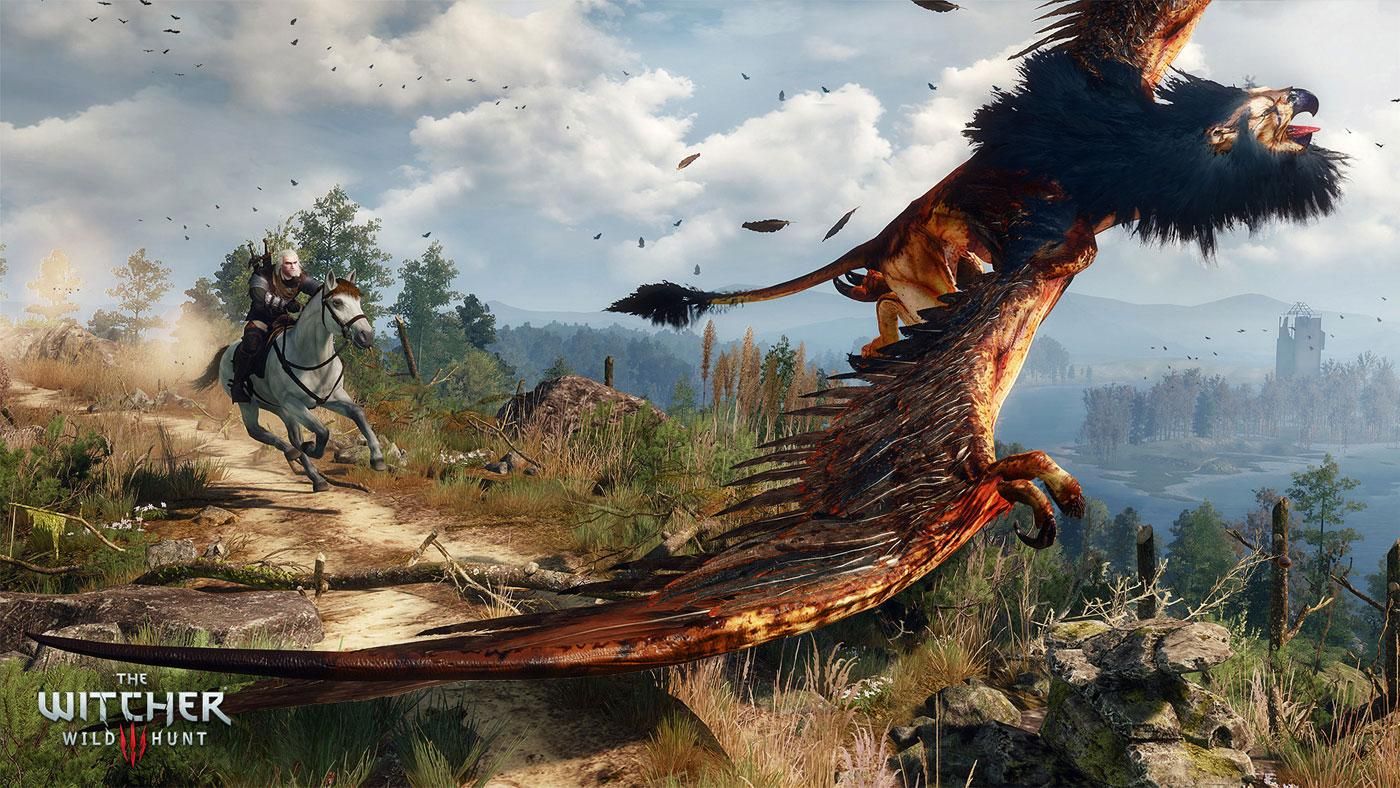 The Witcher 3: Wild Hunt ist ein so fantastisches Rollenspiel, dass es auch noch Jahre nach Release Preise einheimst.
Aber auch Spiele aus dem vergangenen Jahr wurden bei den Steam Awards 2017 ausgezeichnet. Der Shooter Playerunknown's Battlegrounds zum Beispiel gewann in der Kategorie "Mamas Spaghetti". Auch wenn es anhand des Namens nicht wirklich ersichtlich ist: Hierbei ging es um Spiele, die besonders spannend sind, so dass sie "einem fast auch in der realen Welt auf den Magen schlagen", wie es in der offiziellen Beschreibung heißt. PUBG hat sich hier gegen die Horrorspiele Resident Evil 7: Biohazard, Alien Isolation, Outlast 2 und The Evil Within 2 durchgesetzt. Letzteres hat wiederum die Trophäe in der Kategorie "Boaaaahhhh Alter! 2.0" errungen, bei der es um das beste "Fear and Loathing in Las Vegas"-Äquivalent der Computerspiele ging. Die einzige Kategorie mit einem gewöhnlichen Namen, nämlich "Bester Soundtrack", hat Cuphead gewonnen. Der Indie-Hit hat zudem noch gleich eine zweite Auszeichnung in der Kategorie "Noch besser als erwartet" erhalten. 

Die sonstigen Gewinner:
Warframe ("Arbeit der Liebe")
Rocket League ("Aussetzung der Ungläubigkeit")
Stardew Valley ("Die Welt ist schlimm genug – lasst uns einfach miteinander auskommen")
The Witcher: Enhanced Edition ("Keine Entschuldigung")
Garry's Mod ("Schwer zu beschreiben")
Just Cause 3 ("Mord rufen und des Krieges Hund' entfesseln")
Counter-Strike: Global Offensive ("Sucht mich in meinen Träumen heim")
Rise of the Tomb Raider ("Die Seele des Vitruvus")
Quelle: Steam