Gods & Monsters: Antikes Abenteuer von Ubisoft ohne Assassinen
Geschrieben am 11.06.2019 um 14:46 Uhr.
In Gods & Monsters erkundet ihr eine offene Welt voller Kreaturen aus der griechischen Mythologie.
Die diesjährige E3 hat nicht gerade viele Überraschungen zu bieten, aber das ist für die Messe ja mittlerweile aufgrund häufiger Leaks ganz normal. Ein Spiel von Ubisoft hat es aber nicht bereits vorab ans Licht der Öffentlichkeit geschafft: Gods & Monsters ist ein neues Action-Adventure von den Machern von Assassin's Creed Odyssey. Die lassen die griechische Antike noch nicht hinter sich, gehen diesmal aber noch deutlich stärker in die mythologische Richtung.
In Gods & Monsters schlüpft ihr in die Rolle von Fenyx. Der junge Held hat das Ziel, die Macht der Götter wiederherzustellen. Das grauenvolle Monstrum Typhon hat die gestohlen und ihr sollt sie zurückholen. Dazu bereist ihr die Insel der Gesegneten, auf der allerlei Mythenwesen lauern und euch ans Leder wollen: Harpyien, Zyklopen, Gorgonen und Co gehören zum Repertoire an Widersachern, die Gods & Monsters auf euch hetzt. Seid ihr mal nicht mit Kämpfen beschäftigt, erkundet ihr die offene Spielwelt. Die hat nicht nur viel Natur zu bieten, sondern auch zahlreiche Dungeons.
Genau wie Rainbow Six: Quarantine soll Gods & Monsters Anfang nächsten Jahres erscheinen. Hier gibt es sogar schon einen festen Termin: den 25. Februar 2020. Trotzdem halten sich die Infos genauso in Grenzen wie bei dem besagten Koop-Shooter. Neben dem sehr kurzen Ankündigungs-Trailer hat Ubisoft aber zumindest schon mal ein paar Screenshots von Gods & Monsters veröffentlicht.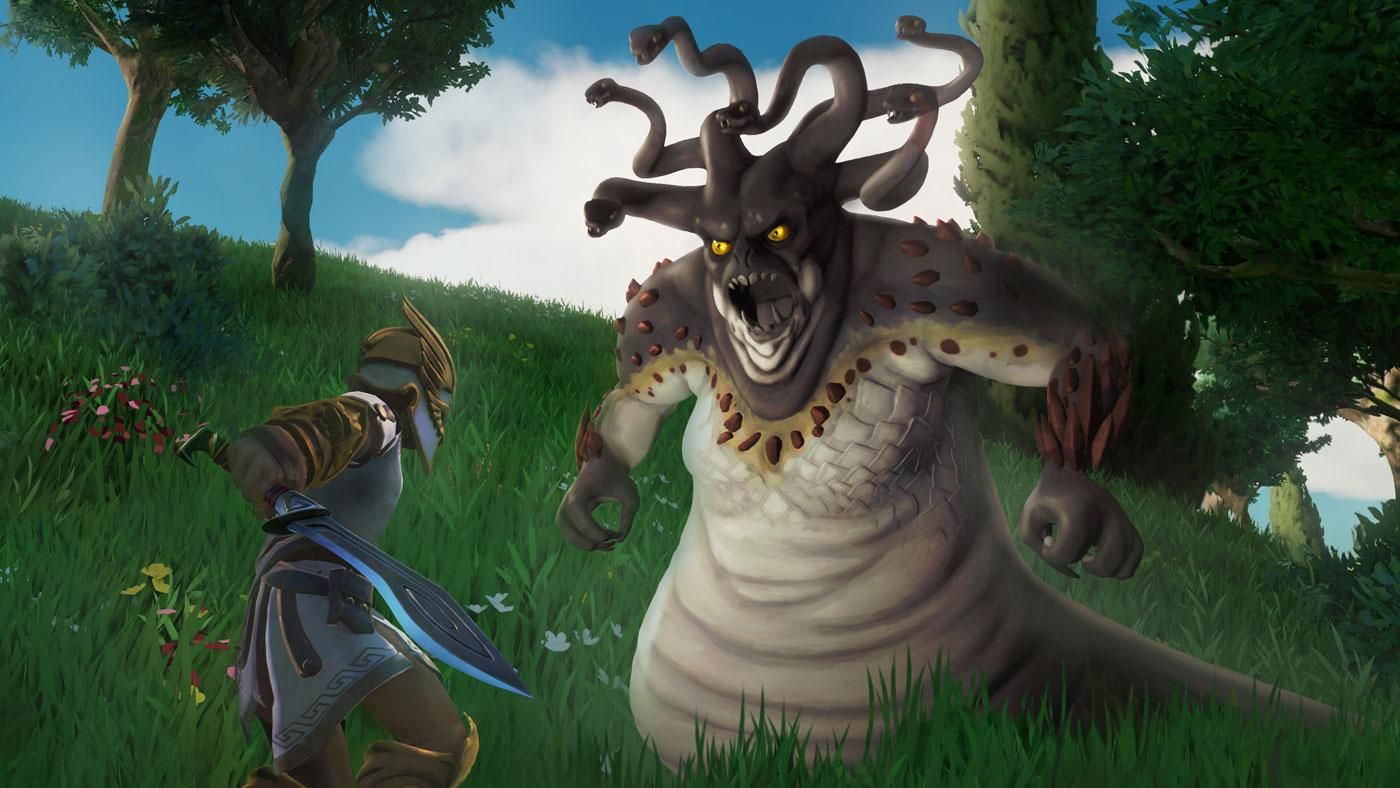 Medusen dürfen in einem Spiel mit der griechischen Mythologie als Setting nicht fehlen.
Mit seinem Comic-Stil, vor allem aber den weiten Wiesen erinnert der Titel stark an The Legend of Zelda: Breath of the Wild. Das und die Beschreibung des Spiels lassen vermuten, dass Ubisoft sich durchaus von dem Open-World-Hit von Nintendo hat inspirieren lassen. Vielleicht wird Gods & Monsters ja eine gute Alternative für all diejenigen, die keine Switch oder Wii U besitzen. Der Titel erscheint für PC, PS4, Xbox One, Switch und via Googles Streaming-Dienst Stadia.
Quelle: Ubisoft