Bowser übernimmt Nintendo of America
Geschrieben von Nico Trendelkamp am 22.02.2019 um 11:08 Uhr.
Nach gut 15 Jahren geht Nintendo of Americas Präsident und COO, Reginald Fils-Aime, in den Ruhestand.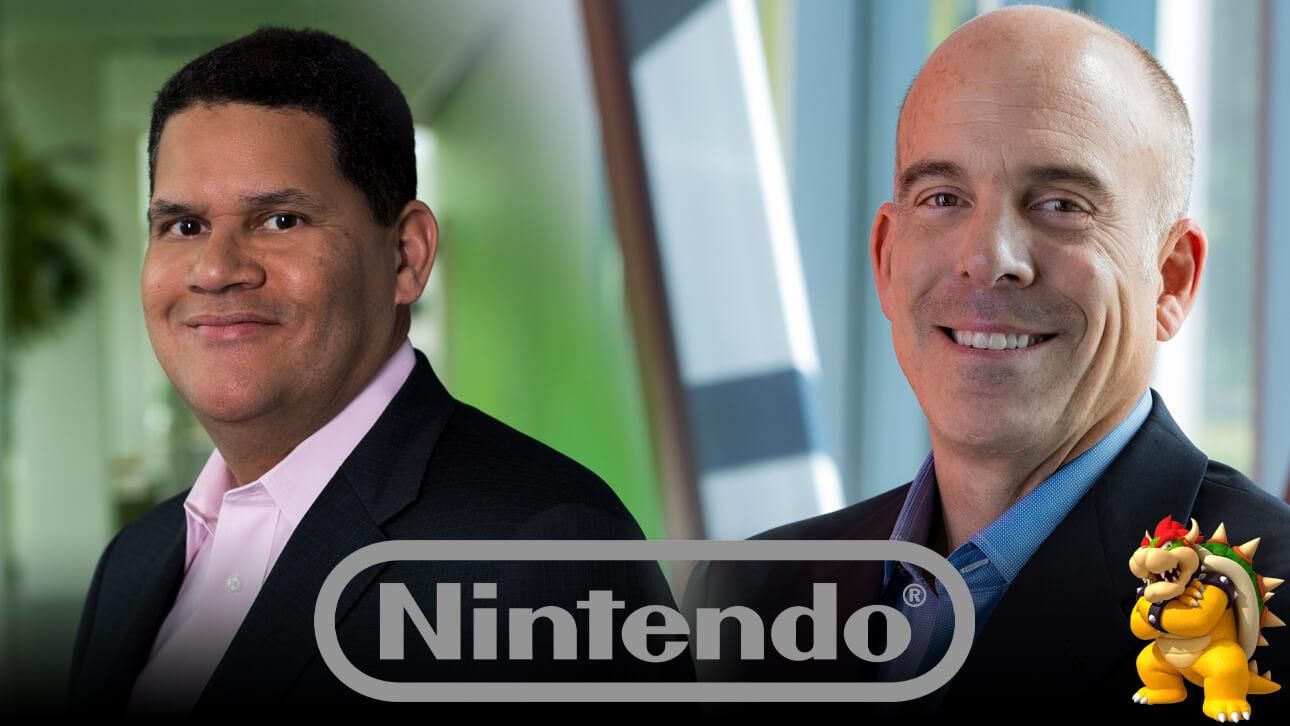 Reggie Fils-Aime und Doug Bowser
Sein letzter Arbeitstag in seinem Redmonder Büro ist der 15. April, das teilte Nintendo gestern überraschend mit. Sein Nachfolger wird Doug Bowser (Ja, so heißt er wirklich!), der ab April die Geschicke der amerikanischen Dependance des japanischen Unternehmens leiten wird. Bislang war Bowser Senior Vice President für Sales und Marketing, ähnlich wie Reggie zuvor, als er 2003 seine Karriere bei Nintendo begann. Vorherige Stationen von Bowsers Laufbahn waren Electronic Arts und Procter & Gamble.
Reggie Fils-Aime kam während der GameCube- und "Game Boy Advance"-Ära zu Nintendo und war später mitverantwortlich für Verkaufserfolge wie Nintendogs, Gehirn-Jogging, Wii Sports oder Wii Fit, die Millionen von neuen Spielern zu Nintendosystemen brachten. Starke Hardwareverkäufe von Plattformen wie dem Nintendo DS, der Wii, dem Nintendo 3DS und der Nintendo Switch sind ebenfalls ein Ergebnis seiner Führung, genauso wie die wenig erfolgreiche Wii U.
Doch womit sich Reggie in den Augen zahlreicher Fans unsterblich gemacht hat, waren seine charismatsichen Auftritte und markigen Sprüche zu Beginn seiner Laufbahn bei Nintendo, die nicht selten in Memes resultierten. Unvergessen bleibt einer seiner ersten öffentlichen Auftritte auf der E3-Pressekonferenz 2004, als er mit Sprüchen wie "My Name is Reggie, I'm about kicking ass, I'm about taking names and we're about making games!" verblüffte. So etwas war man von Nintendo bis dato nicht gewohnt. Nicht einmal der verstorbene Firmenchef Satoru Iwata ließ sich zu derart markanten Floskeln hinreißen. Über die Jahre folgten weitere Stilblüten und selbstironische Auftritte, die ihm viel Sympathie einbrachten.  
Reggies Abschiedsbotschaft:
Nintendo fans, Reggie has a message for all of you. Please take a look. pic.twitter.com/EAhaEl5oEJ

— Nintendo of America (@NintendoAmerica) 21. Februar 2019
Ob sich Doug Bowser ähnlich medienwirksam präsentieren wird, bleibt abzuwarten. Mit seinem Einstand bei Nintendo of America zeigte er jedoch, dass er durchaus den einen oder anderen Spaß versteht (Man achte auf den Hintergrund!). Außerdem gibt es wohl kaum jemanden, dessen Name besser zu Nintendo passt als seiner.
And now a message from our new Vice President of Sales, Doug Bowser. http://t.co/Qb6GYxgRrC pic.twitter.com/OEWu8dxUr0

— Nintendo of America (@NintendoAmerica) 20. Mai 2015