Zocken mit dem Fisher-Price-Controller? Das geht!
Geschrieben am 03.05.2022 um 13:06 Uhr.
Ein Streamer hat aus dem Fisher-Price-Controller ein richtiges Gamepad gemacht, mit dem man Elden Ring zocken kann.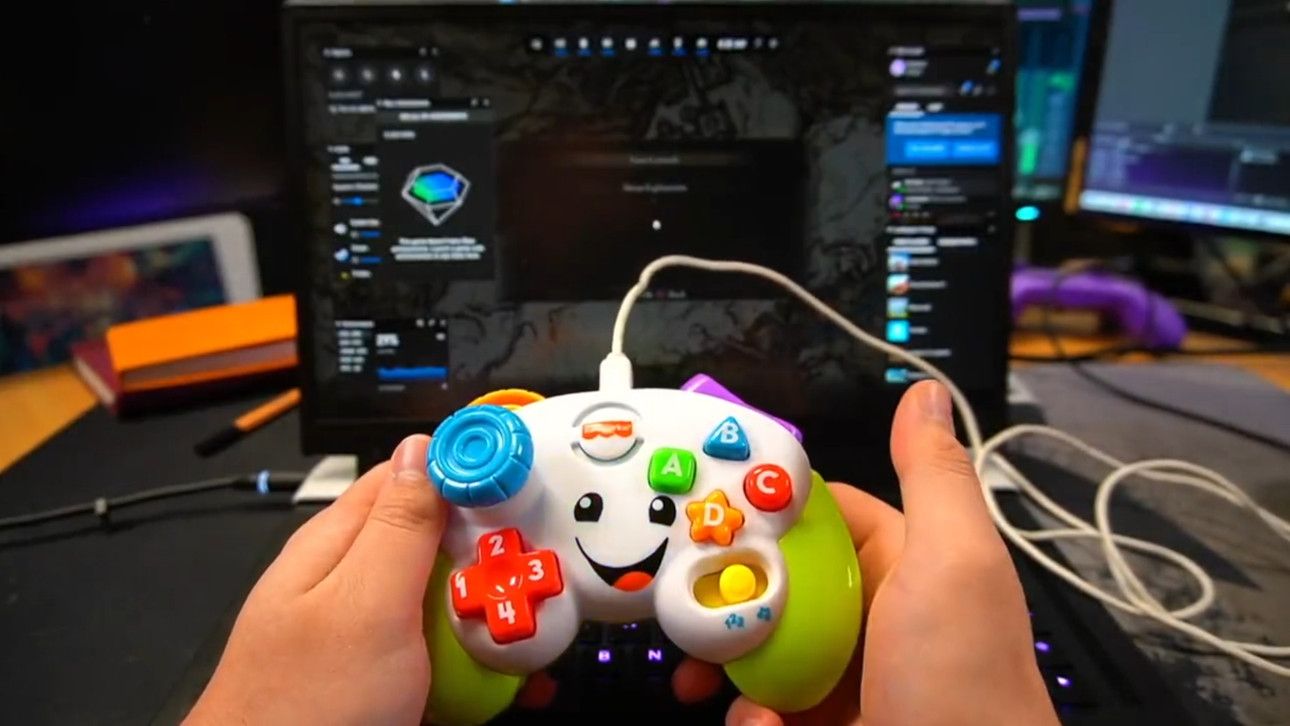 Was ist eurer Meinung nach der schlimmste Controller? Wir haben bei uns in der Redaktion mal nachgefragt und da wurden vor allem zwei Stück genannt: das ultra-klobige Gamepad der allerersten Xbox und doch tatsächlich die Joy-Cons der Nintendo Switch, die wiederum sehr klein sind. Wir mit unseren großen Pranken verspüren Krämpfe, wenn wir zu lange mit den Dingern spielen. Und als "Honorable Mention" sei noch der NES-Controller erwähnt, aber man könnte sagen: Damals haben sie es noch nicht besser gewusst.
So, und was sagt ihr nun, wenn wir euch erzählen, dass all die genannten Beispiele nix im Vergleich zu dem Controller sind, den der Streamer und YouTuber Rudeism jüngst fit fürs Zocken gemacht hat? Der hat es geschafft, den Lern-Controller von Fisher-Price so zu modifizieren, dass er als richtiges Gamepad taugt. Eigentlich handelt es sich hierbei um ein Lernspielzeug für Kleinkinder, die damit Zahlen, Farben und Formen kennenlernen sollen. Der Hersteller dachte sich aber, es sei eine tolle Idee, dem Ding die Form eines typischen Controllers zu geben. Rudeism dachte sich wohl: "Hmmm, Herausforderung angenommen!" Er bastelt schließlich gerne "bizarre Controller", wie es auf seinem Twitter-Profil heißt.
Am 1. Mai veröffentlichte er ein Video, in dem das fertig modifizierte Gerät in Aktion zeigt. Und welches aktuelle Spiel könnte sich besser dafür eignen, es mit einem sehr absurden Gamepad zu spielen, als Elden Ring? 
here's the Fisher Price Xbox controller in action!

let me know what games you'd like to see me play with it

and thanks to @Wario64 for the off-hand joke that inspired me to make this happen 😂 pic.twitter.com/3OETvcsEsI

— Rudeism (@rudeism) May 1, 2022
Wie, ihr sagt, das geht doch gar nicht, weil der Fisher-Price-Controller nur einen Analog-Stick hat? Ja, richtig, aber man kann ja den gelben Schalter umlegen, sodass die Funktion des einen Sticks von der Charakter- auf die Kamerasteuerung umgestellt wird. Klingt doch total intuitiv und bequem, oder nicht? Nun … Ach, und wir dürfen nicht vergessen, dass das Ding ständig Sounds abspielt. Wer hat nicht Bock, immer wieder eine Piepsstimme zu hören, die einem Sachen wie "One!" zuruft, während man gerade versucht, nicht von Margit, Godrick, Malenia oder welchem fiesen Boss auch immer zu Beflecktenschaschlik verarbeitet zu werden?