Remnant - From the Ashes: "Swamps of Corsus"-DLC zu gewinnen!
Geschrieben von Nico Trendelkamp am 29.04.2020 um 16:49 Uhr.
Macht mit bei unserem Gewinnspiel und holt euch den "Swamps of Corsus"-DLC!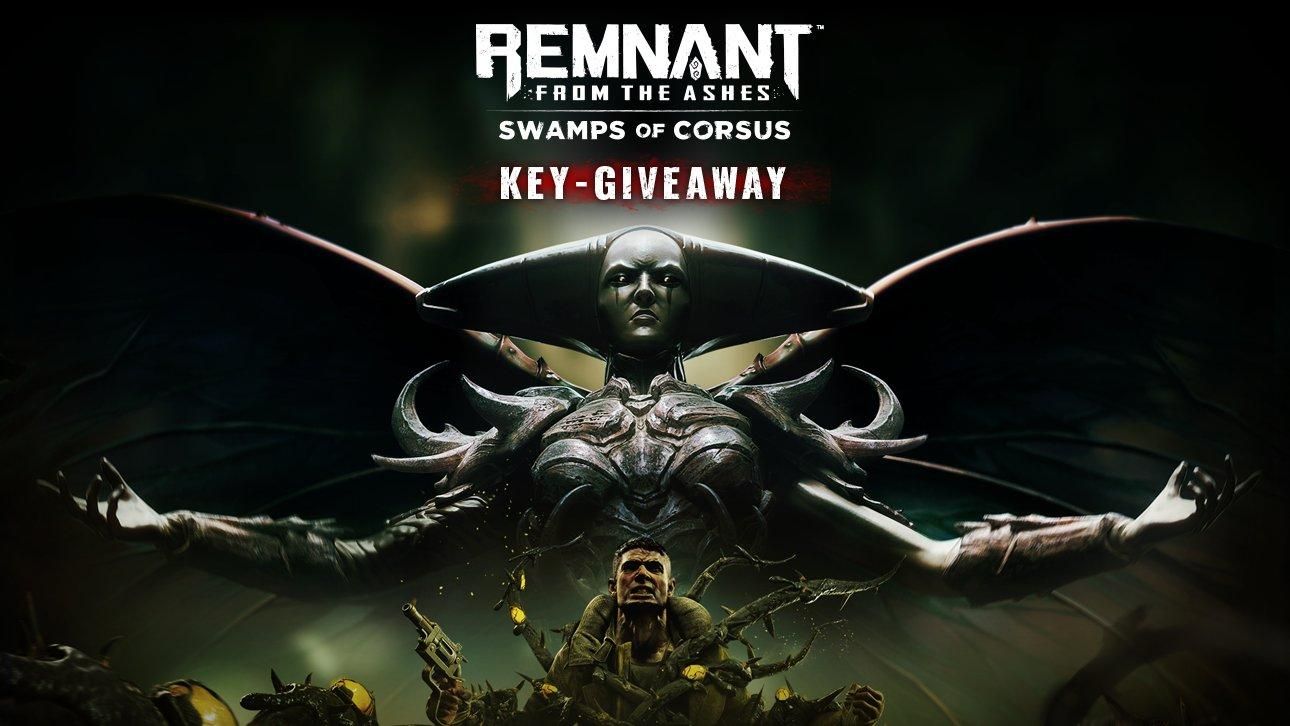 Seit August letzten Jahres könnt ihr in die apokalyptische Welt von Remnant: From the Ashes abtauchen und dem Geheimnis auf den Grund gehen, warum ein uraltes Übel aus einer anderen Dimension alles ins Chaos gestürzt hat. Dabei könnt ihr entweder allein euer Glück als einer der letzten Menschen versuchen oder mit bis zu zwei zusätzlichen Freunden die Welt wieder aufbauen. Eines ist allerdings in beiden Fällen identisch. Der Weg zu einer friedlichen Welt ist steinig und hart und vor allem eines: Unberechenbar. Jedes Mal, wenn ihr das Spiel startet, werden die Welten dynamisch neu erzeugt, so dass jedes Spielerlebnis anders ist.
Als wenn das noch nicht abwechslungsreich genug wäre, könnt ihr euch seit gestern Abend die kostenpflichtige Erweiterung "Swamps of Corsus" für die PC-Version von Remnant: From the Ashes herunterladen. Damit geht es für euch erneut in die Corsus-Zone. Allerdings hat dort nun die Sekte des Iskals die namensgebenden Sümpfe für sich beansprucht, um dort ihren finsteren Plänen nachzugehen. Als weitere Inhalte erwarten euch unter anderem drei neue Waffen, vier Nebendungeons und zwei fette Bosse. On top erhaltet ihr mit dem "Überlebensmodus" eine neue Rogue-like-Willensprobe und noch mehr.
Remnant: From the Ashes - Swamps of Corsus - Trailer:
Klingt spannend? Das Beste kommt bekanntlich zum Schluss! Wir verlosen in Zusammenarbeit mit Publisher Perfect World Entertainment 20x den Remnant: From the Ashes - DLC "Swamps of Corsus". Ihr möchtet einen Code für den Download gewinnen? Dann schickt uns bis zum 10. Mai um 23:59 Uhr eine E-Mail mit dem Betreff "Swamps of Corsus" an gewinnspiel@prosiebengames.de und mit etwas Glück zieht euch unsere Glücksfee als Gewinner. Bitte beachtet aber, dass ihr zum Spielen das Basisspiel benötigt und der Rechtsweg ist natürlich ausgeschlossen.