Kommentieren und ein fettes "Paper Mario"-Paket gewinnen!
Geschrieben von Nico Trendelkamp am 07.08.2020 um 13:37 Uhr.
Macht euch bereit für ein zuckersüßes Gewinnspiel zu Paper Mario: The Origami King!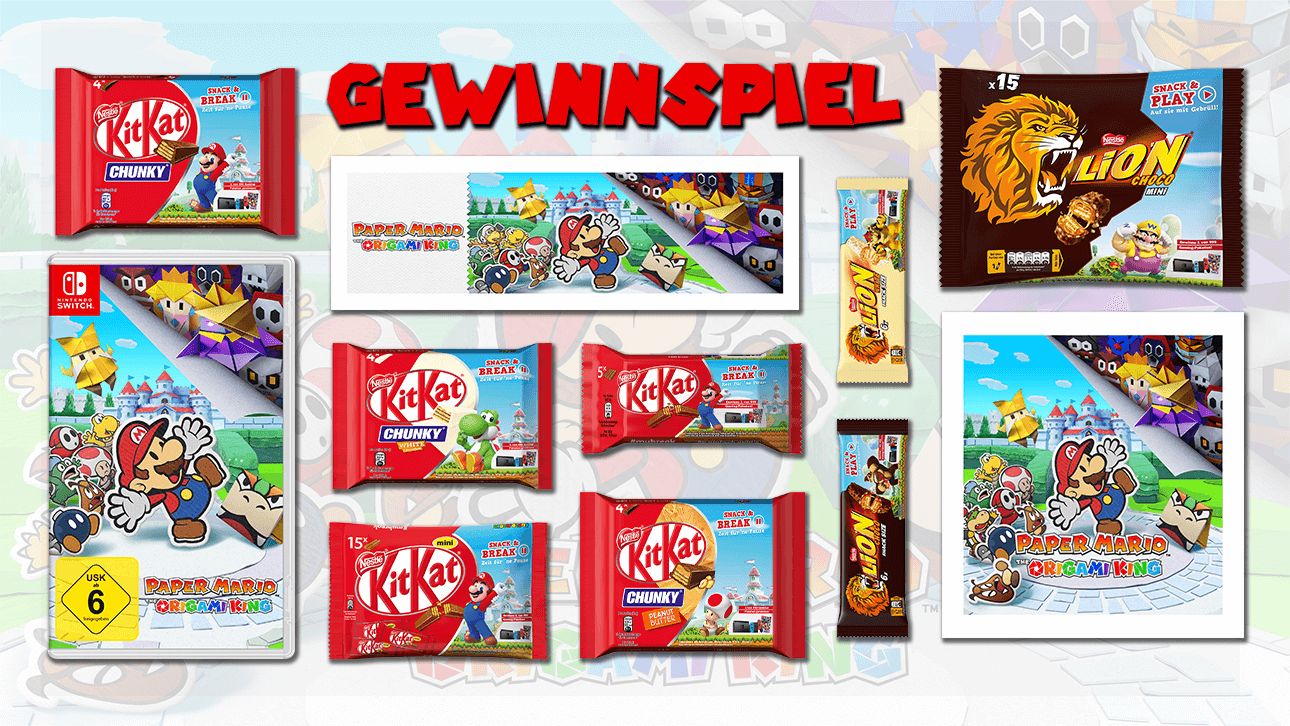 Genießt ihr auch den Sommer? Draußen in der Sonne zu liegen und den warmen Temperaturen mit einem kühlen Getränk zu trotzen, natürlich mit dem notwendigen Sicherheitsabstand, ist einfach ein wunderschönes Gefühl. Wenn ihr dann noch ein bisschen Spielen wollt, holt ihr einfach eure Nintendo Switch heraus und zockt im Freien; zum Beispiel das neue Rollenspiel Paper Mario: The Origami King.
Worum geht es in Paper Mario: The Origami King? Die Papiervariante des Pilzkönigreichs sieht sich in diesem Rollenspiel mit einer neuen Bedrohung konfrontiert. Olly, der namensgebende Origami-König, will die gesamte Welt in ein Reich aus gefaltetem Papier verwandeln. Das Schloss von Prinzessin Peach wird kurzerhand aus seiner natürlichen Umgebung herausgerissen und mit magischen Luftschlangen gefesselt.
Der beliebte Klempner Mario muss also wieder einmal ran und die Welt retten. Dabei erhält tatkräftige Hilfe: Zum einen von Olivia, Ollys Schwester, und zum anderen von diversen anderen Charakteren, die Mario im Verlauf des Abenteuers rettet und die sich dann bei ihm erkenntlich zeigen. Außerdem verfügt Mario über verschiedene neue Fähigkeiten, die sich ebenfalls als nützlich erweisen.
Paper Mario - The Origami King Trailer:
So gewinnt ihr!
Ach? Ihr besitzt das Spiel gar nicht? Dann seid ihr hier genau richtig! In Zusammenarbeit mit Nintendo Deutschland verlosen wir ein zuckersüßes Paket für alle Mario- und Schokoladen-Freunde. Darin enthalten sind:
1x Paper Mario: The Origami King zusammen mit passendem Merch (Origami-Blätter, Schlüsselanhänger, Mageneten, Sticker) und ein großes Schokoladenpaket (KitKat Classic Multipack, Lion Classic Multipack (weiße Schokolade und Milchschokolade), KitKat Minis, Lion Minis, KitKat Chunky Multipack (Erdnussbutter, weiße Schokolade, Milchschokolade)).
Das Mitmachen ist kinderleicht. Kommentiert einfach unter dem Artikel, auf Instagram, auf Facebook oder auf Twitter, welche Superfähigkeit ihr gern besitzen möchtet. Eine Begründung wäre auch schön, ist aber kein Muss. Dafür habt ihr bis zum 16. August um 23:59 Uhr Zeit. Danach werden wir aus allen Kommentaren einen Gewinner auswählen. Der Rechtsweg ist natürlich ausgeschlossen.
Viel Glück wünschen euch Nintendo Deutschland und das Team von ProSieben Games!