Gewinnt 2x die Uncharted:  Legacy of Thieves Collection!
Geschrieben von Nico Trendelkamp am 11.02.2022 um 12:03 Uhr.
Zum Kinostart von Uncharted verlosen wir zusammen mit Sony Pictures Germany die Uncharted:  Legacy of Thieves Collection.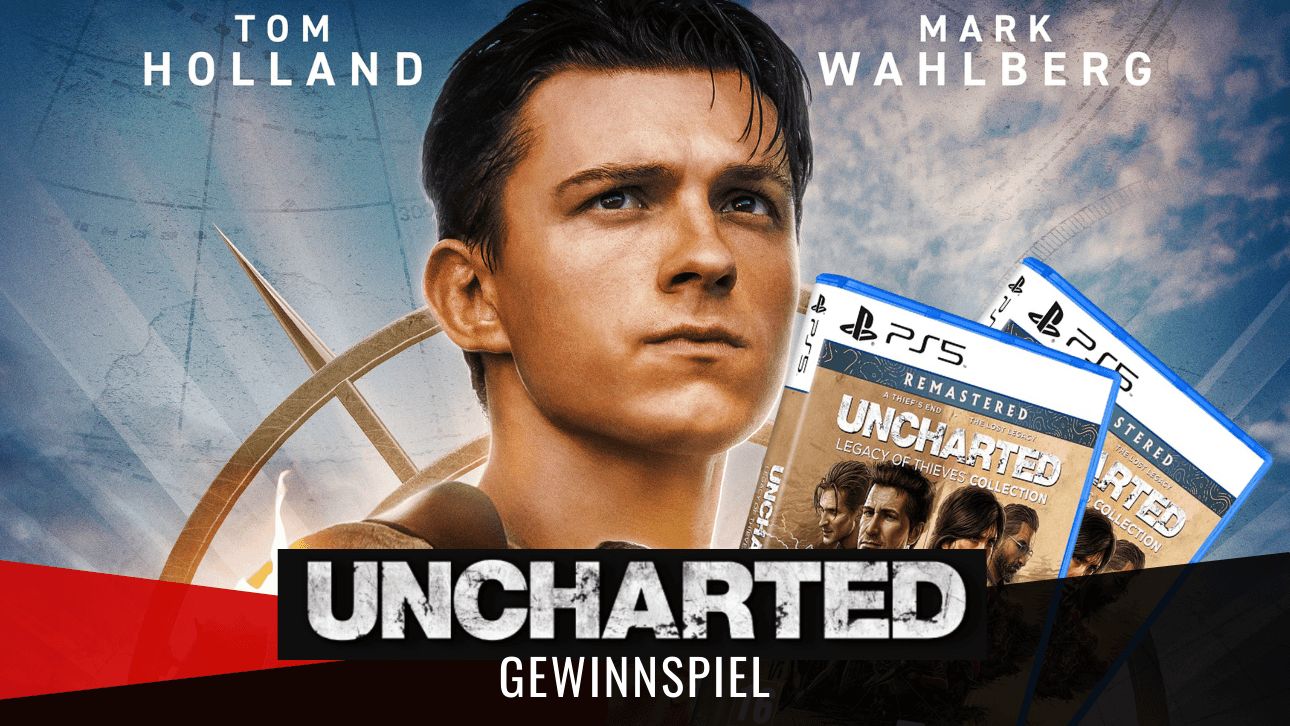 Am 17. Februar startet die Videospielverfilmung "Uncharted" in unseren Kinos. Der von Sony Pictures Germany vertriebene Film erzählt die Geschichte des Diebes Nathan Drake, gespielt von Tom Holland, der vom alten Haudegen Victor "Sully" Sullivan, verkörpert von Mark Wahlberg, beauftragt wird, ein sagenhaftes Vermögen zu bergen, das Ferdinand Magellan vor etwa 500 Jahren verloren hat. Doch die Jagd nach dem Schatz entwickelt sich anders als erwartet, so dass Nathan und Sully nicht nur schneller als der finstere Moncada sein müssen, sondern auch noch die Suche nach Nathans verschollenem Bruder eine wichtige Rolle einnimmt. Wie das Spektakel ausgeht, erfahrt ihr im Kino.
So macht ihr mit!
Passend zum Start des Films verlosen wir zusammen mit Sony Pictures Germany zweimal die Uncharted:  Legacy of Thieves Collection für die PlayStation 5, welche die beiden Abenteuer Uncharted 4: A Thief's End und Uncharted: The Lost Legacy enthält. Mitmachen ist kinderleicht. Beantwortet uns nur folgende Frage: Wie heißt das Entwicklerstudio, das für die Uncharted-Reihe bekannt ist?
Die Antwort schickt ihr bis zum 18. Februar um 23:59 Uhr an gewinnspiel@prosiebengames.de. (Kleiner Tipp, die Antwort findet ihr unter anderem auf der offiziellen Webseite zum Kinofilm.) Mit ein wenig Glück endet das Abenteuer für euch nicht im Kino, sondern erst nach etlichen Spielstunden in der Welt von Uncharted vor der heimischen PS5.
Achtung: Für das Gewinnspiel müsst ihr mindestens 16 Jahre alt sein und der Rechtsweg ist natürlich ausgeschlossen.
Viel Glück wünscht euch das Team von ProSieben Games!