Forge of Empires: Update für Gilden-Expeditionen und Erfolge
Geschrieben am 13.02.2017 um 17:07 Uhr.
Die Gilden-Expeditionen in Forge of Empires werden um einen neuen Schwierigkeitsgrad erweitert und Erfolge halten Einzug.
Fans von Forge of Empires werden in dieser Woche gleich zweifach beglückt. Der Entwickler InnoGames hat nämlich für morgen und übermorgen Updates angekündigt, die neue Features liefern. Los geht es am Dienstag mit einem vierten Schwierigkeitsgrad und frischen Belohnungen für die Gilden-Expeditionen. Wenn ihr euch größere Herausforderungen für dieses System wünscht, werdet ihr also bedient. Den neuen Schwierigkeitsgrad müsst ihr zunächst einmal freischalten, indem ihr Güter in die Gildenkasse einzahlt.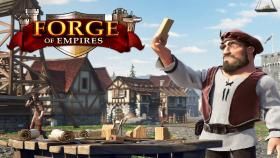 Auf dieser Stufe sind die Gilden-Expeditionen nicht nur deutlich schwieriger, sie halten natürlich auch bessere Belohnungen für euch bereit. Bei den kleinen Begegnungen könnt ihr Diamanten, Güter, Medaillen, Versuche und Items gewinnen, bei größeren winken euch auch Gebäude.
Apropos: Zu den neuen Belohnungen zählen insgesamt sieben frische Bauwerke für eure Stadt in Forge of Empires. Da hätten wir beispielsweise einen Jungbrunnen, der euch alle 24 Stunden Münzen, Vorräte, Güter, Medaillen, Forge-Punkte oder Diamanten beschert. Außerdem könnt ihr bei den Expeditionen die neuen Motivations-Kits ergattern, mit denen ihr die Produktion eurer Gebäude steigert.
Während die Neuerungen für die Gilden-Expeditionen morgen in Forge of Empires Einzug halten werden, kommen am Mittwoch die Erfolge ins Spiel. 13 Stück werden es sein, jeder mit vier Leveln. Natürlich soll es nicht dabei bleiben, InnoGames plant noch mehr Achievements für die Zukunft. Im Profil könnt ihr euch über euren Fortschritt bei den Erfolgen informieren. Apropos: Mit dieser Neuerung bekommt die App-Version von Forge of Empires einen Profilbildschirm, damit sie sich dem Stand der Browser-Version weiter annähert.
Quelle: offizielles Forum