World of Tanks: "Festung"-Modus wird komplett überarbeitet
Geschrieben am 03.02.2017 um 13:53 Uhr.
Der "Festung"-Modus in World of Tanks ist zu kompliziert und zeitaufwendig und wird deshalb mit einem kommenden Update entschlackt.

Der Spielmodus "Festung" wurde einst in World of Tanks eingeführt, damit es ein interessantes Metaspiel in dem kostenlosen Actiontitel gibt. Doch Wargaming hat sich laut eigener Aussage verkalkuliert und den Modus zu kompliziert gestaltet. "Es sollte ein Spielmodus werden, kein Vollzeitjob", erklärt das Unternehmen aus Weißrussland auf der offiziellen Webseite. Aus diesem Grund wird "Festung" mit dem kommenden Update 9.17.1 komplett überarbeitet. Das Ganze soll vereinfacht werden, damit euch der Einstieg leichter fällt und es mehr Spaß macht.
Die Schlachten um die Festungen werden durch den neuen Modus "Vorstöße" ersetzt. Dabei beginnen die Gefechte stets zu einer bestimmten Zeit, während das Matchmaking automatisiert ist. Ihr werdet also nicht mehr die Möglichkeit haben, einen bestimmten Clan anzugreifen. Apropos Clans: Die werden in Zukunft dadurch in World of Tanks entlastet, dass sie ihre Festung nicht mehr an sechs Tagen in der Woche verteidigen müssen. Außerdem ist die Teilnahme an den Gefechten nicht bindend. Und wenn ihr mal eine Niederlage einsteckt, verliert ihr keine Industrieressourcen.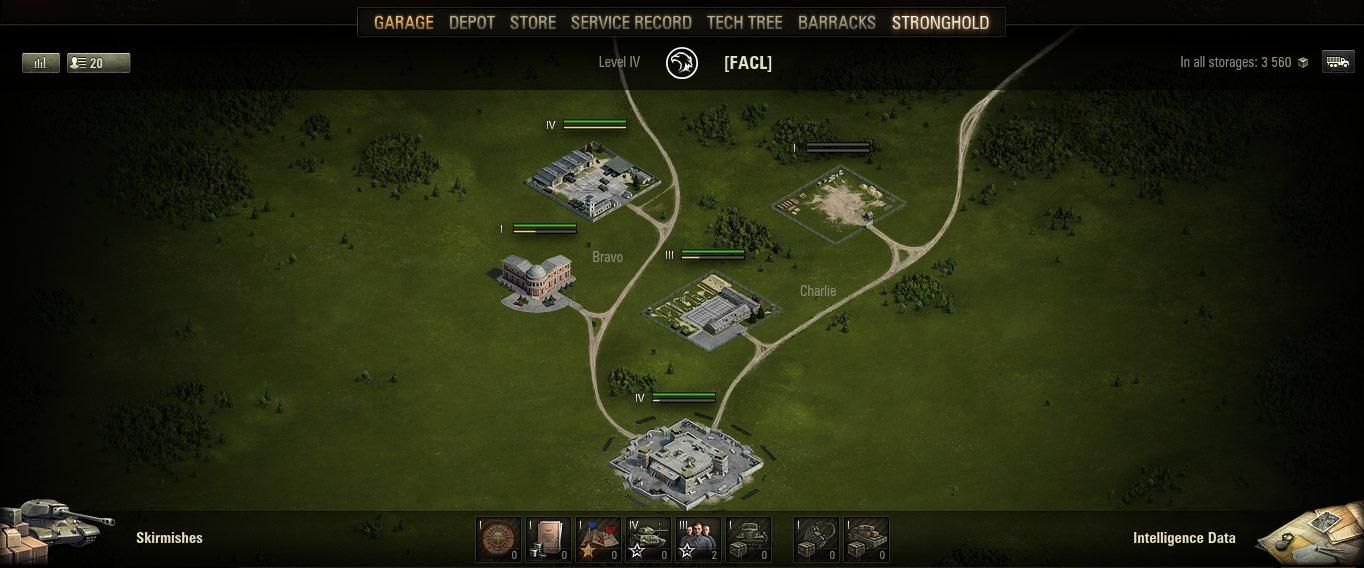 In Zukunft soll das System mit den Festungen deutlich weniger kompliziert sein.
Darüber hinaus vereinfacht Wargaming viele andere Aspekte, die die Festungen in World of Tanks mit sich bringen. Beispielsweise wird es nur noch ein Lager für Industrieressourcen geben, so dass die Rohstoffe nicht mehr zwischen den einzelnen Strukturen hin und her transportiert werden müssen. Aber auch das Balancing spielt bei der Überarbeitung des kompletten Systems eine wichtige Rolle: Der Einfluss von Kampfreserven auf das Mächtegleichgewicht zwischen zwei konkurrierenden Clans wird eingeschränkt. So werdet ihr nur noch eine Reserve pro Gefecht einsetzen können und deren Effizienz wird von der Stufe des Matches abhängen, nicht von ihrer eigenen. Letztere wird nur noch die Menge an Industrieressourcen beeinflussen.
Zu guter Letzt werden die Kriegsministerien in World of Tanks durch die Kriegsspiele ersetzt. Der Grund dafür: Das Ministerium wäre aufgrund der Vereinfachungen viel mehr Spielern zugänglich, wo es derzeit nur von den besten Clans verwendet wird. Also führt Wargaming mit den Kriegsspielen ein neues Wettbewerbsformat in das Panzerspiel ein. Dabei konkurrieren die Clans in verschiedenen Kategorien miteinander. Wer die besten Statistiken erzielt, verdient sich auf diese Weise Spielgold, fortschrittliche Reserven der Stufen XI und XII und weitere Belohnungen. Die Kriegsspiele werden jedoch nicht mit dem Release des Updates 9.17.1 ihren Weg in World of Tanks finden. Das soll erst dann passieren, wenn Wargaming der Meinung ist, dass das Ökosystem dafür bereit ist.
Quelle: offizielle Webseite